Fall stew with fresh shelling beans
POSTED ON October 4, 2014
There is always an exciting busyness in the air at the farmer's market when the cool of autumn begins to seep into the days and nights. And, its crisp air is the perfect catalyst to refresh our minds and perspectives. Although I'm inspired to create new dishes, I also want to revisit favorite flavors —like combining the last of the tomatoes with the sweetness of winter squash as you'll find in this delicious stew.
The general flurry of activity at this time of year can make anyone dizzy, but for a cook who visits the farmer's market, it may be down right overwhelming! At this moment and for the next week or two, the variety of vegetables available is staggering. Every color of tomato sits beside half a dozen varieties of winter squash; there are still summer squash, zucchini and the last of their blossoms to be eaten. Stalls are full of eggplant in every shape, sweet corn, peppers in all colors and an onslaught of greens: mustard, mitzuna, broccoli rabe, emerald green tatsoi and an abundance of robust, healthy kale.
You're also faced with cauliflower, watermelon radish, Japanese turnips, the juiciest kohlrabi and perhaps some root vegetables that you may have forgotten. Oh, and then there's the variety of fresh shelling beans–some look very plain on the outside, but the insides are like pastel colored jewels. Below are fresh cranberry beans and I think something related to a black eye pea.
My intention with this stew was to capture the flavors of the vegetables available during this "crossover" period. Here, an herbal tomato broth is the background for sweet red kuri squash, creamy fresh beans and a few earthy roots. I think the most exciting thing about this stew is the method I used to create the broth. Roughly chopped tomatoes, herbs and other stock ingredients are simmered for a couple of hours; then strained. This creates a light, savory and richly flavored base for the sweet vegetables—without the hassle of peeling tomatoes. It is extremely delicious and will leave everyone wanting more.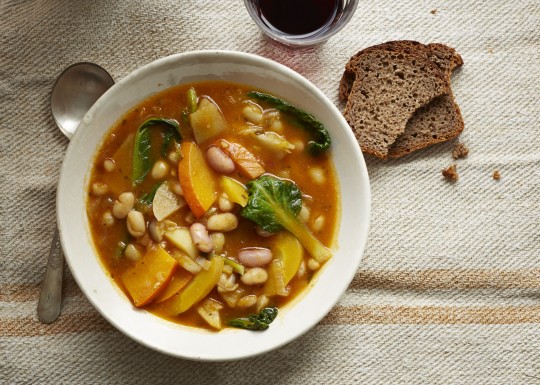 Photos by Stephen Johnson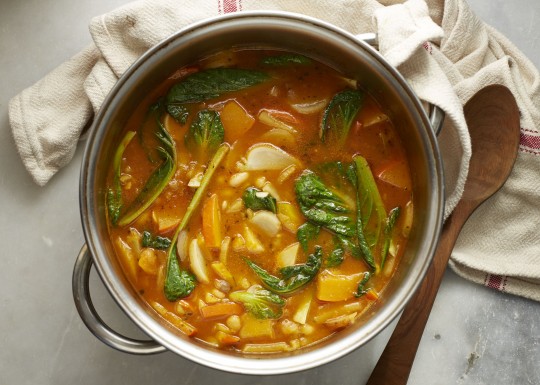 Fall stew with fresh shelling beans
I used a combination of fresh cranberry beans and fresh kidney beans, which are actually pink. If shelling beans are not available you can use 1 ½ cups of any cooked bean. Large heirloom beans would work well as would lima beans or chickpeas.
Serves 4 to 6
Broth
2 ½ pounds plum tomatoes (about 12 large), roughly chopped
3 large garlic cloves, roughly chopped
1 onion, roughly diced
3 bay leaves
Few sprigs of fresh sage
Few sprigs of fresh thyme
Seeds from the squash below
Fronds from 1 bulb of fennel, chopped
1 cup filtered water
Drizzle of extra virgin olive oil
Pinch sea salt
Fresh beans
1 ½ cups freshly shelled beans
bay leaves
Stew
2 tablespoons extra virgin olive oil
3 shallots, sliced
4 large cloves garlic, sliced
Sea salt
1 tablespoon minced fresh thyme
2 teaspoons chopped sage
1 bulb fennel, cored and sliced
½ small celery root, peeled, quartered and sliced (¾ cup)
2 small red skinned potatoes, halved and sliced
1 carrot, sliced
3 small Japanese turnips, sliced
¼ head red kuri squash, seeds and sliced (about 2 cups)
3 bay leaves
Large hand full tat soi leaves, large ones halved lengthways
1 tablespoon balsamic vinegar
Add all broth ingredients into a large pot and bring to a boil over high heat. Cover pot, lower heat and simmer for 2 hours.
Place shelling beans in a small pot (or several pots if you are cooking a few different size beans) cover with about an inch of filtered water. Add a couple of bay leaves and bring to a boil over high heat. Cover pot or pots and simmer for 20 to 25 minutes or until beans are creamy inside. Remove from heat, strain and set aside.
While the beans cook, warm olive oil in another large pot over medium heat. Add shallots and sauté for 5 minutes. Stir in garlic and a pinch of sea salt and continue cooking for another 3 minutes. Reduce heat to low and add thyme and sage. Cook for another minute, then stir in fennel and continue cooking for a couple of minutes. Add celery root, potatoes, carrot, turnips, squash and bay leaves. Place a strainer over the pot and pour in broth, pressing out all the liquid until you're left with a pulp, discard pulp. Add cooked shelling beans, raise heat to high and bring up to a simmer.  Cover pot, reduce heat to low and simmer for 10 to 15 minutes or until all the vegetables are cooked through. Stir in tatsoi and simmer 1 minute or until wilted. Add balsamic vinegar and season to taste. Remove from heat and serve warm.