Spring carrot pea shoot salad and a James Beard Award !
POSTED ON May 17, 2015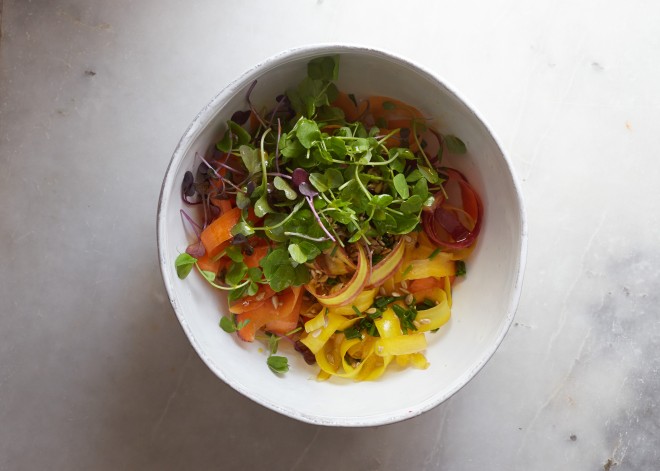 It was with a full, but heavy heart that I spent this past Mother's day. My Mother had just left to return to Australia after a 2 ½ week surprise visit. Having spent 23 years living overseas, I've had quite a few of these goodbyes and none of them has ever been easy. When she arrived at my door after a particularly long day of cooking, it took a while before I could get my head around what I was seeing. To think that I knew nothing of all the planning and time it took to get half way around the world and there she was suddenly, physically here? I felt like I was dreaming. My sister was very pleased with her success at planning, organizing and keeping it all under wraps—if you've read the recipe for the Chocolate Hazelnut Cake in my book, you'll know I once did the same. I have to say she did an excellent job; I didn't have the slightest clue!
My mother's surprise arrival meant that she would be here for the James Beard Awards, which also felt surreal and especially so when I won (!!) My book won the award for Vegetable Focused and Vegetarian cookbook against some seriously tough competition. Being nominated felt like such an honor, but to win and be able to share the moment with my family was something I will never forget. Seeing authors accepting awards with speeches in hand made me a little nervous that I hadn't written one, in fact at that point I was completely nauseated and couldn't eat or drink the multiple courses of food and wine that were placed in front of me. Hearing my book announced and then everyone at our table scream was such a thrill, and I'm not sure if I was walking slowly or not, but it took forever to get to the stage. Once there, shockingly, all the words and people I wanted to thank came to me. I felt complete clarity. I am thrilled that a book like mine that is over 90% vegan and talks about composting is recognized by the James Beard Foundation.
I dedicated the award to my mother for all the thought, time and energy she spent creating wholesome meals for our family when we were growing up.
Thank you to everyone for all the thoughtful messages and emails, it has been so uplifting and encouraging to read them all.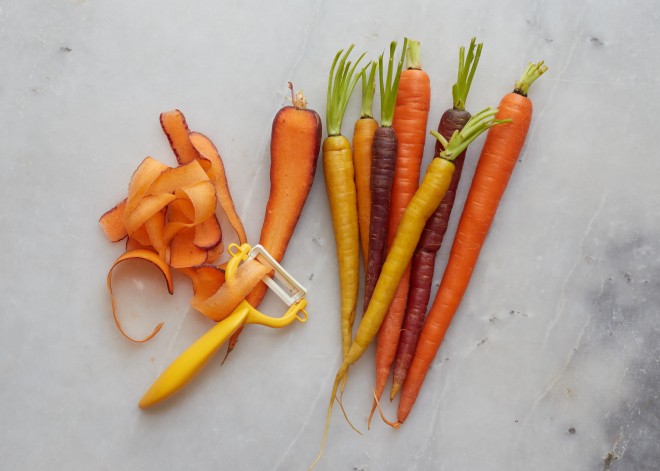 On to the salad! I have been adding variations of this salad to my clients' menus for the last couple of weeks, as it gives the perfect touch of spring freshness without asparagus, fiddle heads or ramps. You can use any sort of shoot, sprout or micro green you find at the Farmer's market or any that are popping up in your own garden. Not surprisingly, the salad is delicious with avocado and other herbs like chopped parsley or a few sprigs of cilantro, but the mint is key as it makes you feel like you're actually eating it in a garden. The addition of cooked brown rice is surprisingly delicious and makes this otherwise light salad more substantial—there is something incredibly addictive about the taste of brown rice combined with the simple dressing. The dressing takes about 10 seconds to make, so after you've shaved the carrots it all comes together very quickly.
Enjoy!
Amy x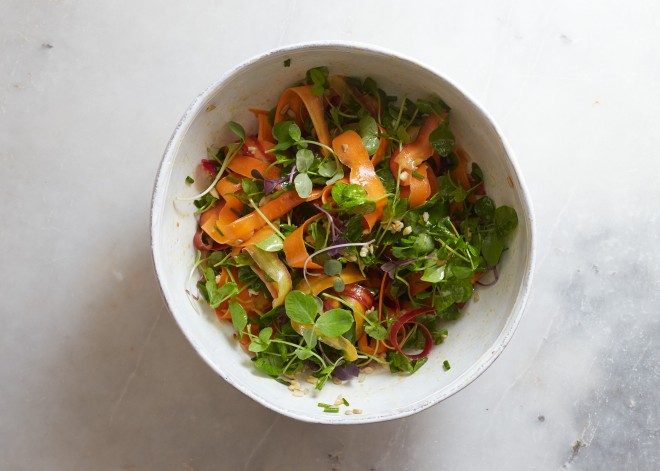 Spring carrot and pea shoot salad with chives and brown rice and a simple flax dressing.
Dressing:
4 tablespoons flax oil
1 tablespoon apple cider vinegar
1 tablespoon brown rice vinegar
2 teaspoons umeboshi vinegar
Sea salt to taste
Salad:
5 medium colored carrots, shaved into long strips
4 cups pea shoots
3 tablespoons toasted sunflower seeds
¼ cup chopped chives
½ cup cooked and cooled brown rice, my basic go-to recipe is this one
¼ cup fresh mint leaves, torn a bit
Radish sprouts to garnish
Combine all the dressing ingredients in a small jar and shake well to combine. Add salt to taste—I like to make it well seasoned as the carrots benefits from a good pinch of salt. You an also add the salt after tossing the salad.
Make the salad:
Add all the salad ingredients to a medium bowl, drizzle the dressing over and toss to combine. The brown rice has a tendency to fall to the bottom, so be sure to scoop low when serving. Taste for seasoning, garnish with radish sprouts and serve.