Zucchini tangle with poached eggs and green harissa
POSTED ON July 7, 2015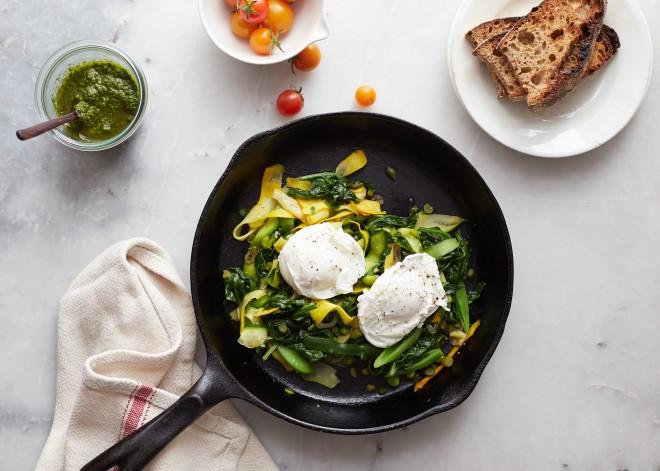 One of my favorite things to eat for breakfast in summer is tomato on toast; it's a childhood favorite that goes perfectly with a good cup of tea. I've written about it before here. Since tomatoes are just now only beginning to show themselves at my local market, in an effort to make a breakfast dish that utilized more of what was available in early summer, including: zucchini, summer squash, peas, garlic scapes, spring onions and the freshest, fleshiest spinach I've seen all year, I made this. The dish is served with a green harissa from Sara Forte's latest book Bowl + Spoon. In the book the harissa is served over poached eggs with a baby potato and asparagus tangle. Since I missed the asparagus at the market, I made a tangle of shaved zucchini and the aforementioned vegetables instead. It makes a fantastic bed for poached eggs, but you could also enjoy with avocado or goat feta — just be sure to serve it with some good whole grain sourdough bread.
Since most of the meals I eat are "bowls" of one form or another, I was very excited to see how a fellow cook would fill her bowls. And, Bowl + Spoon is full of ideas for making tasty meals from breakfast to dessert. In addition to the green harissa recipe, there are several others like the Hippy Bowl, Slivered Veggie and Soba bowl and the Harvest Roasted Delicata Squash that I am especially looking forward to making. I would love to hear if you have the book and what you've made.
It's been so lovely seeing photos of the wintry recipes from my book coming from Australia! Please keep tagging them so I can see what you're all making! #athomeinthewholefoodkitchen @amychaplin.
Thank you with all my heart for your support with my book. It's now available in the United Kingdom, Australia and will be soon in Germany!
Happy cooking! (summer or winter)
Amy x
Ps. If you;re i the mood for some vegan baking scroll down for recipes I created for Martha Stewart and the Food Network!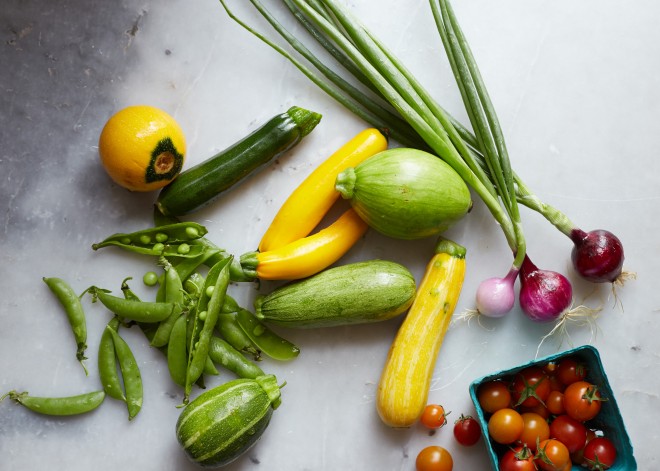 VEGAN PEACH COBBLER
When you've had your fill of fresh juicy preaches try this vegan cobbler recipe….it's light and 'buttery' and everything you want in a cobbler. Find the recipe on Amy's Whole Food Cooking on the Food Network's Healthy Eats Blog Vegan Peach Cobbler
VEGAN BLUEBERRY SPELT MUFFINS
These mildly sweet blueberry muffins can be made with frozen berries too. Find the recipe on my contributer page on Marthastewart.com Vegan blueberry muffins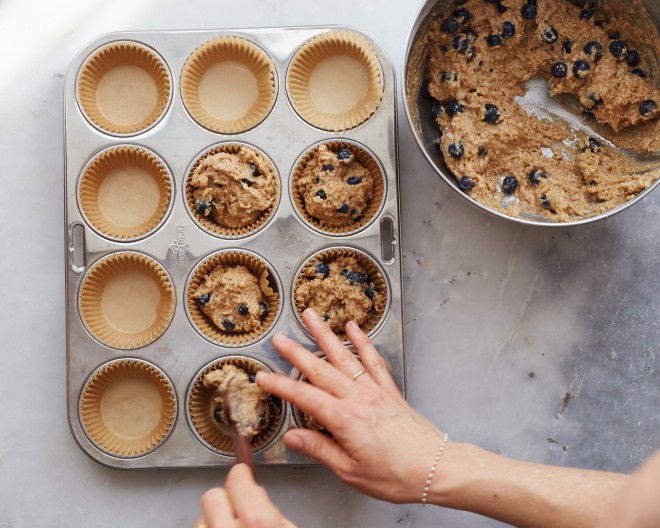 Zucchini tangle with poached eggs and green harissa
I suggest making the hairssa first or even ahead of time. Before starting the tangle get the water ready for poaching eggs and if you like them on the firmer side, get them in just after you have started cooking the tangle.
When making the harissa the recipe calls for ½ cup of olive oil but I found I only needed 1/3 cup for a just-pourable consistency. Taste as you go and see what you need.
The green harissa recipe is barely adapted from The Sprouted Kitchen Bowl + Spoon by Sara Forte (Ten Speed Press 2015)
Serves 2 to 4 with extra harissa
Green Harissa
1 cup loosely packed flat leaf parsley leaves
½ cup cilantro leaves
¼ cup mint leaves
2 cloves garlic, peeled
1 Serrano chili, seeded but save some seeds incase you want it spicier
Juice of half a lemon
½ teaspoon ground cumin
½ teaspoon sea salt
1/3 cup extra virgin olive oil
Braised zucchini tangle:
2 teaspoons extra virgin olive oil
2 spring onions, finely sliced
2 garlic scapes finely sliced
¼ cup shelled English peas
10 sugar snap peas, halved diagonally
2 cups shaved zucchini (from 2 small-medium zucchinis)
2 handfuls spinach leaves, stemmed
Salt and freshly ground black pepper
To serve:
2 to 4 poached eggs depending on how many you want to eat
Your favorite bread toasted
Cherry tomatoes, halved
Flakey salt and fresh pepper
Make the harissa:
Place all ingredients except olive oil into a food processor and blend until combined. Drizzle in olive oil while the motor is running. Season to taste with salt and pepper.
Make the tangle:
Warm oil in a skillet over medium heat. Add spring onions, scapes and shelled peas and sauté for about 4 minutes or until peas are almost tender. Add sugar snaps and cook for another minute or two until bright green. Stir in zucchini and spinach and cook, stirring until spinach is almost wilted, it will continue cooking in the pan. Remove from heat and set aside.
To serve:
Pile the zucchini tangle over a piece of toast and top with a poached egg. Scatter some cherry tomatoes around and sprinkle with salt and pepper. Serve the harissa on the side so people can add to taste.