Carrot, Apple + Ginger Muffins (gluten-free)
POSTED ON February 26, 2016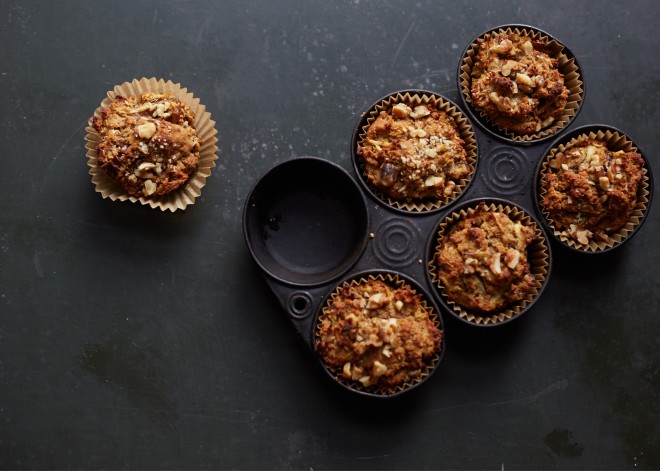 When I first read the introduction to Emma Galloway's book My Darling Lemon Thyme: Recipes from my Real Food Kitchen it was as if I was reading about my own childhood—vegetarian parents, a handmade house in the country, fruit and vegetables coming from their garden, water from the sky and the raw milk they use to make yogurt was collected from a farm down a winding gravel road. I had to read these sentences twice to be sure I was reading them correctly!
Emma is from New Zealand but she wrote her book while living in Western Australia. You can sense the warmth and ease of cooking in the balmy Australian weather by the way she words her recipes. Her friendly, down to earth voice comes across so clearly, it makes me yearn to cook and eat on a lazy summer day—preferably with a mango tree in the back yard. All Emma's recipes are gluten free and vegetarian, many are vegan and simple enough for every day cooking and some more involved, like her much talked about gluten-free sourdough. She also has lots of great ideas for sweet treats and desserts—simple cupcakes, muffins, tea bread type loaves and of course a pavlova! It's clear that the recipes Emma included are ones she's made over and over for her own family or meals she grew up eating—which is often rare with healthy gluten free cookbooks. I've been lucky enough to have Emma's book since it was released in Australia and I finally stopped reading it like a novel and baked these muffins.
Hope you enjoy them!
Amy x
Ps. Emma also has a new book coming out very soon!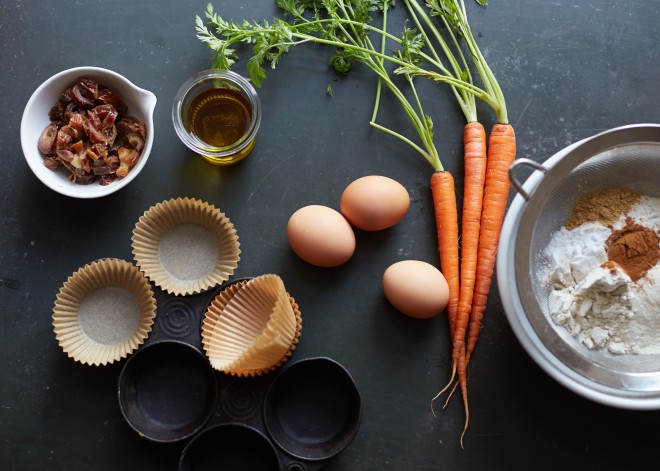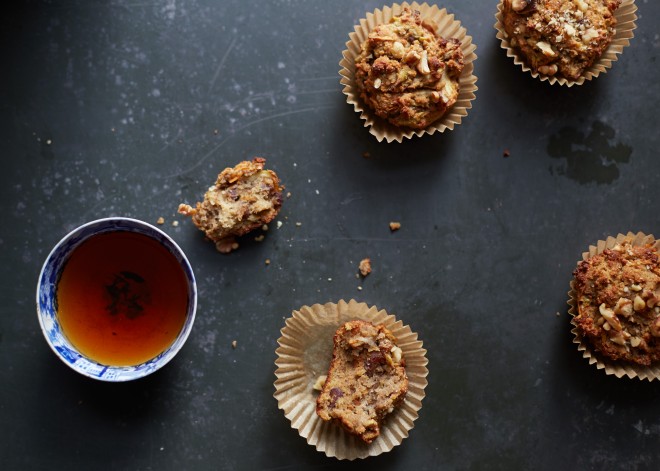 Carrot, Apple + Ginger Muffins (gluten free)
From My Darling Lemon Thyme: Recipes from my Real Food Kitchen (Roost Books 2015)
A few notes: I couldn't find fine brown rice flour, so used regular brown rice flour and did notice a bit of grittiness, although I didn't mind. I was thinking some oat flour might be a good replacement for half of it next time. Since I only had a very flavorful extra virgin olive oil and used coconut syrup instead of honey mine came out with a slight savory flavor, if you use honey I'm sure it wouldn't matter so much. Next time I might try with coconut oil.
Makes 10
¾ cup (105g) fine brown rice flour (I used regular brown rice flour)
½ cup (50g) ground almonds
½ cup (80g) potato flour (potato starch)
2 teaspoons gluten free baking powder
¼ teaspoon baking soda
½ teaspoon fine sea salt
1 teaspoon ground cinnamon
1 teaspoon ground ginger
½ cup (125ml) olive oil
¼ cup (60ml) runny honey ( I used coconut nectar)
1 teaspoon vanilla extract
2 large free-range eggs
2 teaspoons finely grated fresh ginger, optional
1 large carrot, grated
1 apple, skin on and grated
½ cup (80g) pitted dried dates, finely chopped
Sliced almond to garnish (I used chopped walnuts)
Preheat oven to 350 degrees Fahrenheit. Line a regular muffin pan with 10 paper liners. Sift dry ingredients into a bowl then use a whisk to mix together thoroughly. In another bowl combine oil, honey, vanilla, eggs and grated ginger and pour into dry ingredients. Add carrots, apple and dates. Stir until just combined.
Spoon evenly into muffin pan, sprinkle tops with sliced almonds (or walnuts), and bake for 20-25 minutes or until a skewer inserted into the center of a muffin comes out clean. Set aside for 5 minutes before transferring muffins to a wire rack to cool.
Best eaten on the day of baking but they will store 1-2 days in an airtight container.