Vegetables for breakfast?
POSTED ON March 30, 2016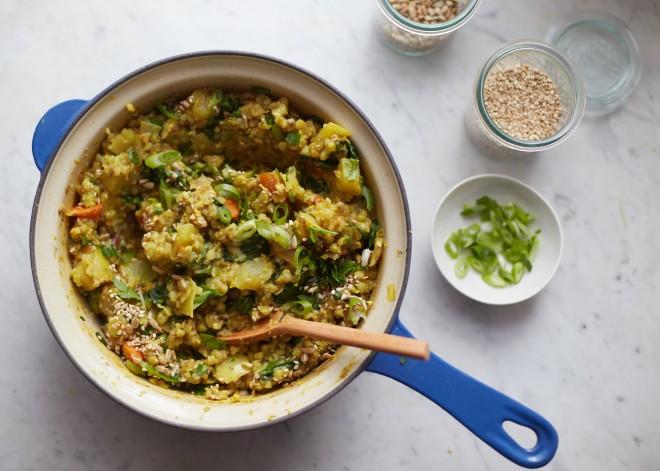 It's been awhile since I last posted. I had no intension of letting this last chunk of time slip past but I haven't found enough moments at home to focus on and capture what I'm craving, making and eating. In fact, I was hoping to make and shoot this recipe again as I'm sure both method and photos could be improved. However, in the end, I realized this dish is something you could run with and take in your own direction. The idea here is to incorporate vegetables into your breakfast; therefore, increasing them in your diet overall. With so much conflicting information out there about diet and nutrition, I think increasing vegetables in our daily meals may be the only thing on which health experts and doctors can agree. If we look at traditional diets from around the world, most begin their day with a meal that includes vegetables. I recently taught on a retreat at which we were served miso soup with seaweed and vegetables along with soft cooked whole grains for breakfast. It reminded me of when I first discovered macrobiotics and what a different tone a savory, vegetable-packed breakfast sets. The most noticeable difference I feel from these kinds of morning meals is a sense of stability and grounded-ness. It's as if you've had a jump start and can face the day in a calmer way. Whole grains take longer to digest and result in a steady, sustained energy. When eaten with vegetables rather than the usual breakfast sweeteners, we are satisfied for longer and are spared a late morning slump. I get it, vegetables don't always feel soothing first thing in the morning, plus they can seem like too much to tackle both in terms of preparing and flavors. The solution is prep your veggies and soak your grain the night before. I suggest sticking to vegetables with a neutral to sweet flavor at first to get used to this kind of savory breakfast. I recommend topping these kinds of grain vegetable bowls the usual way with lots of toasted seeds, chopped parsley and scallions—also all prepped ahead. You can add avocado, flax oil, tamari, etc. Here I tried adding fresh grated turmeric and ginger before cooking which added a stronger flavor … I think I prefer it with just the vegetables but see what you think. You can make this recipe with quinoa or millet instead of buckwheat. Oh, and if you're in the southern hemisphere definitely add squash and also check out this recipe.
Either way let me know how you like to make it!
Amy x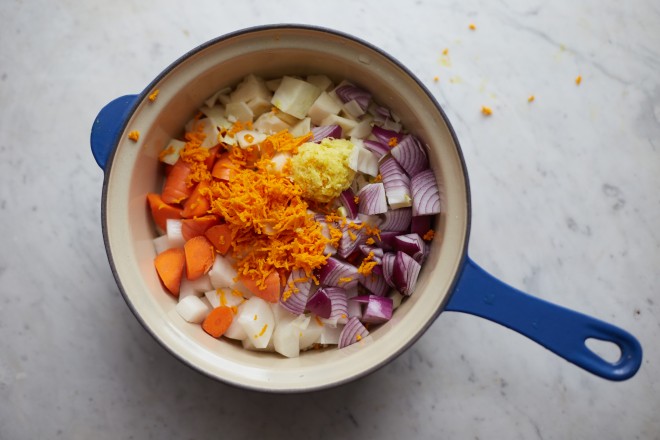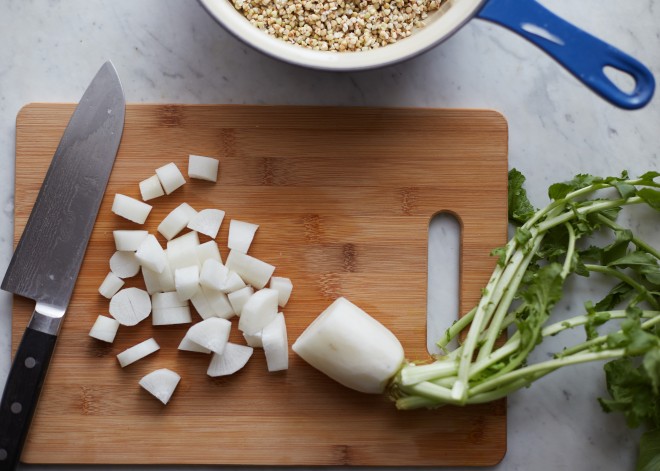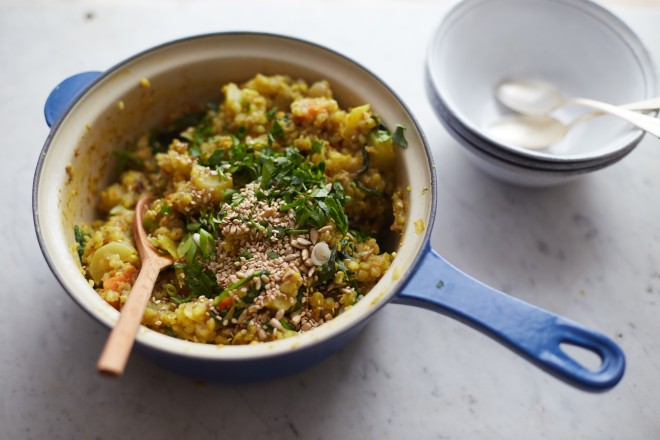 Buckwheat veggie breakfast bowl
serves about 4
1 cup raw buckwheat, soaked overnight in plenty of filtered water
2 inch piece kombu
1 cup daikon, peeled and cut into ½ inch dice
½ cup carrot, cut into ½ inch dice
1 cup cabbage cut into ¾ inch dice
1 onion, diced
1 to 3 teaspoons fresh peeled and finely grated ginger
1 to 3 teaspoons fresh peeled and finely grated turmeric
1 large pinch sea salt
2 cups filtered water
2 cups baby spinach
To serve: toasted sesame and sunflower seeds, finely sliced scallions, chopped parsley, cold pressed flax oil, tamari
Drain and rinse buckwheat until its no longer slimy, this takes a minute or two. Place in a small-medium pot and add all the ingredients except spinach. Bring to a boil over high heat, cover pot, reduce heat to low and simmer for 30 minutes or until the vegetables have cooked through and water is absorbed. If it still needs more time continue cooking for 10 more minutes. Remove from heat, fish out the kombu and compost it. Add spinach, recover pot and set aside for 5 minutes then gently stir leaves through. Serve topped with toasted seeds, scallions, parsley, tamari and flax oil. Any leftover can be stored in the fridge for up to 4 days. Just steam to reheat.