SESAME ROSE + MILLET BAR
POSTED ON May 9, 2017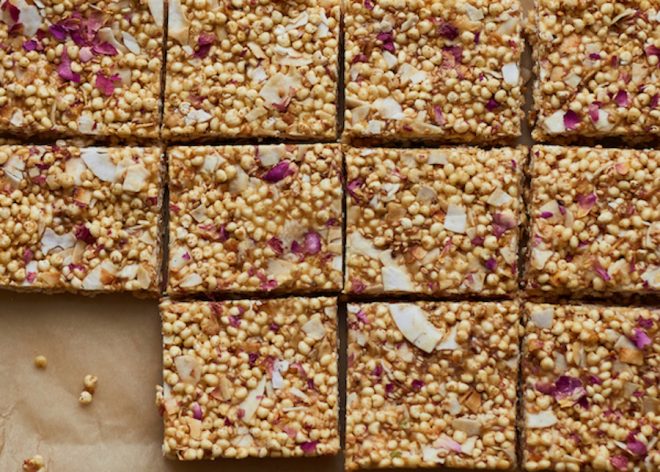 A few months ago as I was wondering the isles of Kalustyan's shopping for a cooking class on whole grains, I discovered that they carry organic puffed amaranth, millet and quinoa—for some reason unknown to me as yet, these are difficult to find in New York City retail food stores. After doing the popping myself for years, finding a bag of already puffed amaranth and seeing the possibilities was pretty exciting. Since then, I've been adding it to granola and sprinkling it over my oatmeal for added flavor and protein. Anyone who knows the store will understand that it's impossible not to find a new ingredient on any given visit. This time, I left with a selection of unusual dried flowers including butterfly pea flowers and organic rose powder. It wasn't until a pantry clean out that I actually got to opening up the bag of puffed millet and seeing the small jar of rose petals beside it made me think of combining the two. A minimal amount of sweetener along with tahini, sea salt and toasted sesame seeds keeps this chewy bar tasting more like satisfying snack than sweet treat. It's extremely fast to make if you have sesame seeds already toasted and the coconut only needs five minutes in the oven. Other than that you don't need the oven at all. This bar stores extremely well in the fridge for up to 2 weeks.
Let me know if you make it!
Amy x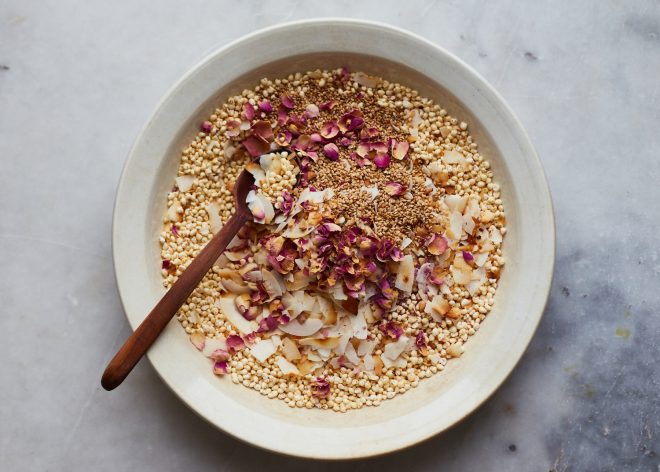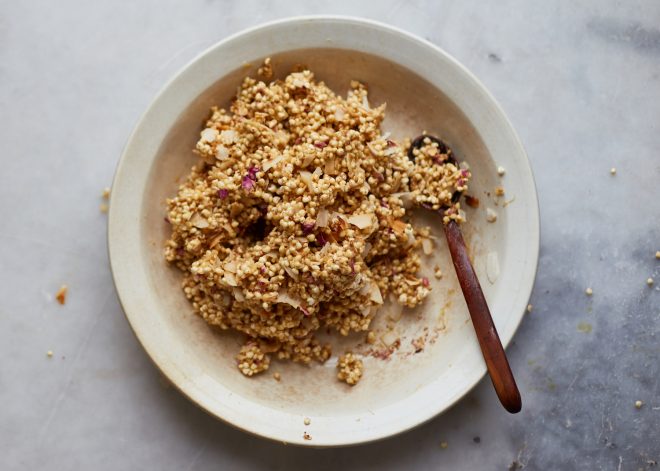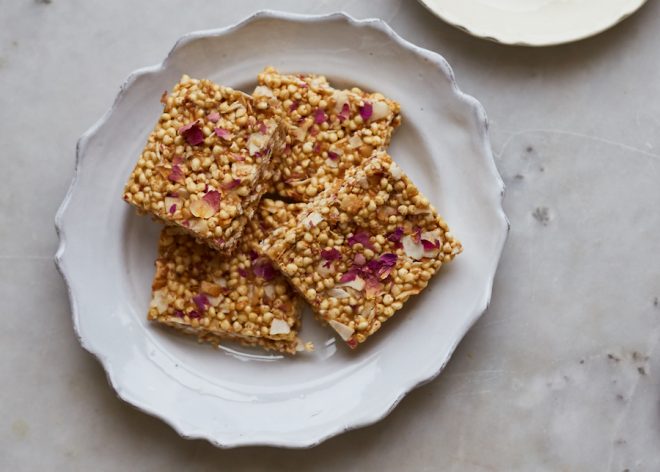 ROSE SESAME + MILLET BAR
Makes 12 2-inch bars
1 ½ cups puffed millet
1 ½ cups dried flaked coconut, toasted, see note
¼ cup unhulled sesame seeds, toasted, see note
¼ cup dried rose petals
¼ cup brown rice syrup
2 tablespoons extra virgin coconut oil
1 tablespoon coconut nectar or maple syrup, optional
½ cup tahini (hulled or unhulled)
¼ teaspoon sea salt
1 tablespoon vanilla extract
1 tablespoon rose water
Line a 7 by 11-inch pan or similar size with parchment paper and set aside. Add millet, coconut, sesame seeds and rose petals to medium bowl and mix well to combine. Add rice syrup, coconut oil and coconut nectar to a small pot and bring to a simmer over medium high heat, stirring with a spatula to combine. Once mixture is bubbling stir in tahini, salt, vanilla and rose water until completely smooth. Pour into bowl with millet mixture, quickly stir until combined and transfer to prepared pan. Press firmly and evenly into pan. Place in the freezer for 30 minutes or in the fridge for 1 ½ to 2 hours. Remove and slice into 12 pieces. Store in an airtight container in the fridge for up to 2 weeks.
Toasting sesame seeds:
Preheat oven to 300 degrees Fahrenheit. Rinse 1 to 2 cups sesame and drain in a strainer. When oven is ready spread seeds over a parchment lined cookie sheet and toast for 10 minutes, stir and toast another 8 to 10 minutes or until fragrant and they can crush easily between your fingers. Lift paper and pour into a jar when cool. Store in the fridge for up to a month. Save the parchment to reuse.
Toasting coconut:
Spread up to 4 cups coconut over a parchment lined tray and toast for 5 minutes or until golden and fragrant. Remove from oven and allow to cool.