Oats and chia seeds with almond milk
POSTED ON June 24, 2009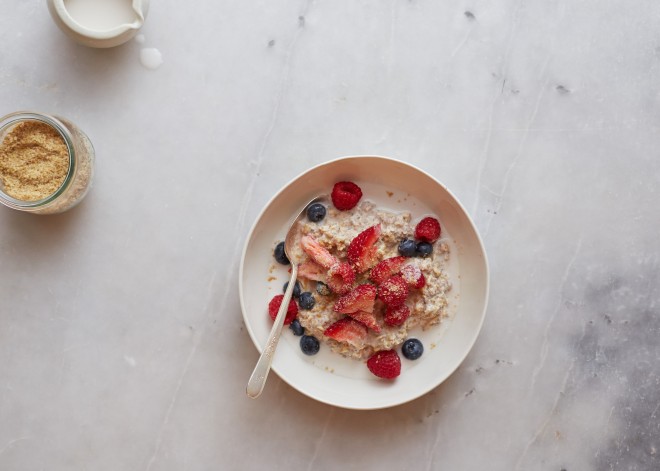 "What do you eat for breakfast?" It's a question I have been asked for years, especially by people wanting to incorporate healthier foods into their diet. Since I love breakfast I always have a lot of suggestions.
Soaked oats and chia seeds with almond milk and berries was what I found myself eating through the really hot months of summer last year. It's the perfect alternative to a wintery porridge and an easy way to include chia seeds in your diet.
Chia seeds are a potent energy tonic and the highest source of omega-3 fatty acids next to flax seeds. They are loaded with antioxidants, protein and fiber and were used as an endurance food by Aztec warriors.
Like flax, they can be ground and sprinkled onto food; however, I don't find their flavor as interesting and seem to forget to add them even though I know how nutritious they are.
Prepared like this (recipe below) I enjoy the way the chia add texture and help thicken the oats and almond milk, they will thicken almost instantly when added to a liquid.
This recipe is perfect for weekday mornings when you just don't have time to stand over a pot of oatmeal, stirring.
Oh, and homemade almond milk is so good that you'll want to add it to hot oatmeal too. The vanilla and cinnamon give it a subtle sweetness that I think is perfect in the morning, but you could always add a touch of honey or maple syrup.
I don't strain the almond milk when using it this way, but you can for a "silkier" texture.
Sometimes I add the wheat germ and ground flax to the oats and chia, and soak everything together….makes things even speedier in the pre-dawn dash off to work.
One last thing, I want thank you all so much for your kind words and encouragement, it really means a lot.
Happy Summer!
Almond milk
1/2  cup whole raw almonds
2 cups filtered water, plus more for soaking
tiny pinch sea salt
pinch cinnamon powder
1 teaspoon vanilla extract
Rinse almonds then place in a jar and cover with 2 inches of filtered water. Let soak for a few hours or over night.
Drain and rinse again. Place in a blender add the 2 cups water, salt, cinnamon and vanilla. Blend on high speed for at least 2 minutes.
Kept refrigerated in a jar or bottle (I like re-using glass milk bottles) it will last 3 or 4 days.
Soaked oats and chia seeds with almond milk
For a gluten free version, make this with gluten free oats and leave out the wheat germ.
1 cup thick rolled oats
2 cups almond milk, plus more for serving (you can use half water if you like)
2 tablespoons chia seeds
pinch cinnamon
Blueberries, raspberries and strawberries
Ground flax seeds and wheat germ, to serve
Rinse oats and place in a wide mouth jar or bowl. Pour in almond milk, add chia seeds and cinnamon. Stir, cover and refrigerate overnight.
In the morning remove from fridge, I like to allow it come to room temperature, if I have time.
Sprinkle with berries, ground flax and wheatgerm, and drizzle with a little extra almond milk.
Serves 2 generous portions and will keep a couple of days in the fridge.