Matcha coconut custard tart with chocolate crust
POSTED ON February 6, 2015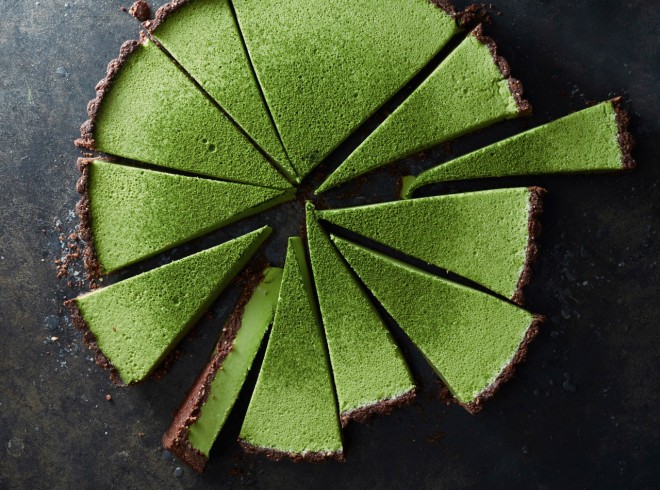 For the new color issue, Anthology magazine profiled me and asked that I develop a few recipes to go with the theme. Along with this matcha tart there's a golden cauliflower fennel soup with dukkah and a roasted beet heirloom bean salad with bitter greens. I was planning to share the salad recipe but after posting a picture of this tart on instagram I received so many requests to share the recipe that it was clear my plan needed to change. This tart is a winner and what makes it really special is the unique airy texture that's reminiscent of a matcha latte. It's also vegan and gluten free so everyone can enjoy it. You can pick up your copy of Anthology magazine here.
Wishing you all a happy weekend!
Ps. Exciting news: My book will be released in the UK and Australia on June 18 th !
It is available for pre-order on Amazon UK.  If you've seen it and are inspired to write a review I would love the support!
Thank you! x
Photos by Stephen Johnson for Anthology Magazine
Matcha coconut custard tart with chocolate crust
This tart is a most light and refreshing way to end a meal. The airy mousse-like matcha filling melts in your mouth and plays off the crisp dark chocolate crust beautifully. Be sure to use gluten free rolled oats and oat flour if you are allergic to gluten. Like most vegan and gluten free desserts this tart is best served the days it's made. You can press the crust ahead of time and refrigerate it for up to 2 days before baking.
Crust
¼ cup old fashioned rolled oats
¼ cup dried unsweetened shredded coconut
½ cup plus 1 tablespoon oat flour
¼ cup cocoa powder, I used Valrhona
¼ teaspoon sea salt
1 cup almond meal
¼ cup brown rice flour
2 tablespoons plus 2 teaspoons melted extra virgin coconut oil, plus more for oiling pan
¼ cup maple syrup
1 teaspoon vanilla extract
Filling
½ cup whole raw cashews, soaked 2 to 6 hours
1 ½ cups dried unsweetened shredded coconut
3 cups water
5 tablespoons maple syrup, preferably grade A
4 teaspoons agar flakes
3 ½ teaspoons matcha tea, plus more to dust
2 teaspoons vanilla extract
Make the crust:
Preheat oven to 350 degrees Fahrenheit.
Thoroughly oil a fluted 9-inch tart pan with removable bottom and set aside.
Add oats, coconut, oat flour, cocoa powder and salt to a food processor and blend until oats and coconut are finely ground. Place in a bowl and stir in almond meal and brown rice flour. Stir in coconut oil and mix until all the flour is moistened. Add maple syrup and vanilla and mix again until the dough forms a ball. If it's not holding together, add a teaspoon of maple syrup. If dough is very sticky set it aside for 10 minutes to thicken up. Wash and dry your hands and press crust thinly and evenly into prepared tart pan. Prick with a fork and bake 18 minutes. Remove from oven and set aside to cool.
Make the filling:
Line a large strainer with a nut milk bag or several layers of cheesecloth. Place strainer over a medium pot and set aside. Drain and rinse cashews, and add them to an upright blender. Add coconut and 3 cups of water, blend on highest speed until smooth. Pour into lined strainer and gather the edges of the bag or cloth and gently squeeze out all liquid. Compost solids. You should have 3 cups of coconut-cashew milk, if not add a little water. Rinse out blender. Add maple syrup and agar flakes to the pot and bring to a boil over medium-high heat, whisking constantly. Reduce heat to low, cover pot and simmer for 15 minutes or until all agar flakes have dissolved. Whisk mixture every 5 minutes to prevent sticking. Remove from heat, uncover pot and allow to cool for 10 minutes then pour mixture into the blender. Add matcha and vanilla and blend until evenly combined and foaming. Gently pour into tart crust. Allow to sit for another 15 minutes before transferring to the refrigerator to set. This takes about 1 hour or until its completely chilled. Use a small strainer to dust with matcha. Serve cold.