Apricot coconut upside down cake with cardamom
POSTED ON August 2, 2015
If you've read the tart section in my book, you'll know that tarts are my favorite go-to summery dessert. With a virtually fool proof equation: crisp and nutty crust + succulent fruit to fill = delicious, tarts are hard to get wrong. However, the other day at the farmer's market on a quest for dessert ingredients, I spied these sweet little apricots which are the perfect sized fruit to pack into a pan for an upside down cake. I haven't made a cake like this since my days as a pastry chef at Angelica Kitchen. Upside down cakes are a great option for using up lots of stone fruit—which we often had in abundance this time of year. Plus, whipping up a batter for multiple upside down cakes is much faster than rolling pie dough—especially when you need to make 15 and you're running late! I discovered that when making upside down cakes it's best to use a thick-ish vegan batter; not one that will run through the topping and cover parts of the fruit when you flip it. I also found that keeping the quantity of batter low was good for the perfect fruit to cake ratio—not sure about you, but I want more baked fruit than cake. This also means that the cake will bake in under an hour, which prevents the fruit from turning to compote before the batter is done.
For this cake I decided on a coconut batter spiked with lots of freshly ground, fragrant cardamom. Using large flaked coconut (that's first ground in a food processor) means that it's moist and has a bit of texture, as the coconut doesn't grind completely fine. The coconut also thickens the batter just enough to sit nicely on the fruit. Sweetened with maple syrup, the flavors are irresistible against the tangy, soft baked apricots and the heady aroma of cardamom.
Ok, all good, but what really takes the flavors over the edge and makes it near impossible to stop eating is pairing it with a good coconut yogurt. If you live in New York you will have access to Anita's Coconut Yogurt, which is a game changer when it comes to vegan yogurt. It is made with coconut milk that has zero additives and is made with nothing else but cultures, no sweeteners or thickeners—it's like eating Greek yogurt but better! If you do eat dairy a good quality Greek yogurt would also be delicious.
A note about making it gluten free: I use whole grain spelt flour here; sprouted if I have it. You could swap out the spelt for a combination of oat, buckwheat and/or millet flour. Be aware that since its vegan and made with lots of coconut and some almond meal, it's already delicate and may become crumbly without the structure provided by the gluten. Please let me know if you try it!
Happy summer baking!
Amy x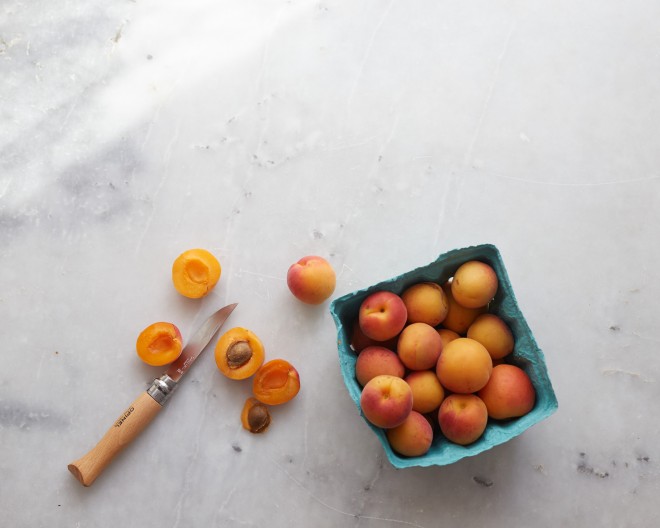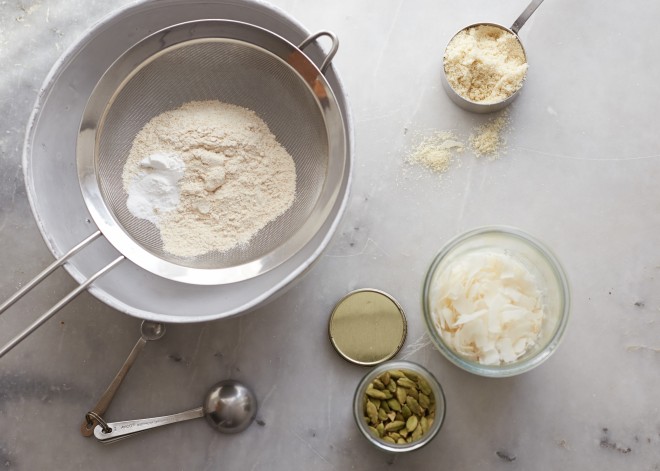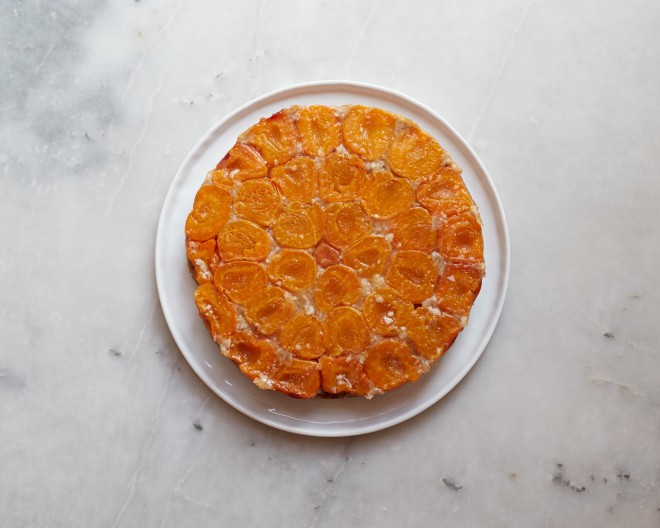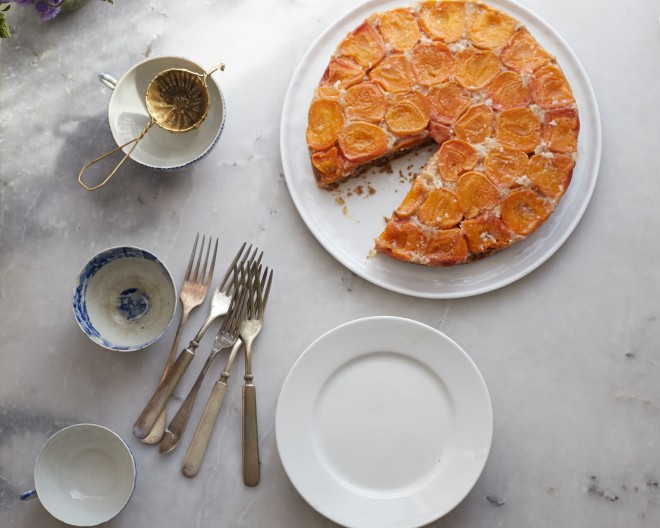 Apricot upside down cake with cardamom and maple
For the best results grind your own cardamom by adding about a tablespoon of cardamom pods to an electric spice grinder. Grind until fine and sift through a strainer before measuring.
This cake could also be made with peaches, nectarines or plums—get a firm fleshed plum variety though as the really juicy kinds will, with all the extra liquid, prevent the batter from baking.
Makes 1 9-inch cake
18-20 small ( 1-quart) apricots, halved and pitted
3 cups large flaked dried unsweetened coconut
1 ¼ cup whole spelt flour, divided
1 ¼ teaspoon ground cardamom
¾ teaspoon baking powder
¾ teaspoon baking soda
½ cup almond meal
2 tablespoons ground flax seeds, preferable golden flax
¼ cup water
¾ cup maple syrup, plus 1 tablespoon for pan
¼ cup melted extra virgin coconut oil, plus 1 tablespoon for pan
2 teaspoons vanilla extract
2 teaspoons raw apple cider vinegar
¼ teaspoon sea salt
Preheat oven to 350 degrees Fahrenheit.
Line the bottom of a spring form pan with parchment paper—do this by flipping the base over and placing a larger square piece of parchment on top of it. Attach the sides, keeping the paper flush against the base. Turn it upside down and fold paper into the center.
Add 1 tablespoon of coconut oil and use your hands to spread it over the bottom and up the sides of the pan. Add 1 tablespoon maple syrup and spread it over the bottom of the pan. Arrange apricots in circles, cut side down on the bottom of the pan. Set aside.
Add coconut to a food processor and add a handful of the spelt flour. Blend until coarsely ground and set aside. Sift remaining spelt flour, cardamom, baking powder and baking soda into a medium bowl. Add almond meal, and ground coconut, stir to combine and set aside.
In another bowl whisk together flax seeds and water then add maple syrup, oil, vanilla, vinegar and salt, and whisk again. Pour into dry mixture and stir until just combined. Pour over apricots and gently spread batter evenly over the fruit. Place cake on baking sheet and bake for 45 to 50 minutes or until a toothpick comes out clean. Remove from the oven and allow to cool for an hour before running a knife around the edges of the pan and removing the sides. Place a cake plate over the top of the cake and swiftly flip it over. Remove the cake pan base; carefully peel off the parchment paper and serve.