Simple kale salad with umami dressing
POSTED ON October 25, 2014
It's been a whirlwind week!  The launch event for my book was on Wednesday at Power House Books where I had my first official book signing and Q & A with the lovely and charming Jennifer Aaronson (from Martha Stewart). Despite the fact that we had a cold, heavy rain that night, the turnout was great.  My heart was warmed to see so many people from my life in New York gathered together—and it was great to meet new friends who have been following along here. I am brimming with gratitude for the support that I've received in person and online this week.
Although I've started a few posts over the last several days, today I'm determined to share this extremely simple salad. This recipe came about when one of my clients requested a good dressing with the umami flavor of nutritional yeast to toss with her daily kale salads. Nutritional yeast is not something I use regularly in my cooking, as I've never really been convinced that it's a health food—although it does taste really good on a bowl of popcorn! When purchasing nutritional yeast it's important to seek out a brand that is grown on molasses (not hops, grain or malt), which has a naturally pleasant flavor and doesn't need to be processed to remove any bitterness.
After trying Premier nutritional flakes, which is grown on molasses, boasts plenty of nutritional benefits and has a lovely delicate flavor, I'm inspired to see where else I might use it. The nutritional benefits include an impressive quantity of B-12, amino acids and trace minerals. What's great about using nutritional yeast in this dressing is that it creates a creamy consistency, which works well with heartier greens like kale.
To dress up this straightforward salad, I usually serve it with avocado, chickpeas, toasted seeds or roasted squash. Feel free to add in whatever you have on hand.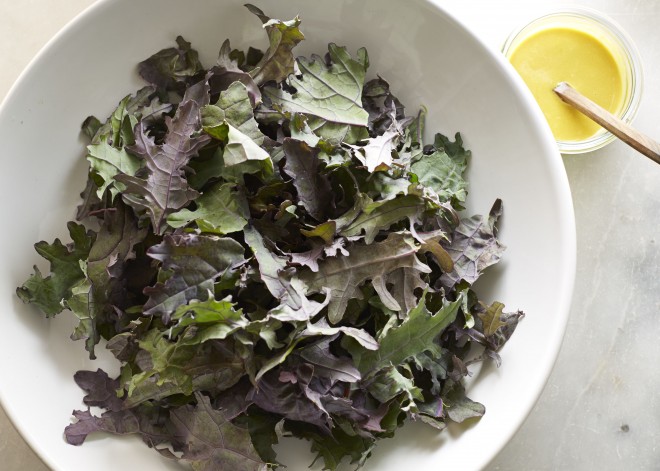 Photos by Stephen Johnson.
Find a recipe from my book along with photos of my kitchen and an interview by Jackie Cooperman in The Wall Street Journal
Information about nutritional yeast from "Healing with Whole Foods" by Paul Pitchford (North Atlantic Books) and "The New Whole Foods Encyclopedia" By Rebecca Wood (Penguin Compass)
Simple Kale Salad with umami dressing
I usually use my microplane zester for grating garlic directly into this dressing, which is easier to clean up than a chopping board or a garlic press. For the salad I found this gorgeous purple kale, but you can use any kind you like. I also found dill flowers at the green market and couldn't resist using them to create a pretty garnish.
Serves 2
Umami dressing
Makes ½ cup
5 tablespoons nutritional yeast
5 tablespoons fresh lime juice
1 clove garlic, pressed
Pinch sea salt
1 teaspoon tamari
¼ cup cold pressed flax oil or extra virgin olive oil
1 teaspoon coconut nectar or maple syrup, optional
Salad
4 cups kale, torn into bite size pieces
1 shallot or scallion, thinly sliced
Add-ins: avocado, chickpeas, shaved beets or radishes, roasted squash
Make the dressing:
Add nutritional yeast, lime juice, garlic, salt and tamari to a bowl and whisk to combine. Drizzle in flax oil and continue whisking until emulsified. Taste and add sweetener if its too sharp for your taste. Place in a jar in the fridge until ready to use. Dressing will keep up to 5 days.
Make the salad:
Place kale in a large bowl, add dressing and use your hands to massage until thoroughly combined. Add shallots and any other add -ins and serve.