Gluten-free chocolate apricot and almond cookies + book launch photos
POSTED ON November 3, 2014
I created these cookies on the fly when I needed something to serve out of town guests who were coming by for tea. About half an hour before they arrived I decided that I needed to bake and thus began pulling out all the gluten-free flours I had in my freezer. Although I took notes as I added ingredients to the bowl, I told myself the recipe probably wouldn't work. Luckily, these friends are close ones and I knew they would appreciate even a failed cookie; so I kept going. I'm not exactly sure why I added jam, chocolate and salt, but I'm so glad I did as it took the cookies from tasty/average to sublime.  As we nibbled them over several pots of tea the flavor combination of chocolate, fruit and nuts reminded me of a rustic version of a Florentine. I've made them a few times and found the recipe to be very forgiving—although I still don't know how well they keep as there never seems to be enough of them left!
Photo by Stephen Johnson
It's been another exciting week – my sister and I both celebrated birthdays (there was cake and champagne!) and almost every day another of my favorite food bloggers posted a recipe from my book! I can't thank these lovely folks enough for including me in their work.  I'll share a full list with all of you next week, but in the meantime, below are links to a couple that are doing giveaways of my book this week, so be sure to visit and leave a comment to win a copy….but hurry some are ending soon!
I also have a couple of events coming up (event page coming soon!).
Book signing at Union Square Farmer's market Wednesday November 5th at 11am.
Panel discussion for Raising the Bar  The Vegan Phenomenom Wednesday November 5th 7:30 at the Blind Barber.
Author talk, cooking demo and book signing at Trident Book Sellers and Café in Boston November 10th 7pm to 8pm
Book signing at Mogador Brooklyn November 13th 3pm to 5 pm
If you can make it to any of these I would love to see you!
Amy x
Ps. Scroll down for some pictures from my book launch by Ivan Bercholz
My editor and publisher Sara Bercholz and me before the Q & A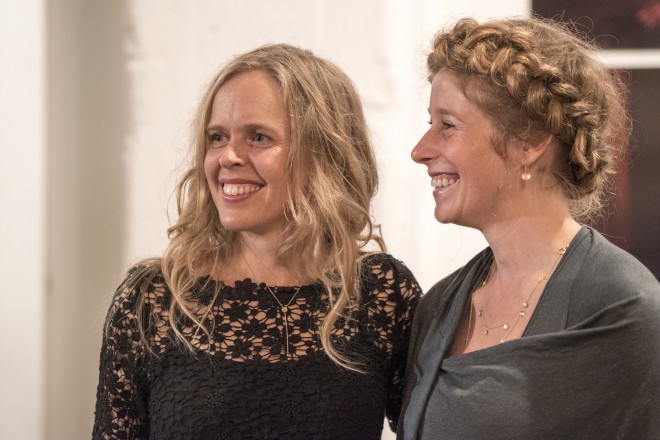 The lovely crowd at Power House Arena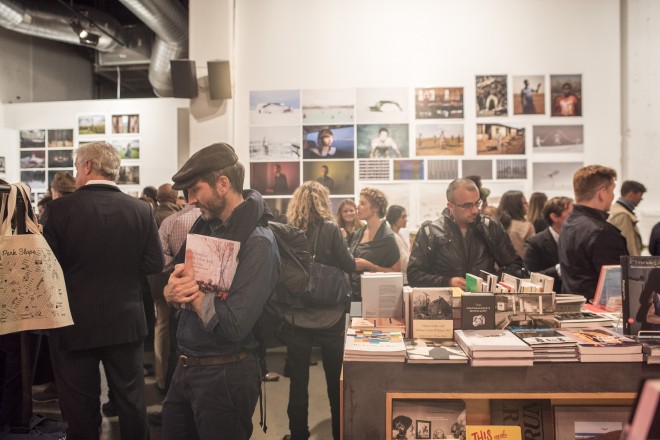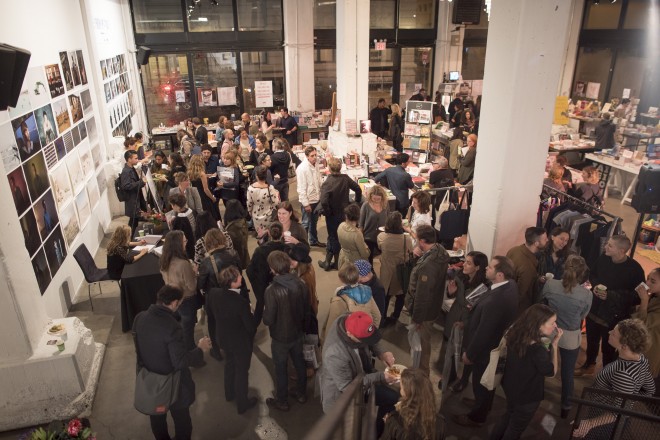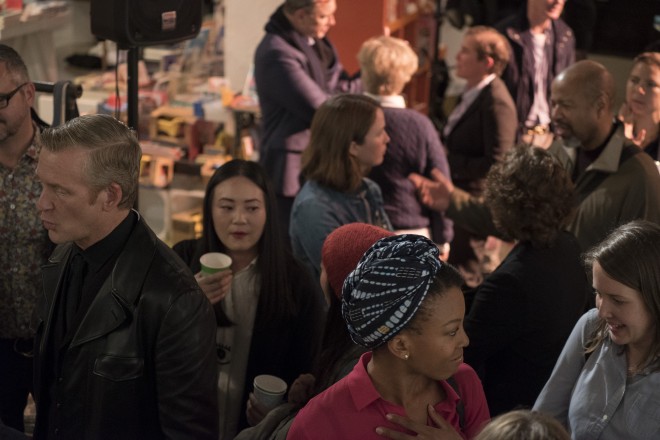 Fun interview with Jennifer Aaronson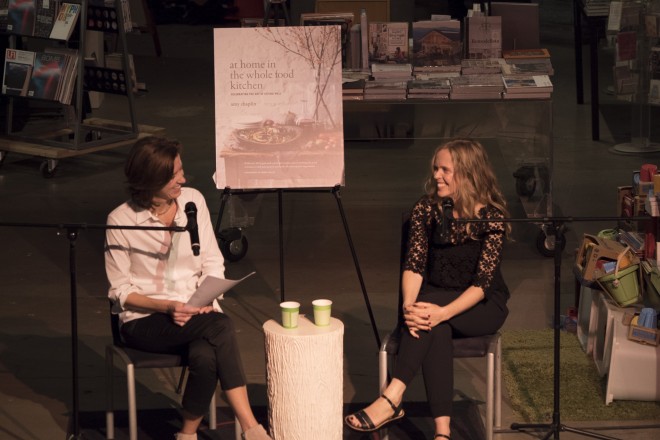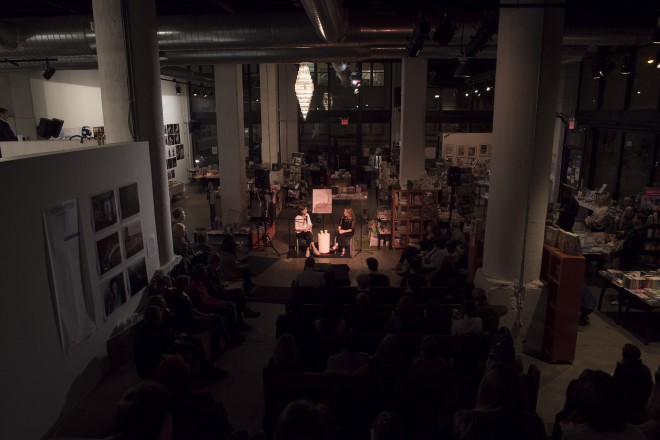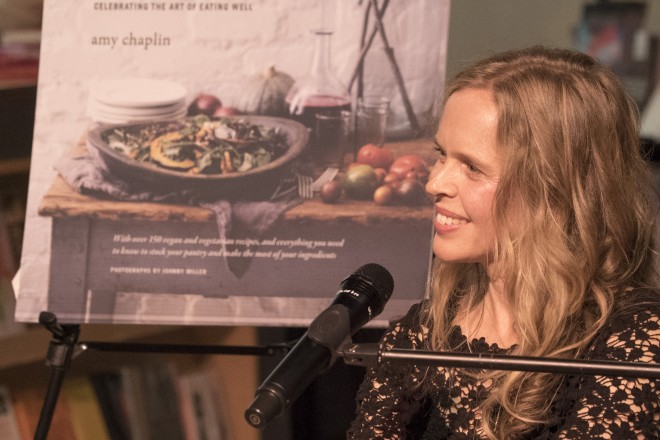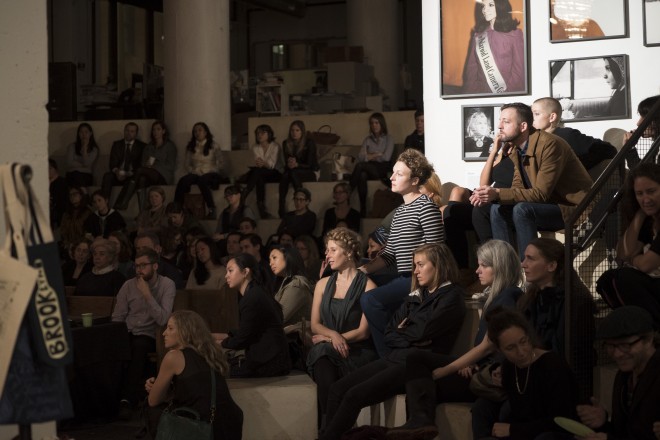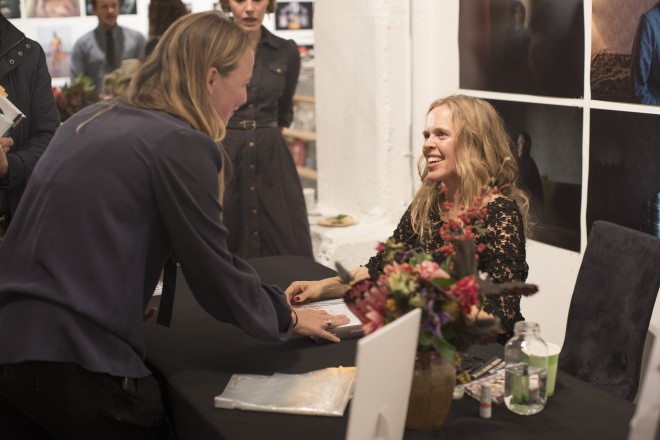 Gluten free almond chocolate and apricot cookies
Makes about 14 2-inch cookies
1 ¼ cup almond meal
½ cup gluten-free oat flour
¼ cup brown rice flour
2 tablespoons millet flour
½ teaspoon baking powder
¼ cup coconut sugar
¼ cup melted coconut oil
3 tablespoons coconut syrup or maple syrup
2 tablespoons brown rice syrup
2 teaspoons vanilla extract
Pinch fine sea salt
Unsweetened apricot jam
3oz dark chocolate broken into pieces
Flakey sea salt to sprinkle
Preheat oven to 350 degrees Fahrenheit. Line a baking sheet with parchment paper and set aside.
Add almond meal, oat flour, rice flour, millet flour, baking powder and coconut sugar to a medium bowl and stir to combine. In another bowl combine coconut oil, coconut syrup, brown rice syrup, vanilla and salt and whisk to emulsify. Pour into dry ingredients and stir to combine. If dough seems too wet to roll, set it aside for 10 minutes to thicken. Roll dough into large golf ball-size balls and place on prepared tray. Use your thumb to create a large dent in the center of the cookie, as if you were making jam dot cookies. Spoon about a teaspoon of jam into the center of each cookie and top with a couple of pieces of chocolate. Sprinkle with flakey sea salt and bake 9 to 10 minutes. Remove from oven and set aside to cool.