chai + homemade almond milk that won't curdle
POSTED ON February 25, 2015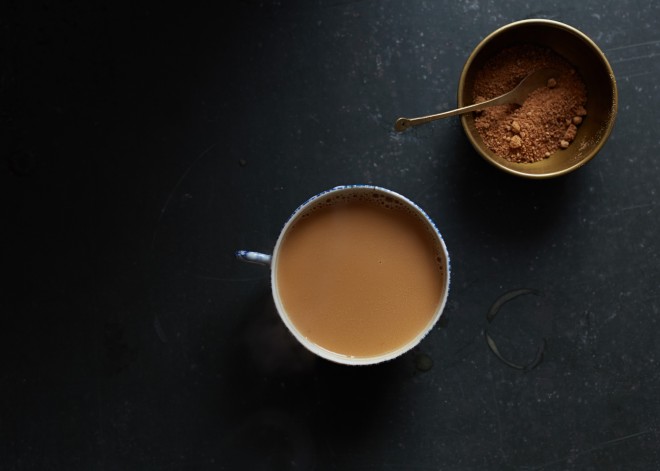 Tis the season of chai in my house
The weather this winter, marked by months of sub-zero temperatures, snow and even blizzards has me craving warm, invigorating drinks. I've always liked chai, the spicy Indian tea when it's well made – not that easy to find outside of your own kitchen– but haven't, up until now, found the right moment to drink it. When I have, the dilemma of what milk to add has, more often than not, stumped me.  The reason being, that good strong chai is made up of quite a bit of milk. As much as I love almond milk on or in breakfast, I'm not crazy about the way it curdles in hot drinks—I realize that packaged almond milk doesn't do this but I have no desire to drink it because the ingredients, flavor and packaging are so questionable.
My friend Gabby told me about her success with blending sunflower lecithin into almond milk to stop the curdling but it took me literally years to try it out. Firstly because sunflower lecithin is not that easy to purchase and then when I finally ordered it, the jar sat it my fridge for another couple of months before I actually tried it. When I finally did, I wondered why it took me so long! It creates a creamy and rich nut milk that's perfect for hot drinks.
Made up of essential fatty acids and B vitamins, lecithin supports healthy function of the brain, nervous system and cell membranes.  It also lubricates joints; helps break up cholesterol in the body and can be used topically to help heal wounds.
Sunflower lecithin has a thick, dark and sticky consistency with a nutty-seedy rich smell and surprising pleasant flavor. It is a natural emulsifier, binding the fats from almonds (or other nuts) with water creating a creamy consistency.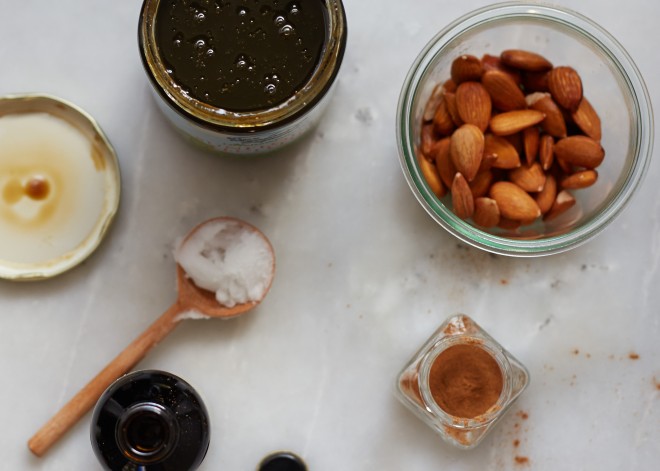 If you add the right amount of sunflower lecithin the flavor of your almond milk is only slightly altered and it actually tastes really good. I have found that if the almond milk boils at all it will separate so just be sure to remove from heat just as it starts to simmer. I also added some coconut butter to the milk to give it a bit more richness and body, which feels necessary on these freezing days, but you can leave it out. Don't be tempted to use coconut oil in its place as it will separate and also solidify when refrigerated.  I used this brand.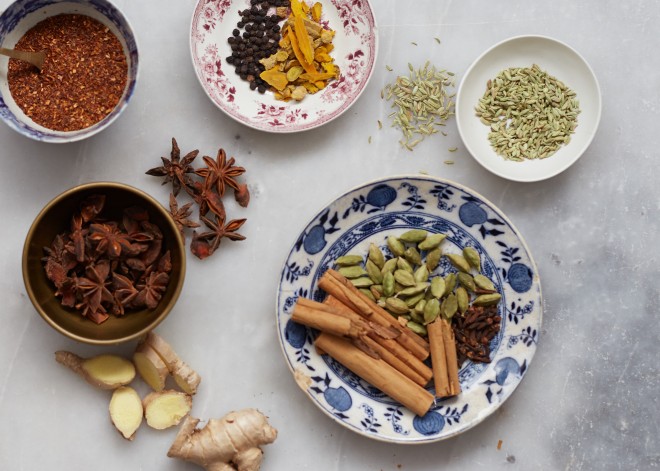 Your kitchen will smell deliciously fragrant with cardamom, star anise, ginger and cinnamon simmering on the stove. Since I wanted to create a caffeine free chai I used rooibos tea. If you decide to make it using black tea then I think you could reduce the amount. I also added turmeric, which not only enriches the color and medicinal value but adds a depth of flavor that I find you miss without the black tea. It's really important that you end up with a good strong brew to which the milk is added. As much as I like to avoid adding sweeteners to anything but dessert, I have to say that this drink definitely benefits from a touch of honey or other sweetener of choice.
If you're not up for making your own chai tea base, I have found these brands to be a good substitute. Both are caffeine free:
Rishi Tea's West Cape Chai (loose leaf)—very fragrant with and rich tasting; and Numi Rooibos Chai (tea bags) – I find they need to be simmered to get a good strong flavor. I also like to add a bag of Biodynamic Turmeric Cinnamon tea from The Republic of Tea for the added warmth and benefits of turmeric.
Ps I also posted a recipe for a warm chai smoothie on Healthy Eats a few weeks ago. Check out the recipe here is you haven't already seen it!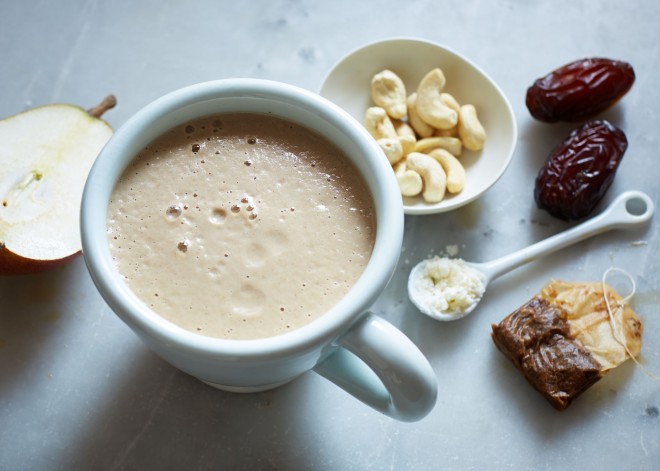 Chai tea
I have made this recipe both with dry turmeric pieces, which you can get in herb shops like Flower Power in New York or Indian markets—and with fresh sliced turmeric root. If you only have turmeric powder you could try adding 1 to 2 teaspoons or more but I would add it when you add the tea. Since I toast the spices before crushing and simmering add fresh turmeric at the same time as you add the fresh ginger.
Serves about 4
2 tablespoon dried turmeric pieces or 3-inch piece fresh turmeric, sliced
2 tablespoons fennel seeds
2 cinnamon sticks, broken
1 teaspoon cloves
2 teaspoon black peppercorns
12 star anise
2 tablespoon cardamom pods
3-inch piece fresh ginger, chopped
6 cups filtered water
6 tablespoons rooibos tea
Almond milk to serve, recipe below
Coconut sugar or raw honey to taste
Combine turmeric (if using dry pieces), fennel, cinnamon stick, cloves, peppercorns, star anise and cardamom in a skillet over medium high-heat and toast until fragrant bout 3 to 4 minutes. Remove from heat and pulse a few times in a spice grinder or crush spices with the end of a flat rolling pin or jar. Add to a medium saucepan along with ginger (add fresh turmeric now if you didn't use dry) and water and bring to a boil over high heat. Cover pot, reduce heat to low and simmer for 30 minutes. Remove from heat, add rooibos, cover and allow to steep for 5 minutes. Strain into a jar and rinse pot. You should have about 4 cups chai.
To serve:
For each serving of chai, warm 1 cup of chai tea in a small pot until it simmers. Whisk in ½ cup of almond milk (recipe below) and warm until mixture has just started to simmer. Stir again if needed (sometimes you will see a bit of separation when almond milk heats but it should come together again after a quick whisk). Add a spoon of your sweetener of choice. Pour into mug and enjoy warm.
Almond milk that won't curdle!
This almond milk makes more than what you'll need for 4 cups of chai but it keeps well for about 5 days and is also delicious on your breakfast or in smoothies. Feel free to halve it.
Makes 4 cups
1 cup whole raw almonds, soaked overnight in filtered water
4 cups filtered water
1 ¼ teaspoon sunflower lecithin
2 teaspoons vanilla extract
2 teaspoons coconut butter
Tiniest pinch sea salt
Drain and rinse almonds and add them to an upright blender with filtered water. Blend until smooth and strain using a nut milk bag or a strainer lined with a thin kitchen towel or several layers of cheesecloth. Squeeze out all the milk from the almond pulp. Save pulp for another use or compost it. Rinse the blender and add strained almond milk along with remaining ingredients. Blend until smooth and frothy, pour into a jar, seal and keep in the fridge for up to 5 days.
copyright @amychaplin 2015