Pumpkin Oat Waffles (gluten free and vegan)
POSTED ON October 9, 2015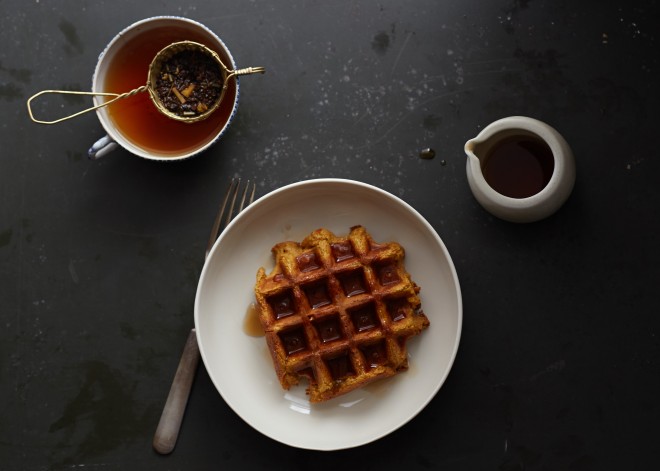 When it comes to breakfast I prefer to eat something that nods towards a sweet flavor but isn't actually sweetened. Ingredients like squash, warming spices, almonds and oats all have a subtle, naturally sweet flavor and are perfectly comforting for breakfast. I leave the dates, raisins and added sweeteners for times when I'm really craving something sweet—usually later in the day. Perhaps the reasons I love making these waffles so much is that they satisfy my urge to bake, fill the air with warm spices and result in a healthy breakfast rather than a tempting dessert.
Today I heated up a left over waffle (they freeze well, see below) and loved how I could truly taste every ingredient without out the mask of a sweetener taking over. When serving guests I like giving them the option of adding as little or as much sweetener as they like—these waffles are a true crowd pleaser when drizzled in maple syrup!
Since the market is over flowing with all kinds of winter squash during the fall I suggest making your own pumpkin puree for these waffles. (Canned pumpkin puree has zero flavor and a watery texture, I actually never recommend it! :)) Not only does fresh made pumpkin puree taste delicious but it also has a lovely thick texture, which helps hold these waffles together.
In this recipe I added a little brown rice syrup to help the edges crisp up when cooking but you can leave it out if you don't have it in your pantry or if you want to make it completely sugar free.
Another bonus about these waffles is that they freeze well. Once cooked allow them to cool, place in an airtight container and store for up to 3 months in the freezer.
I hope you make them soon!
Amy x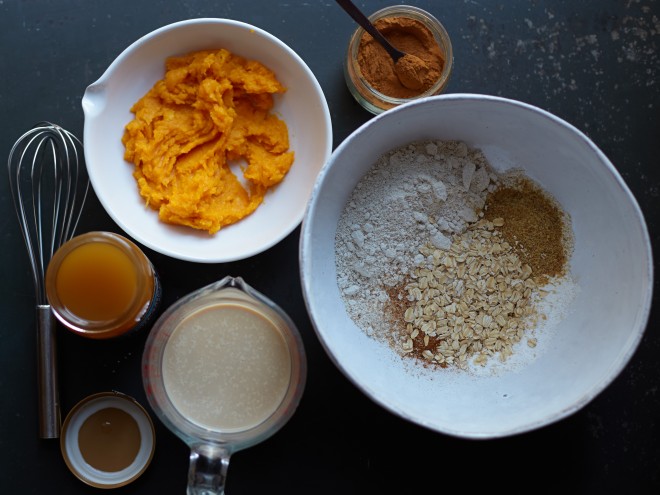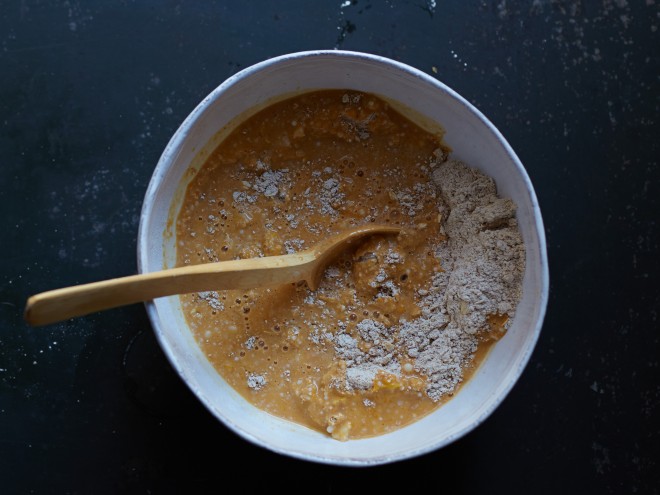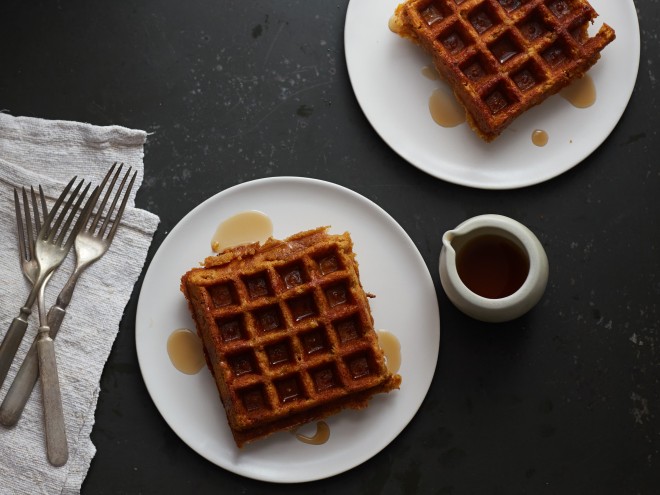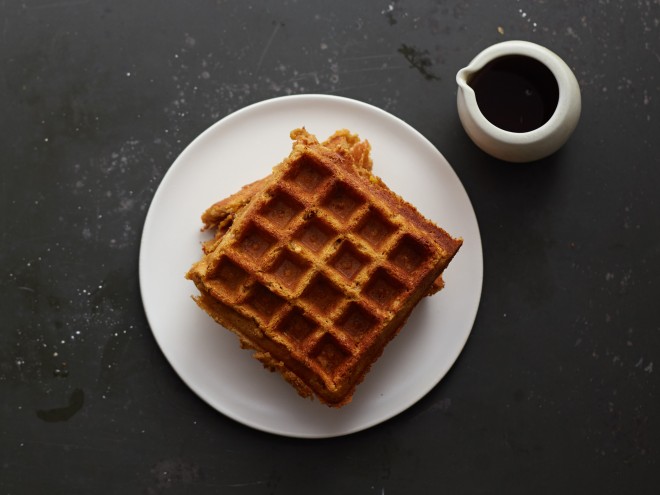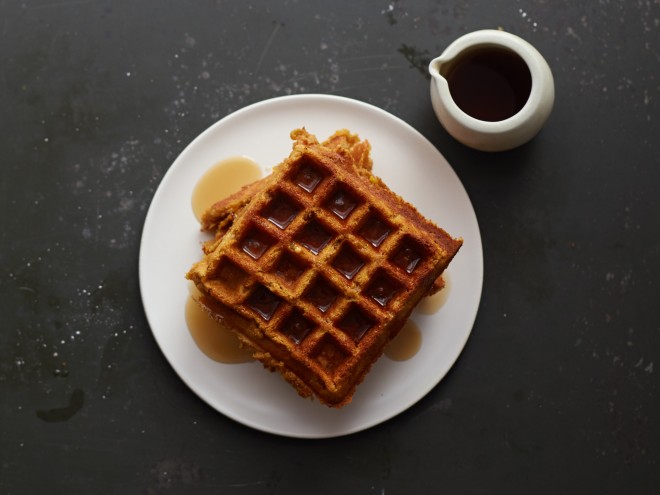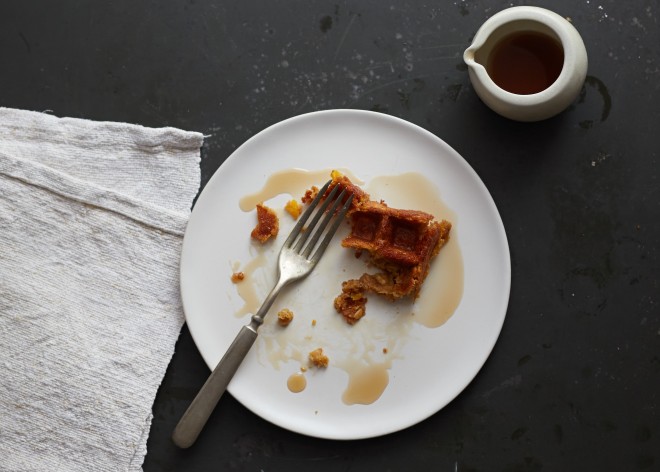 Vegan and gluten free pumpkin oat waffles
Store brought ground nutmeg can have a bitter, stale taste, which is why I recommend grating it fresh as needed—you can use a microplane zester for the job. The flavor is a world apart and whole nutmeg keeps indefinitely; I carry a ball in my knife kit, as it's something most kitchens don't have.
Almond milk can be used in place of soy with good results but it won't "clabber" the same way.
Makes 6 waffles
1 ¼ cups unsweetened soymilk
1 teaspoon lemon juice
¾ cup regular rolled oats, divided
1 ½ cup oat flour
2 teaspoons baking powder
1 teaspoon cinnamon
½ teaspoon cardamom
1/8th teaspoon freshly ground nutmeg
¾ cup pumpkin puree, see note
3 tablespoons melted extra virgin coconut oil, plus more for waffle iron
1 tablespoon brown rice syrup, optional
¼ teaspoon sea salt
Pure maple syrup to serve
In medium bowl combine milk and lemon juice and set aside for 5 minutes to clabber. Preheat waffle iron
Grind ½ cup of the oats in a Cuisinart or spice grinder until coarsely ground and place in a medium bowl. Add remaining oats, oat flour, baking powder, cinnamon, cardamom and nutmeg; stir to combine.
Add pumpkin puree, coconut oil, rice syrup and sea salt to clabbered milk and stir until evenly combined. Pour into flour mixture and stir until just combined. If mixture seems too thick to pour add 2 to 3 tablespoons more soymilk and stir again.
Generously oil the top and bottom of waffle iron and spoon in approximately half a cup of batter for each waffle. Cook for about 4 minutes or until top is crisp and deeply golden. When checking waffles lift lid carefully as gluten free batter can tends to stick. Remove and repeat with remaining batter oiling waffle iron between batches. Serve warm with maple syrup.
NOTE: Look for the dense fleshed squash like red kuri or kabocha squash. Peel and dice about 2 cups then steam until soft, mash with a fork and measure.
To print recipe scroll to bottom of post.