Roasted root vegetable tarts with spiced sesame crust
POSTED ON May 19, 2016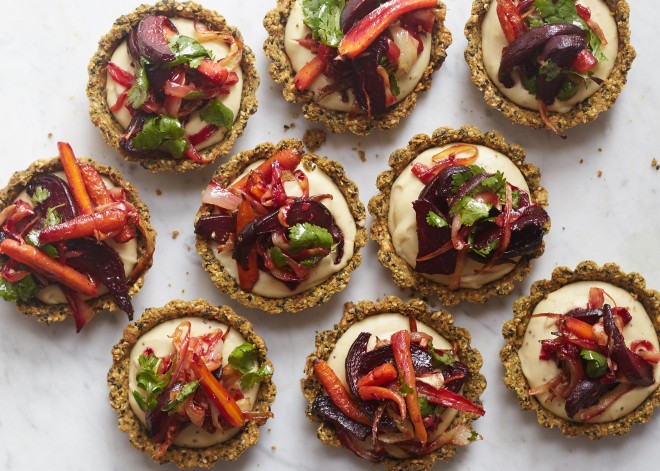 It took me awhile to finally decide on a recipe to make from Henrietta Inman's gorgeous book Clean Cakes: Delicious patisserie made with whole, natural and nourishing ingredients and free from gluten, dairy and refined sugar. It is brimming with things I want to eat and all the recipes are full of ingredients I like using in my own desserts. Most of the book contains recipes for delicious sweet cakes, tarts, cookies, chocolate, etc.; however, there are several savory options as well. These tarts caught my eye and if you've been reading my blog long enough, you'll know I love making savory tarts just as much as I do sweet ones.  Don't be fooled into thinking that these are less decadent than a sweet tart, they're not. What they are is incredibly rich and utterly delicious! The combination of spices in the crust is really tasty, as is the cashew béchamel; in fact I'm sure you'll be planning all sorts of other ways to use it as soon as you realize how quick and easy it is to make. Once the growing season gets underway I think these tartlets could be topped with your favorite combination of roasted spring or summer vegetables too.
Enjoy!
Amy x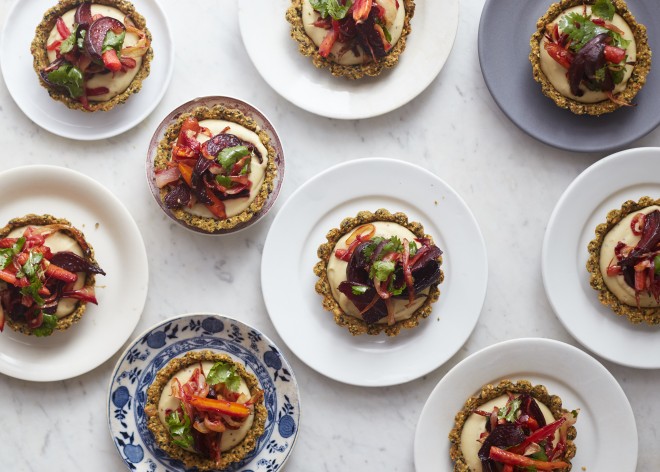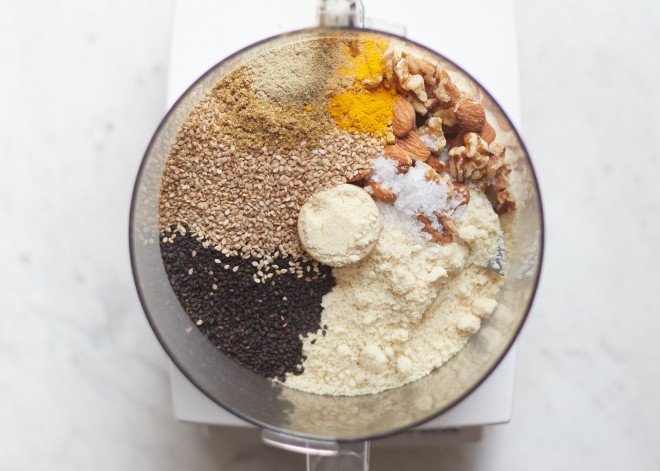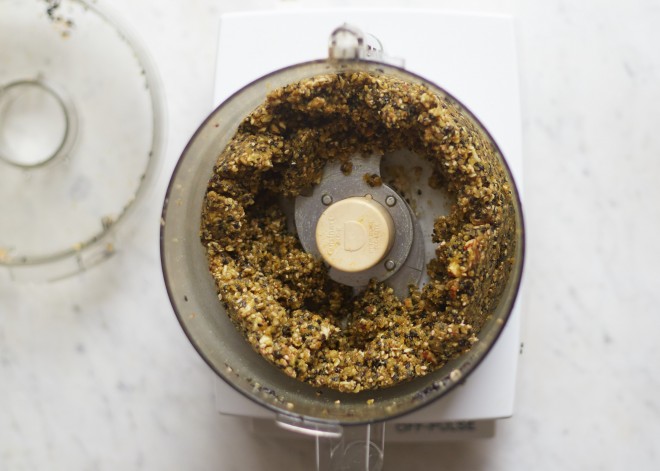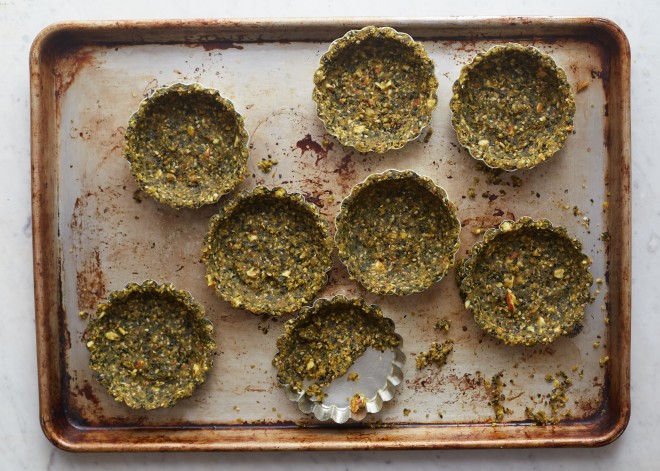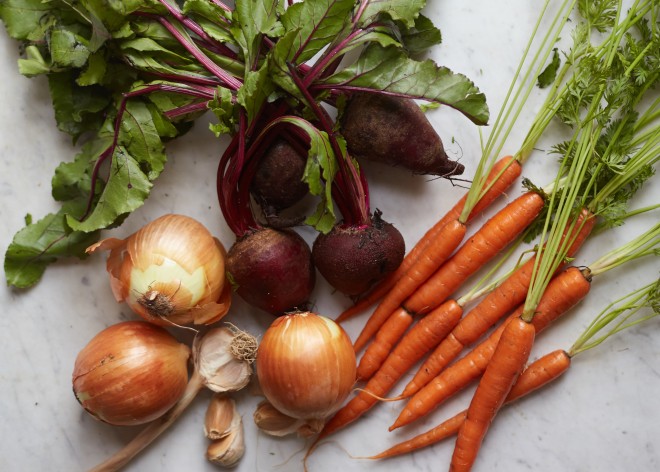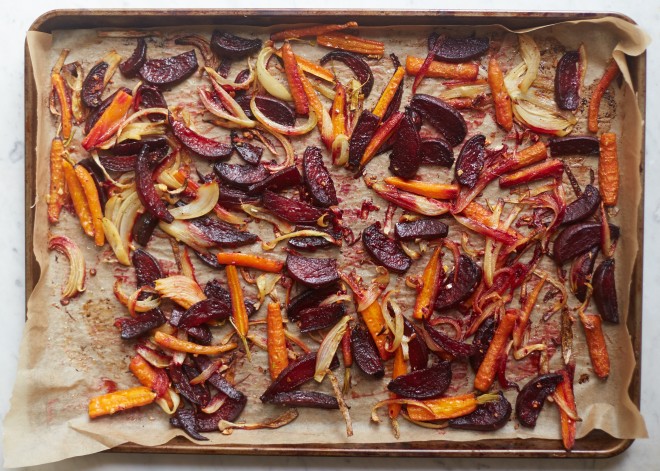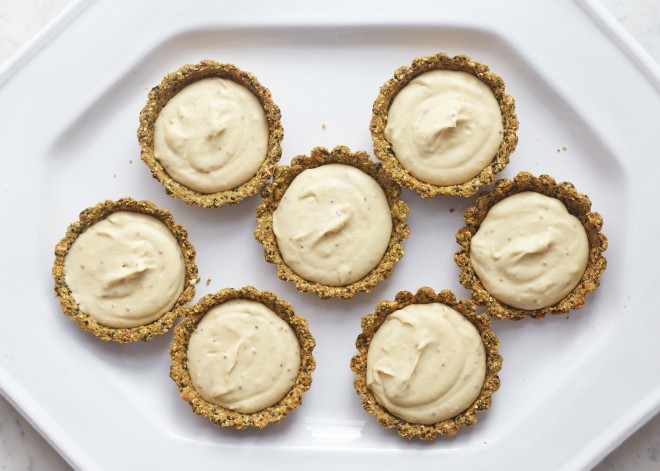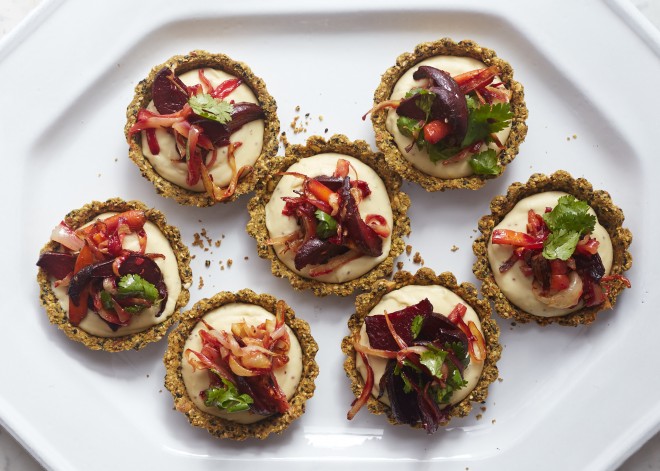 I have left the recipe below as it appears in Clean Cakes. Here are a few changes/notes I made:
I replaced the pecans with a combination of raw walnuts and almonds.
Used extra virgin olive oil in place of rapeseed oil
After I made these tarts, I realized that they also happen to be grain free (obviously didn't read the head notes!), which will be great for those of you who can't normally eat a tart. Next time I would probably add some oat or buckwheat flour to help the crust press more easily. It's a little crumbly and delicate once it's baked, but surprisingly light and crisp.
I found that the béchamel became very thick rather quickly so I whisked in about half a cup of water. It didn't affect the flavor and the texture was silky and scrumptious.
I ended up with 9 4-inch tartlets, if you want to bake a larger one see Henrietta's notes below.
Roasted root vegetable tarts with spiced sesame crust
Recipe from Clean Cakes by Henrietta Inman 2016. Published with permission from Quarto Publishing Group USA.
These sublime savoury tarts pack a super flavour punch. A spicy base made with
sesame seeds and toasted pecans is covered in a light and creamy cashew béchamel,
all topped off with an abundant mix of sweet and earthy carrots and beetroot. They
are grain-free, vegan and perfect for a comforting but light lunch or supper.
Makes 6 tarts
Roasted root vegetables
4 large carrots, about 600 g (1 lb 5 oz)
4 beetroot, about 550 g (1 lb 3 oz)
2 onions
2 large cloves garlic, finely chopped or
crushed
3 tbsp EVCP rapeseed oil or coconut oil,
melted, plus extra for greasing
Coarse sea salt
Black pepper, optional
Generous bunch of fresh herbs such as
coriander (cilantro) and parsley, finely
chopped
Spiced sesame and pecan crust
170 g (6 oz/1½ cups) ground pecan nuts
105 g (3¾ oz/scant 1 cup) ground
almonds (almond meal)
½ tsp each ground coriander, cumin,
turmeric, ginger and cardamom
1½ tsp coarse sea salt
65 ml (2¼ fl oz/¼ cup) EVCP rapeseed oil
2 tbsp filtered water
85 g (3 oz/⅔ cup) black and white
sesame seeds
Cashew béchamel
25 g (¾ oz/2 tbsp) coconut oil
40 g (1½ oz/generous ⅓ cup) chickpea (gram) flour
1 tsp Dijon mustard
450 ml (15 fl oz/scant 2 cups) cashew milk, see below
3 tsp nutritional yeast flakes
Coarse sea salt and black pepper to taste
Preheat the oven to 175°C/345°F/Gas Mark 3½. Grease six round 10 x 2 cm deep
(4 x ¾ inch) tartlet tins.
Peel and cut the tops off the carrots. Cut them lengthways into about 3 cm
(1¼ inch) long pieces, then quarter into small crudité-sized strips. Scrub the
beetroot, quarter them and slice the same thickness as the carrots. Peel, quarter
and slice the onions. On a large baking tray, mix up the vegetables with the garlic,
oil and a generous amount of salt and black pepper, if using. Roast for about 1
hour, checking halfway through. They are ready when a skewer inserts easily into
the centre of the vegetables. Remove from the oven, adjust the seasoning while
still warm, and set aside.
Meanwhile, to make the base, combine the ground pecans, almonds, spices, salt,
oil and water in a food processor. Add the sesame seeds and blitz until the mix
looks like breadcrumbs and sticks together when you pick up a piece of it in your
hand. Divide the pastry mix between the greased tins, you will get about 70 g
(2½ oz) per tart, and press it down with your fingertips and a step palette knife
(frosting spatula) to make the crust, pressing it into the edges and making sure it
is even. Put the tins on a baking tray and bake in the same oven as the vegetables
for about 15–20 minutes or until dark golden brown. Leave to cool.
To make the béchamel, melt the coconut oil in a small saucepan. Add the gram
flour and whisk in vigorously. Add the mustard and then gradually start to add
the cashew milk, stirring constantly with a whisk. The sauce should start to
thicken and look smooth. Add the yeast flakes and salt and pepper to taste. Stir
again and taste and season more if necessary. You can make this in advance for
use later, but note that when it cools it will thicken slightly, so before filling your
tarts with it, return to the heat and add some extra milk to loosen.
Finish off the vegetables by adding the freshly chopped herbs and a drizzle of
extra virgin olive oil, if necessary. Mix the béchamel with a whisk until really
smooth, use it to fill the tarts and then top with all of the vegetables, pushing
them into the béchamel slightly. Serve with salad or steamed green vegetables.
These tarts are great served warm or cold and keep well for three days in the
fridge.
NOTE
To make one large tart, line a 27–28 cm (10½–11 inch) tart tin with the above quantity of
pastry and increase the baking time to 15–20 minutes or until dark golden brown, then
fill as above.
Cashew milk
Makes 900ml (31 fl oz /scant 4 cups) nut milk
200g (7oz/about 1 1/2 cups) cashews
600ml (21 fl oz/ 2 1/2 cups) filtered water
Pinch pink Himalayan salt or sea salt
Soak cashews for 3 to 4 hours. Drain and rinse thoroughly.
Place in blender with water and salt and blend until smooth.
Strain through a nut milk bag or several layers of cheese cloth. Store milk in the fridge for upto 5 days.