Matcha moringa breakfast bowl
POSTED ON July 17, 2016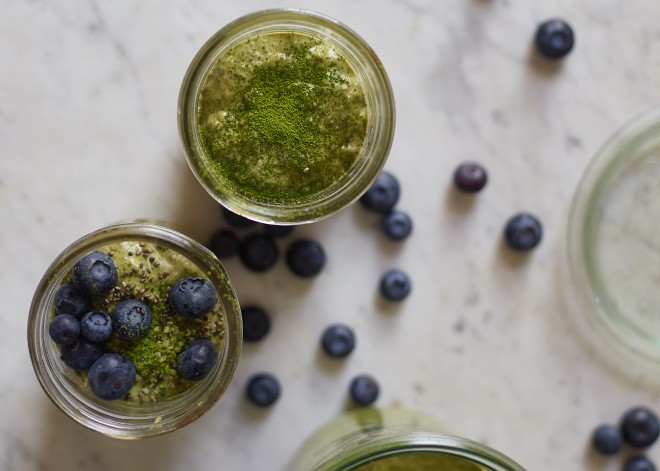 Over the last six weeks as we've been prepping to move from Manhattan to Brooklyn to begin the adventure of renovating an old house, I've had some major kitchen/life disruption. Throughout this period of packing and finally moving there were some long delays, which meant living with very little in the way of kitchen tools and ingredients. Luckily, I had my blender and a few pantry essentials like chia seeds, oats and matcha, of course! Since the mornings were hot, I decided to experiment with blended breakfast puddings using what I had on hand along with a new ingredient called Moringa powder, which was introduced to me by the lady working in my local raw food shop – when she said it tasted like green tea, I brought it immediately. (See recipe below for nutritional info)  What I've made here is more substantial than a smoothie and since it doesn't contain raw fruit, it lasts well for a few days. The chia added at the end thickens it up and along with the oats produces a creamy pudding consistency. You can portion it into jars and have a refreshing breakfast ready to go.  As you can see in the photos, with everything packed away, I got very used to eating and drinking out of jars : ).
Thank you for your patience, I hope to be back to regular posting soon!
Amy x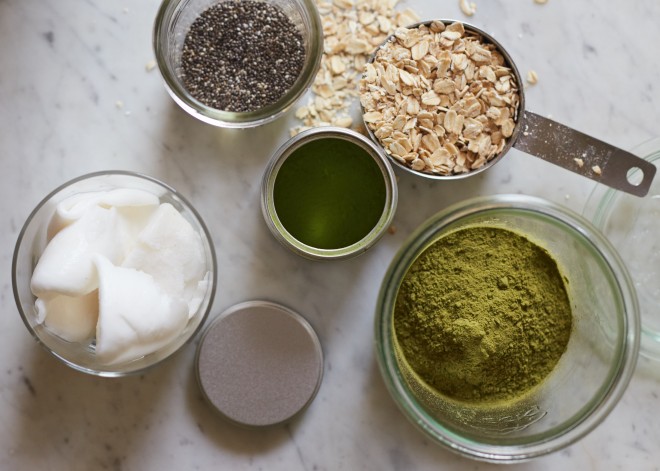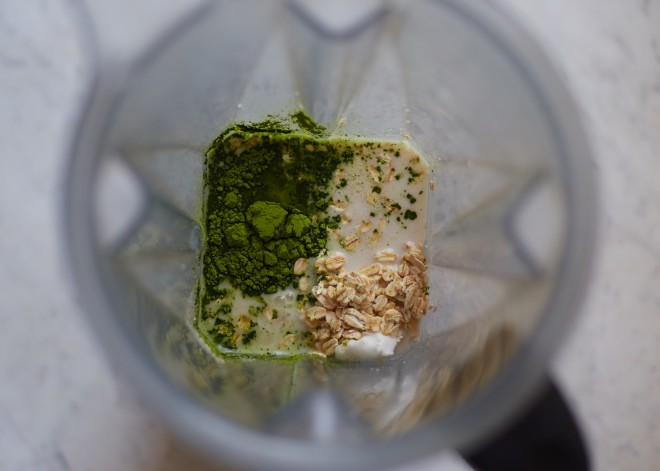 Matcha moringa breakfast bowl
Using coconut meat is very indulgent since it comes all the way from Thailand. I do love it as an occasional treat and the same goes for unpasteurized coconut water (which also comes frozen). They add richness, creaminess and just the right amount of sweetness to this bowl.
Moringa grows in south Asia and has been used in Ayurvedic medicine to help prevent and cure many diseases. All parts of this fast growing green plant are used to make medicine, including the bark, flowers, leaves and roots. In this recipe I used moringa leaf powder, which is the whole, dried and ground leaf. It is said to nourish and detoxify the body while helping to lower blood sugar and reduce inflammation. It's high in vitamin A, iron and calcium and contains all 9 essential amino acids making it a complete protein. Moringa is used to increase breast milk production and also as a contraceptive.
Note: if you have a cup of homemade almond milk you can use it instead of the 1/4 cup soaked almonds and 1 cup water.
Makes 2 ¼ cups, about 3 portions
½ cup regular rolled oats
¼ cup raw almonds, soaked overnight
4oz (about ½ cup) frozen young Thai coconut meat (I defrosted it to measure)
1 cup filtered water
1 cup coconut water, unpasteurized if possible
4 teaspoon moringa powder
1 ½ teaspoons matcha tea (I used ceremonial grade)
1 teaspoon vanilla extract
¼ cup chia seeds
Berries to serve.
Add all ingredients except chia seeds to an upright blender and blend until smooth. Add chia seeds and pulse to combine. Transfer to a jar, cover and chill 20 to 30 minutes or overnight until chia seeds have bloomed and mixture is thick and creamy. Place in a bowl, top with berries and serve.