Sweet corn, basil and golden zucchini pasta
POSTED ON August 13, 2016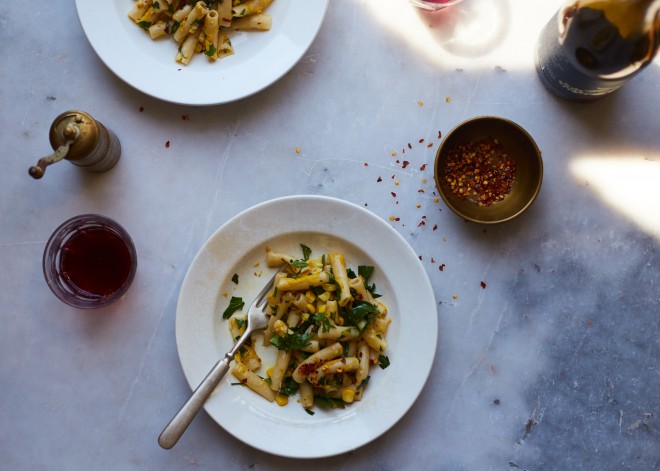 Tired and hungry after driving home from a visit to the beach last weekend, my partner and I stood in our kitchen not wanting to cook. It was hot — it's still hot — and although fresh crunchy salads make the most sense for dinner on these sweltering August days, they are work—washing, spinning, chopping, etc. It was decidedly more work than we were up for. Even grilling in this heatwave is out of the question, so how can one make the most of the summer's bounty in a hurry? This pasta is one of the answers and honestly I can't take all the credit for it.
Though we had a few ears of sweet corn and a paper carton filled with a selection of pretty summer vegetables we picked up from a farm stand along the route home, I wasn't feeling terribly inspired.  Instead, I stepped out of the kitchen and gave Jacqui a few directional ideas from the living room. On first look we both agreed that there wasn't enough on hand to make a meal. But, there was a yellow summer squash. And if there is one thing I've learned since developing the recipe for Squash Blossom Orecchiette in my book, it's that grated zucchini can be a light buttery savior for pasta, especially vegan pasta. When you cook it down it takes on a buttery texture (and color) and clings to the crevasse of pasta effortlessly. I've whipped up many vegan pasta dinners using the same method (like in my book but leaving out the squash blossoms and Sheep's cheese).
The mild flavor of the cooked zucchini also takes on any flavors you like…but I really wasn't sure about adding sweet corn to pasta. It seemed too starchy.  Since I had zero interest in taking over the dinner prep, I kept my comments to a minimum and only returned to the stove towards the end to help finish it off. I added lots of crushed red pepper and since we didn't have any basil, I chopped a large handful of parsley and added that. It was delicious and unlike most simple throw together pasta dishes, there was no need for  Parmesan. The corn we used was white corn with tiny juicy kernels and although I generally prefer yellow corn (mainly for its color here), the white disappeared more than the larger yellow corn in these photos. Anyway, we were both amazed by how good the flavors were and I thought it might spur some last minute dinner solutions for some of you in the Northern Hemisphere.
Happy Summer!
Amy x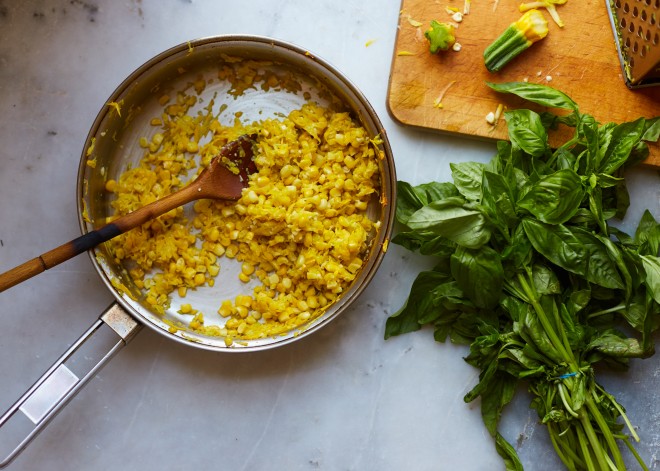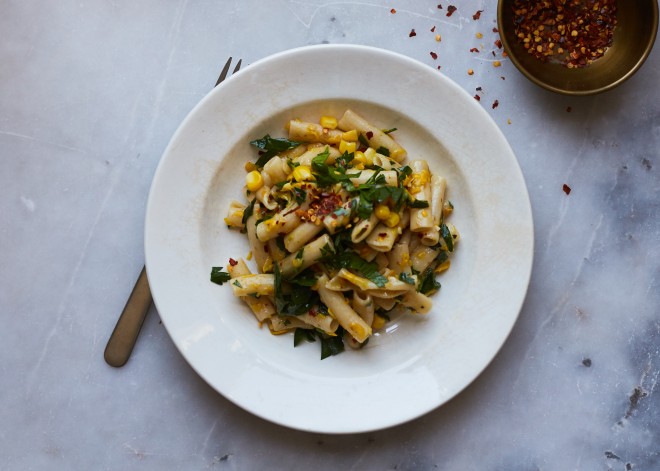 Sweet corn, basil and golden zucchini pasta
I love how fast the pasta comes together. You can make it in the time it takes to cook gluten free pasta. I find I don't need to save any cooking liquid as gluten free pasta tends to be moist enough.
The first time I made this, I used fusilli and I was planning to do it again for the photos but forgot and used penne instead. It was still delicious but I really love the way the melted summer squash hides in the crevasses of the curls.
Serves 4
2 tablespoons extra virgin olive oil, plus more to drizzle
3 large cloves garlic, finely chopped
4 cups grated golden zucchini, about ¾ pound (4 small-medium)
1 large cob sweet corn, shucked
½ teaspoon sea salt, plus more to taste and cook pasta
½ to 1 teaspoon red pepper flakes, plus more to taste
1 cup basil leaves
1 large handful flat leaf parsley, chopped
1 to 2 teaspoons red wine vinegar
12oz (340g)  brown rice pasta or other kind of pasta
Bring a large pot of water to a boil.
Warm a wide skillet over medium heat, add olive oil and garlic and cook for 3 minutes or until golden. Stir in zucchini and then add sweet corn and salt. Cook until corn is tender and zucchini has softened, about 5 minutes. Add red pepper flakes and basil and cook until basil has wilted. Stir in parsley and red wine vinegar. Season to taste and remove from heat.
Add a large pinch of salt to boiling water and cook pasta according to package directions, then drain well. Add to zucchini corn mixture, drizzle with olive oil and stir to combine. Season to taste and serve.