Quinoa white bean burgers with a special sauce
POSTED ON September 20, 2016
I'm not sure how the summer slipped away without my making and eating a delicious burger! I was planning on whipping up the tempeh burgers from my book; as anyone who's made them knows, there are a few (well-worth-it) steps to putting them together. But for whatever reason, I didn't get around to picking up the ingredients I needed, some good buns and the condiments I like to use to dress the burgers up perfectly. When I spotted these quinoa white bean burgers on the Kraut|Kopf Recipe App, carpe diem, I grabbed the opportunity to enjoy one just before summer slipped away—not that you couldn't make these in any season…
As with most burgers it's the condiments that make them memorable, and this one comes with the added bonus of a recipe for its own winning sauce. Not unlike a tartare (but much better) this flavorful sauce, made with capers, cashews, dill, mustard and pickles, is able to replace all other condiments. Plus, it takes about a minute to put together in the blender and could be doubled or tripled, which I thoroughly recommend doing.
Kraut|Kopf, for those of you who don't yet know them, have a stunning Instagram feed (and website) full of rich and vibrant vegetarian recipes. They released a cookbook last year which to my disappointment is currently only available in Germany. So, when they offered me a peek into their new app, I jumped at the chance. It features 80 original vegetarian recipes and provides endless inspiration for both sweet and savory recipes.
I'd love to hear if you make these!
Amy x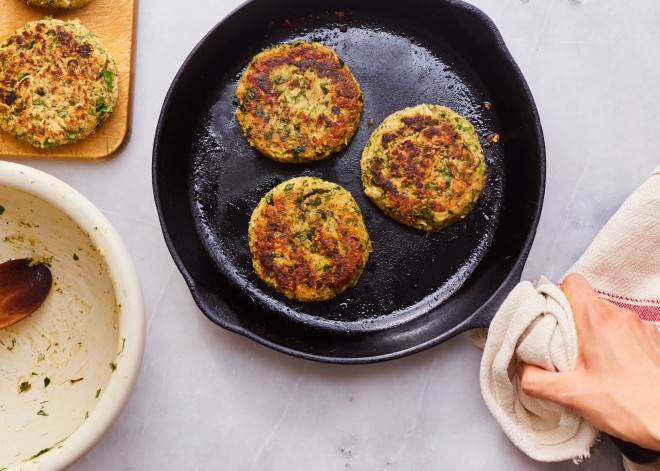 Quinoa white bean burgers
Adapted from Kraut|Kopf Recipe App.
I made a few small changes to the original recipe, the most noticeable was reducing the rice flour from ¾ cup to 2 tablespoons. They suggest cooking the quinoa in vegetable stock but I used water. I also soaked the quinoa overnight, if you don't soak yours, increase water (or stock) to 1 cup.
There is also 1 ½ tablespoons brown rice syrup in the sauce that I didn't use.
Burger:
½ cup pearl quinoa, soaked overnight
⅔ cup plus 3 tablespoons filtered water
Sea salt
1 tablespoon ground flaxseeds
Extra virgin olive oil
1 large onion (or shallot), finely chopped
3 clove garlic, finely chopped
1 cup cooked white beans, I used cannellini from can, drained and rinsed well.
1 cup chopped flat-leaf parsley
2 tablespoons brown rice flour
Freshly ground black pepper
Sliced radish and cucumber, micro greens/sprouts and lettuce to serve
Sauce:
1 cup raw cashews
1 ½ tablespoons apple cider vinegar
1 tablespoon Dijon mustard
1 ½ tablespoons cold pressed flax oil
½ cup filtered water
¼ cup capers in brine, drained
⅓ cup chopped dill
1 gherkin, finely diced
Sea salt and pepper to taste
For the burger:
Drain and rinse quinoa and place in a small pot with ⅔ cup water and a pinch of salt and bring to a boil. Cover pot, reduce heat to low and simmer 15 minutes. Remove from heat and set aside.
Mix ground flax seeds with remaining 3 tablespoons water, and set aside for 10 minutes to thicken.
Warm a small skillet over medium heat, add a couple of teaspoons oil and onion and cook for a few minutes, add garlic and continue cooking until golden brown. Remove from heat and set aside.
Add beans to a medium bowl and mash with a potato masher (you can also pound them in a mortar and pestle). Add parsley, quinoa, flax mixture, cooked onion and garlic, rice flour and a large pinch of salt and pepper. Add more salt and pepper to taste. Using moist hands, shape mixture into 4 burgers. (I used a half cup measure to do this and flattened to the size of my bun).
Warm a large skillet over medium heat. Add about a tablespoon of oil and then the burgers. Cook each side for 4 to 5 minutes or until well browned. Remove from heat.
Make the sauce:
Add cashews, vinegar, mustard, flax oil, water and capers to an upright blender and blend until smooth. Transfer to a bowl and stir in dill and chopped gherkin. Season to taste with salt and pepper.