GENTLE LENTILS + BASIL IS THE BOMBE SAUCE
POSTED ON February 5, 2017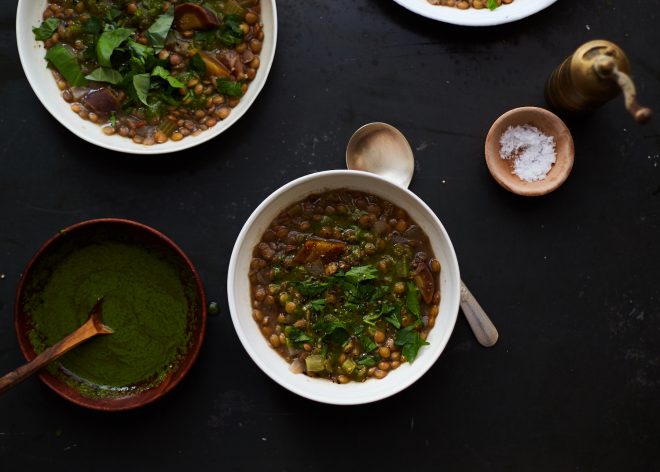 The reason this title doesn't seem like something I would name one of my recipes is because it isn't mine—I'm celebrating the release of a friend's book: The Perfect Blend: 100 Blender Recipes to Energize and Revitalize by Tess Masters. The book sounds as if it would be full of smoothies and blended juices but it's not. Instead it invites you into the world of all the other things you can do with a blender: make delicious dressings, dips, and sauces like this one; there are also recipes for crepes, coconut yogurt and French toast. Instead of your usual breakfast, soups, mains etc., Tess' book is divided into chapters like energy, anti-inflammatory, alkaline forming and detox. This soup is from the protein chapter and, not only is it a true one pot meal, it's also super simple to make with ingredients I'm sure you have on hand, right now.
I've come across methods like this a quite a bit lately — after the onion is sautéed, you add vegetables and soaked beans and simmer everything together. I love this idea that you don't need to cook the beans or lentils separately, but I find the vegetables get over cooked. For this recipe I soaked the lentils overnight and cut the carrots in 1-inch pieces so they wouldn't disappear by the time the lentils were cooked. They still got very soft (as I found my lentils took longer to cook) but it really didn't matter as the bright basil sauce enlivens the whole dish (next time I'll try making it with French lentils, since they cook faster, especially after an overnight soak). These kinds of vibrant, tangy sauces are often used in restaurants to add zest to soups, stews, risottos and frittatas. This one is like a pistou—pesto without the nuts or cheese. I added the optional capers and loved the briny flavor with the earthy lentils. I had some left over and have been enjoying it drizzled over whole baked Japanese sweet potato, grains and added to dressings.
Check out this link for an excerpt.
Have a great week!
Amy x
Ps. If you're in New York, there are still some tickets left for the upcoming Winter Dinner Celebration I'm hosting with Sarah Britton at the Finch. Hope to see you there!
GENTLE  LENTILS
CREDIT: Reprinted with permission from The Perfect Blend, copyright 2016 Tess Masters.
Published byTen Speed Press, an imprint of Penguin Random House LLC.
I left the recipe mostly as Tess has it in her book. The only changes I made where what I mentioned above and I also added a iece of kombu when adding the lentils.
Serves 8 as a start/6 as a main course
2 tablespoons extra-virgin olive oil
2 teaspoons minced garlic (about 2 cloves)
1 cup (150g) diced yellow onion
1 cup (132g) diced celery
1 cup (160g) peeled and diced carrot
1 teaspoon sea salt, plus more to taste
2 cups (370g) dry green lentils, soaked overnight then drained and rinsed
1 tablespoon finely chopped fresh thyme, plus more to taste
½ teaspoon ground black pepper
8 cups (2 l) vegetable broth, I used water
Fresh lemon juice
1 cup (240ml) Basil-Is-the-Bomb Sauce with the red pepper flakes booster
optional boosters
Heat the oil in a large saucepan over medium-low heat and sauté the garlic, onion, celery,carrot, and ½ teaspoon of the salt for about 5 minutes, until the vegetables soften slightly. Stir in the lentils, thyme, pepper, and broth. Increase the heat to medium-high, bring the mixture to a lively simmer (not a full boil), and cook for about 5 minutes. Lower the heat to medium-low,cover, and simmer for about 20 minutes, until the lentils and vegetables are tender but not mushy. Add salt to taste.
Ladle the soup into bowls and add about ¼ teaspoon lemon juice to each serving. Drizzle 1 tablespoon of the Basil-Is-the-Bomb sauce over top. Pass the remaining Basil-Is-the-Bomb sauce and more lemon juice at the table. 
BASIL-IS-THE-BOMBE SAUCE
Makes 1 cup (240ML)
½ cup (120ml) extra-virgin olive oil
2 cups (50g) loosely packed basil leaves
¼ cup (20g) finely chopped green onion (white and green parts)
1½ tablespoons fresh lemon juice2 teaspoons minced garlic (about 2 cloves)
¼ teaspoon apple cider vinegar
¼ teaspoon natural salt, plus more to taste
2 teaspoons capers, drained
1/8 teaspoon red pepper flakes, plus more to taste
Throw everything into your blender and blast on high for 30 to 60seconds, until smooth and emulsified. Tweak the salt and pepper flakes to taste. This is best served immediately, but will keep, sealed and chilled, for about 5 days.