STRAWBERRY BASIL TART
POSTED ON July 5, 2017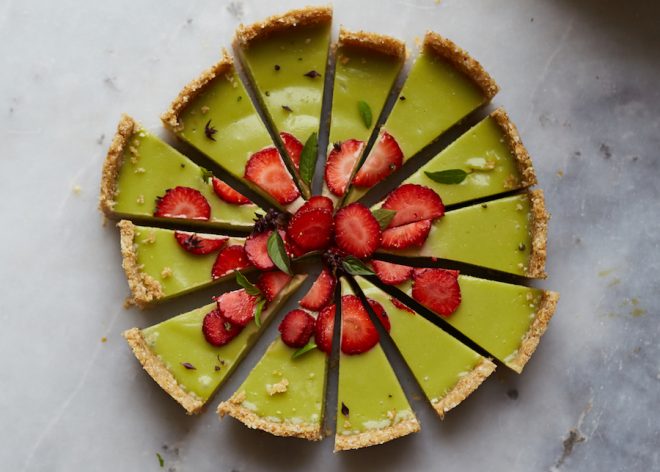 I first got to know Pana Chocolate, the raw, vegan, handmade chocolate company in Melbourne (Australia) through their pretty, color-drenched Instagram account. The photos of Pana's naturally sweetened chocolate bars, decadent cakes and interesting flavor combinations are always inspiring. After admiring their creations from afar, it was exciting to see their first cookbook: PANA CHOCOLATE THE RECIPES, which is out now in Australia.  Beyond how to make chocolate, the volume contains a range of recipes for desserts of all kinds and a nice variety of breakfast recipes including a raw buckwheat porridge, chia pudding with a kick, a choc-brekkie granola and a no-nuts breakfast bar.  Oh, and they also include an impressive selection of nut cheeses as well.
I was drawn to this tart recipe because of its simplicity—I wasn't sure how a raw crust with so few ingredients (and zero vanilla?!) could work. It not only held together, but it also held up for almost a week as I found the time to complete the filling, photograph it and share it with friends. I love the use of brown rice syrup in the filling; it provides a gentle sweetness and less destructive effect on blood sugar levels—whilst still tasting like a celebratory dessert. The texture of the filling came out great. It is rich so be sure to cut small slices and keep it in the fridge until you're ready to serve it. If you're new to raw desserts, this is a great recipe to try—the  method is super simple and seems to me to be fail-proof. I imagine the filling is also a great springboard for many other flavor combinations. Above all, it's perfect for making in summer as there is no heat required.
Enjoy and please let me know if you give the recipe a try.
Love from Australia,
Amy x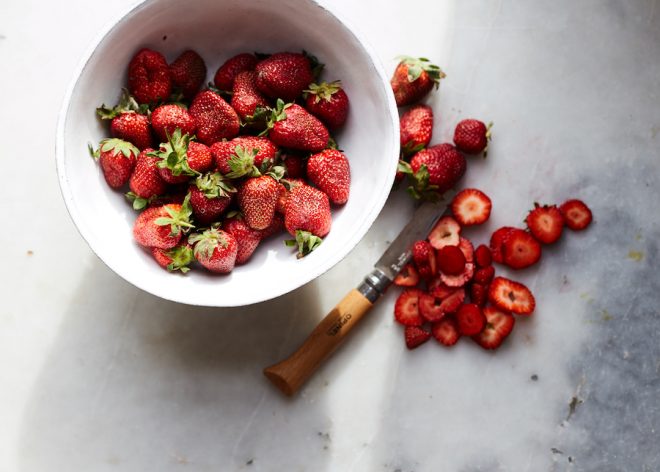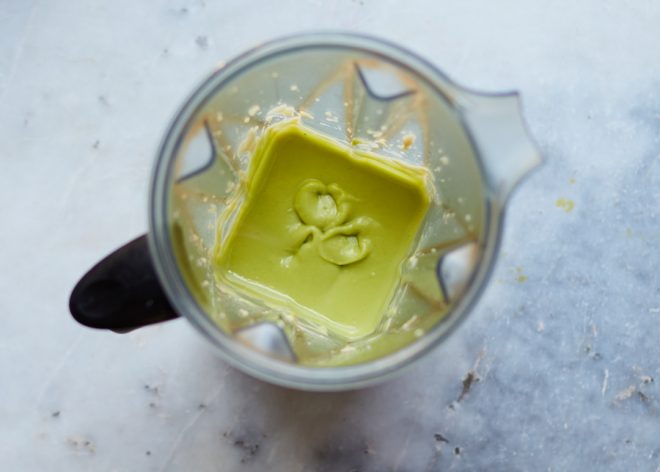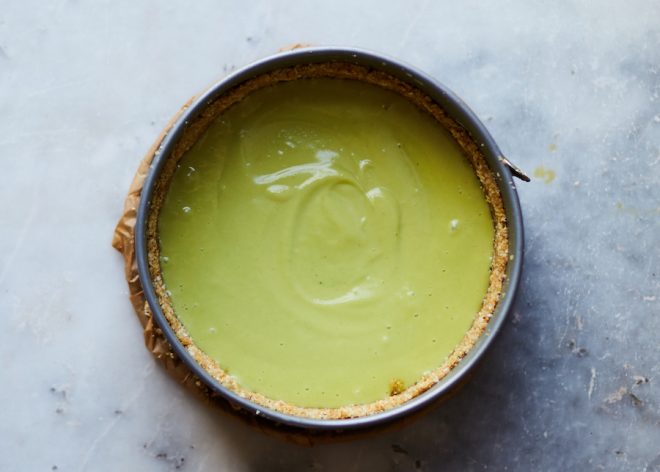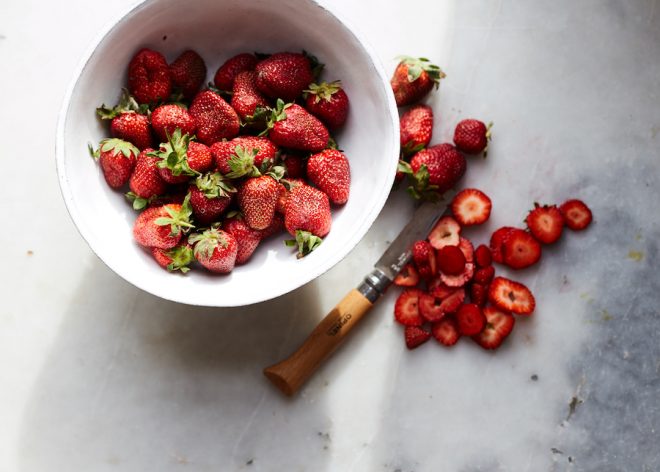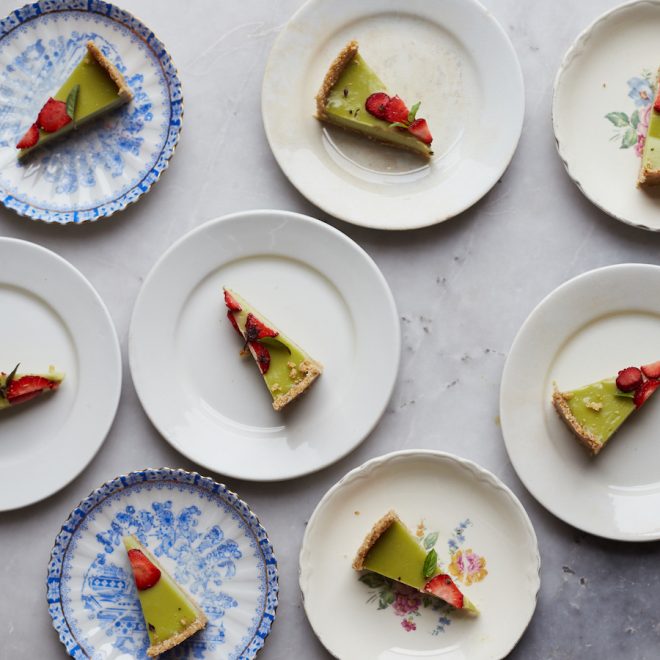 STRAWBERRY BASIL TART
They top their strawberry tart with a strawberry syrup and dehydrated cherry tomatoes. I just used strawberries and a Thai basil leaves. They suggest a 12 x 28 cm (5 x 11 inch) tart pan but I used a small round spring form pan and found I had extra crust but not extra filling. I'm guessing it would be a thinner layer of filling in the rectangle pans.
Recipe from:
Pana Chocolate The Recipes: Raw. Organic. Handmade. Vegan.
Published by Hardie Grant Books
Makes 1 7-inch (17cm) tart
NUT-FREE TART SHELL
1 ¾ cup (140 grams/5 ounces/1 ½ cups) dried, unsweetened coconut
7 medjool dates, pitted
Scant ½ cup (50 grams/1 ¾ ounces) ground flax seed
Pinch of pink salt
Coconut oil for oiling pan
BASIL CHEESE CAKE FILLING
¾ cup (115 grams/ 4 ounces) raw cashews, soaked
2 tablespoons (45 milliliters/1 ½ fluid ounces) cashew milk, recipe below
5 tablespoons (75 milliliters/ 2 ½ fluid ounces) brown rice syrup
2 tablespoons lemon juice (juice of one small lemon)
4 ½ tablespoons (65 milliliters/ 2 ¼ fluid ounces) extra virgin coconut oil
8 large basil leaves
Sliced strawberries
Basil leaves to garnish
Make the tart shell:
Line bottom of a 7-inch (17 cm) spring form cake pan with parchment paper, oil sides with a little coconut oil and set aside.
Add all ingredients to a food processor and blend until the mixture comes together. You may need to blend it for quite a while. Press thinly and evenly into pan. Place in the refrigerator for at least 15 minutes while you make the filling.
Make the filling:
Add cashews, cashew milk, rice syrup and lemon juice to a high speed blender and blend until completely smooth. Warm the coconut oil until liquid (you can do this by placing the jar in a bowl of hot water) Add the coconut oil to the blender along with the basil leaves and blend until super smooth. Pour filling into tart shell and refrigerate for at least 1 hour.
Decorate:
Arrange fresh sliced strawberries over the top of the tart and garnish with basil leaves. Cut into small slices and serve cold.
CASHEW MILK from:
This recipe is a base recipe for making nut milks for different types of nuts.  I've added details for using cashew. It is a rich and thick milk.
Makes 4 cups ( 1 liter )
2 ½ cups raw nuts, soaked for a minimum of 30 minutes
4 cups (1 liter/ 34 fluid ounces) filtered water
Drain and rinse nuts and add to an upright blender. Add water and blend until smooth. Strain through a nut milk bag and squeeze bag to remove all the milk, save pulp for other uses. When making cashew milk you will be left with very little pulp, if any.