JOSHUA MCFADDEN'S ISRAELI-SPICED TOMATOES, YOGURT SAUCE + CHICKPEAS
POSTED ON August 24, 2017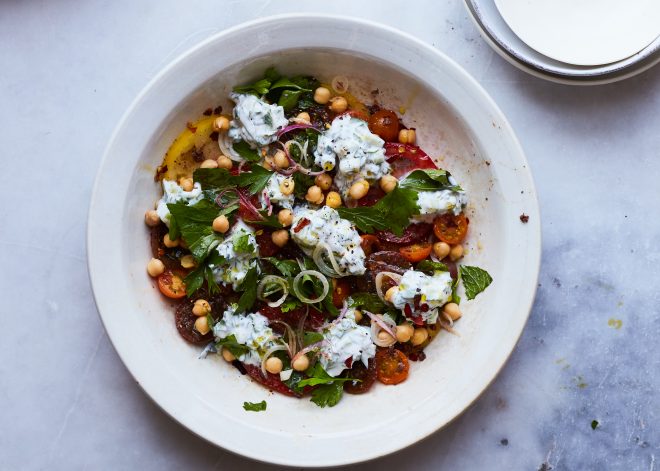 The abundance of choice at the farmer's market in August can be overwhelming. It seems like everything from peaches, berries and zucchini, to tomatoes, peppers and sweet corn are at their peak and time is running out to enjoy them—both in your favorite recipes and in new creations. In fact, sometimes my mind is so full of half finished thoughts about the vegetables I'm gazing at that I draw a blank and suddenly have no idea what to make with them. Does that happen to you?  At times like these, cookbooks come in handy and especially those whose focus is on the seasons. It's a bonus when they also dedicate whole sections to one particular abundant vegetable and have great ideas for new flavor combinations. Six Seasons: A New Way With Vegetables, the new cookbook by Joshua McFadden does just that along with providing alternative ways to think about preparing all-vegetable dishes. There's an interesting section on shelling beans, which was enough to give me pangs of regret for not getting some at the market. This book is not vegetarian but there are plenty of vegetarian dishes and vegetable inspiration. And, his book is as useful as it is attractive.
This salad is a refreshing way to eat tomatoes and although all the ingredients are easy to gather, it feels special and unexpected. Make it while the tomatoes are peaking as their sweetness contrasts the spices beautifully.
If you're reading from the northern hemisphere enjoy as many local vegetables as you can! For my friends down under,  file this away for peak summer.
Amy X
Israeli-Spiced Tomatoes, Yogurt Sauce, and Chickpeas
Recipe from "Six Seasons: A New Way with Vegetables"
by Joshua McFadden with Martha Holmberg.
Published by Artisan
I have added a few notes to the recipe but otherwise this is how it appears in Six Seasons. In the head note Joshua suggests using a few drops of lemon juice if you can't find sumac~ see note below. I made it vegan by using Anita's Coconut Yogurt, just be sure you use something rich, thick and unsweetened.
Serves 6
1 teaspoon ground sumac
½ teaspoon ground coriander
½ teaspoon ground cumin
½ teaspoon dried chile flakes
Sea salt and freshly ground black pepper
1 or 2 garlic cloves, minced
6 small or 3 big tomatoes, cored and cut into ¼ inch-thick slices
¾ cup plain, unsweetened yogurt, I used Anita's coconut yogurt
1 small cucumber, (peeled and seeded, if necessary), and chopped
2 cups lightly packed mixed basil, mint, and flat-leaf parsley leaves, half roughly chopped and half left whole or torn
Hot sauce, such as sriracha, I left this out as I found it spicy enough with the chili flakes
1 cup cooked chickpeas
½ small red onion, thinly sliced
2 tablespoons red wine vinegar
Extra-virgin olive oil
Slightly tangy flatbreads, preferable freshly cooked and still warm
(there is a recipe for these in the book on page 48)
Mix the sumac, coriander, cumin, chili flakes, 1 teaspoon salt, and the garlic in a little bowl. Layout the tomatoes on a baking sheet (I used the bowl I was serving the dish on) and rub the spice mixture all over them. Let them sit for up to 1 hour while you fix the rest of the dish.
Stir together the yogurt, cucumber, and chopped fresh herbs. Season generously with salt, black pepper, and a few dashes of hot sauce, if using. Let the sauce sit for at least 15 minutes and up to 1 hour, if you can, then taste and adjust the seasoning so the sauce is nicely savory.  If you use coconut yogurt, keep it in the fridge.
Toss the chickpeas, onion, vinegar, and parsley leaves. Season with salt and black pepper, taste and adjust the seasoning. Add a glug of olive oil and toss again.
Arrange a layer of the marinated tomatoes on a platter, and pour any accumulated juices over the tomatoes. Drizzle or dollop the yogurt sauce onto the tomatoes and tumble the chickpea salad on top. Serve with freshly grilled flatbreads.
Note: You can find sumac in Middle Eastern shops and, with increasing frequency, at well-stocked grocery stores. This ground dried berry from a wild bush looks a bit like coarse chile powder, but it's tart rather than hot.