Japanese broth with soba noodles and tempeh
POSTED ON January 18, 2015
Over the holidays I finally got the chance eat at Kajitsu, a vegan restaurant in Manhattan serving Shojin cuisine. Shojin cuisine is a type of Japanese cooking originating in Zen Buddhism. The best parts of the multi-course meal reminded me of Shizen –a Japanese macrobiotic restaurant where I worked in Amsterdam and wrote about in my book –and inspired in me a craving for the clean flavors of Japanese broths. A few days into the New Year I made this recipe for a dinner with family and friends, serving it with simple braised tofu (from my book) and roasted Japanese yams on the side—it was warming and fortifying, and tasted delicious with hot sake.
As I was shopping for ingredients to make this broth I found Barry's Tempeh at my local health food store. If you live in New York and haven't sampled this tempeh, it's worth going out of your way to get some. Nutty, fragrant and much lighter in texture than what you're probably used to—unless of course you make your own—this is how tempeh is supposed to taste. Barry's is the only fresh tempeh being sold in this area. Fresh, meaning that it isn't pasteurized before packaging. Pasteurization kills the enzymes and probiotics that are created from the fermentation process and makes the texture dense. Fresh tempeh needs to be frozen to stop fermentation; once defrosted, it will keep a couple of days in the fridge and continue to ferment resulting in a stronger flavor. When eating tempeh this fresh (and unpasteurized) you really don't need to do much.  The flavor is rich and nutty when simply pan-fried and sprinkled with salt.
What's great about tempeh is that you are eating the whole soybean; nothing is extracted as it is with tofu production and the fermentation process helps remove phytic acid, which is particularly high in soybeans. This is the reason that any soy you eat regularly is best fermented and why miso and tamari (both fermented soy products) are good choices. Some artisanal tempeh makers are now creating tempeh with beans and chickpeas for anyone allergic to soy. I was lucky to have had the chance to sample chickpea tempeh from Byron Bay Tempeh on my last trip to Australia, it was delectable.
If you know of other fresh tempeh producers, please share in the comments. I'm always interested in sampling more!
The Washington Post interviewed me recently for an article on tempeh. It's filled with well-researched information about its history and uses.
Click here for the link.
Al photos by Stephen Johnson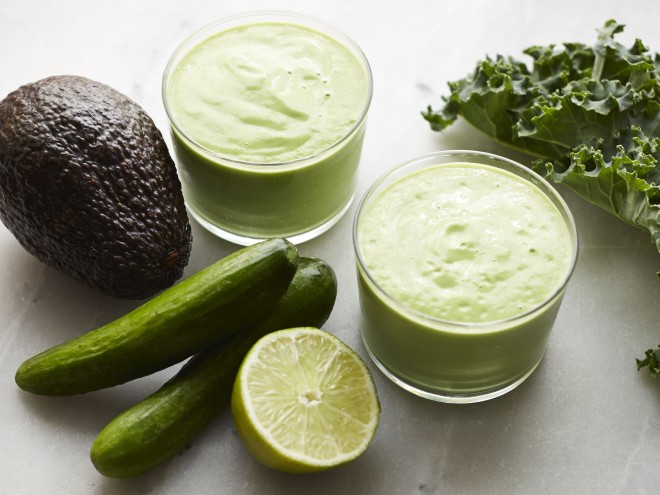 I posted this kale, avocado and flax smoothie on Healthy Eats. If you've been following my smoothie recipes over there, you may have noticed I'm not a fan of the typical green smoothie. This is my savory version.
Have a great week!
Amy x
Japanese vegetable broth with soba noodles and simple tempeh on the side.
Serves 4 to 6
Broth:
4 inch piece kombu
4 dried shitake mushrooms
5 bay leaves
10 inch piece burdock root, chopped
1 large onion, diced
3 medium carrots, chopped
2 stalks celery, chopped
2 cups diced winter squash
2 cups diced green cabbage
Handful parsley
8 cups filtered water
Vegetables:
1 medium daikon, peeled and roll cut
1 medium carrot, roll cut
2 cups squash, cut into ¾ inch triangles
Large pinch seaweed, I used laver (wild Atlantic nori) or wakame
1 tablespoon toasted sesame oil
2 inch piece ginger, peeled and finely chopped
3 large garlic cloves, finely chopped
½ teaspoon tamari, plus more to taste
Sea salt to taste
2oz Beech mushrooms, separated and ends trimmed
Tempeh:
2 tablespoons toasted or untoasted sesame oil, plus more as needed
½ pound tempeh, or more as needed, sliced into ¼ slices
Flakey sea salt to taste
To serve:
1 small bunch watercress
I package 100% buckwheat noodles, cooked, rinsed and drained
Nanami togarashi (Japanese hot pepper), optional
Make the broth:
Add all the broth ingredients into a large pot and bring up to a boil, cover pot and simmer 2 ½ to 3 hours. Remove from heat, stain out vegetables (compost them) and return broth to large pot.
Add the vegetables:
Bring the broth to a boil and add daikon and carrots cook for 2 minutes then add squash. Once broth returns to a boil, cover pot, reduce heat to low and simmer for 6 to 8 minutes or until vegetables are just cooked through.
Meanwhile warm sesame oil in a skillet over medium heat, add ginger and garlic and sauté for 3 minutes or until golden. Remove from heat and add to pot with vegetables. Stir in tamari and sea salt to taste, Add mushrooms and set aside covered while you cook the tempeh.
Cook the tempeh:
Warm sesame oil in a wide skillet over medium heat. Add tempeh slices to fit in a single layer, you will most likely have to do this in 2 or more batches. Cook tempeh on each side until golden, about 3 to 4 minutes each side. Remove from heat and sprinkle with coarse salt. Repeat with remaining tempeh.
To serve:
Add a handful of soba noodles to each serving bowl. Warm broth (gently) if it's no longer hot, stir in watercress and ladle broth and vegetables over noodles. Serve hot topped with a sprinkling of Japanese hot pepper and tempeh on the side.