Matcha Latte
POSTED ON June 18, 2015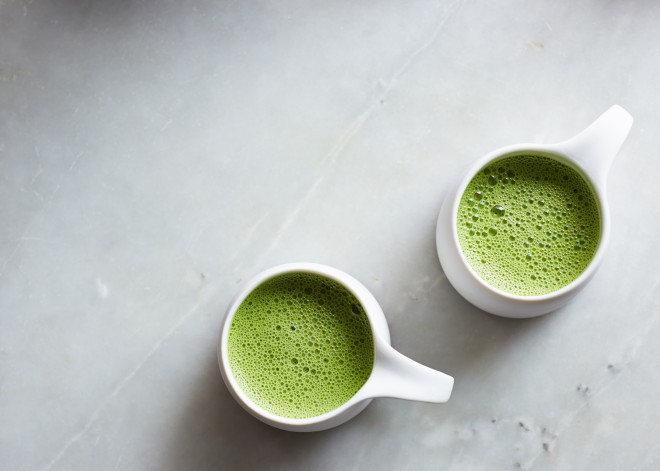 It's no secret that I love green tea; in recent years I've come to appreciate (and totally adore) matcha. When made properly with ceremonial grade tea it not only tastes deliciously rich and grassy with a nice caffeine boost, but it's also a mood enhancer. Matcha promotes clear, focused thinking, which is why Japanese Zen Buddhist monks traditionally drank it before meditation. It helps you stay alert yet calm due to L-theanine an amino acid that promotes alpha waves in the brain. Another thing I love about matcha is that you are drinking the whole leaf, which also means you are getting all the nutrition green tea has to offer. One serving of matcha contains over ten times the antioxidants of brewed green tea.
The rich, bright green color of good quality matcha tea is produced by covering the tea plants before harvesting. This process blocks out about 80% of the light and increases the chlorophyll content. The leaves are hand harvested then de-stemmed and de-veined before being stone ground into a fine powder.
Since matcha tea is gaining in popularity here in New York, you can now find specialty teashops making all sorts of matcha-style drinks. At fist I was excited because as a tea drinker, I've found that it's very rare to get a decent cup of tea outside of your own kitchen. But even with the matcha latte craze it turns out that it is still difficult to find a good one unless you don't mind drinking cups of warm store bought almond milk flavored with matcha. After sampling matcha latte's in a few places I realized that mine are closer to an Australian style latte—small, strong and foamy.
Below you'll also find directions for making matcha tea to drink straight. I cannot stress enough how important it is to invest in a high quality matcha tea. Other grades are fine for baking, but for drinking I haven't found a better matcha than this.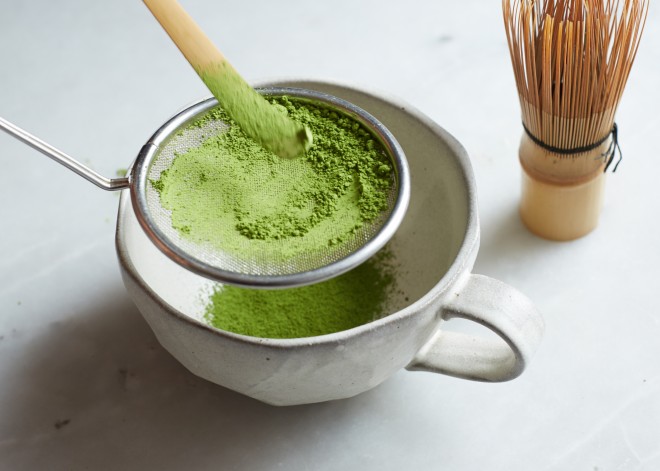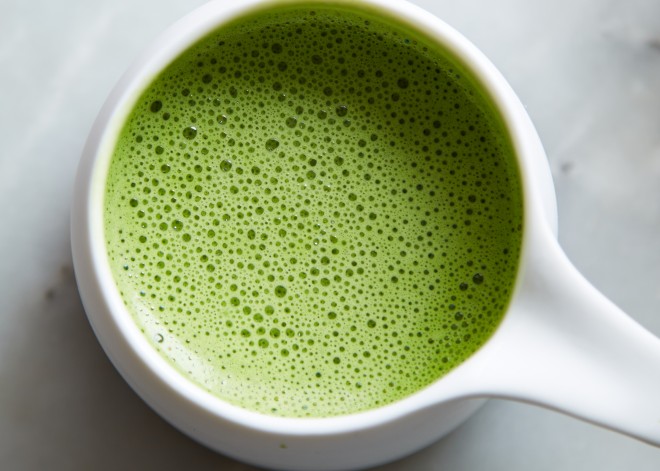 Photos by Stephen Johnson
I created these broccoli salads for Healthy Eats blog. They're all made from one roasted broccoli base and all taste deliciously different. Find the recipe here, here and here.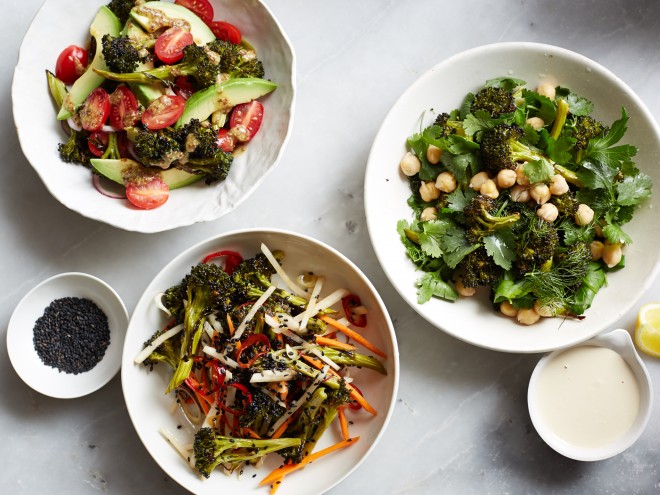 Matcha tea
The only special equipment you need for making matcha is a bamboo whisk.
If you don't have a thermometer you can boil water then remove from heat and take the lid off the kettle and let it sit for a few minutes. Boiling water will damage the delicate flavor of matcha.
Serves 1
1 teaspoon matcha tea
¼ -1/3 cup (2.5oz) 165 degree water
Sift matcha powder into a wide cup or small bowl. Slowly add water and whisk vigorously until foamy. Sip immediately.
Matcha latte
Serves 2
The best way to get a rich foam is to use a blender but you can make the matcha as above, add warm milk and whisk again.
1 ½ to 2 cups homemade cashew milk or nut milk, see recipe below
½ cup 165 degree water
3 teaspoons matcha tea
Warm nut milk in a small pan over medium heat until almost simmering. Remove and pour into a blender. Add water and matcha and blend until foaming. Pour into two cups and serve.
Cashew milk
I make this cashew milk because its quick (doesn't need to be strained), easy (cashews don't need soaking) and it's also nice and creamy. The sunflower lecithin gives the milk a nice body and is great for adding to hot drinks.
2 cups filtered water
½ cup raw cashews
scant ½ teaspoon sunflower lecithin, optional
½ teaspoon vanilla extract
Pinch sea salt
Add all ingredients to a blender and blend until smooth.