Fig Toasts
POSTED ON November 17, 2015
Back when food blogging was a relatively nascent phenomenon, I would check in on the handful (or so) that were on my radar every week. I enjoyed the ritual of reading these blogs so much that I timidly began dreaming about writing my own food journal. Observing through pictures and words what these cooks and writers made in their kitchens was endlessly fascinating to me and I found myself wording what I might like to type as I cooked dinner. The internet for me (and perhaps for all of us) was a quieter place then – we didn't have the distractions of so many blogs and there was no Instagram to scroll through. Among the short list of blogs I read weekly was Seven Spoons by Tara O'Brady. It wasn't the recipes or photography that kept me returning there, although, don't get me wrong, they were also inspiring; it was the way Tara wrote. She has a gift for weaving the stories of her life around recipes and telling them in a way that immediately draws the reader into her world. Even the titles she heads her posts with get me curious. So when she came out with her own cookbook called Seven Spoons: My Favorite Recipes for Any and Every Day, I was excited to read more of her stories and delve into the recipes she would share. I was planning to make the every day yellow lentil dal or the chia pudding with fruit and golden turmeric elixir but came across some perfectly ripe figs and ended up making the fig toasts that grace the cover —and I'm so glad I did! It sounds simple and something you might think of overlooking; however, when you combine really good sourdough bread (thank you She Wolf Bakery!) toasted, topped with succulent figs and generously drizzled in a grassy thyme infused olive oil (or butter as the recipe calls for) and honey, top  and flakey sea salt, the dish is a revelation. Like crostini, this toast holds up well for a while, which got me thinking it would make a great holiday appetizer!
Wishing you a peaceful Thanksgiving wherever you are.
Amy x
Ps.
If you happen to be in New York City this Thursday the 19th I am signing copies of my book at ABC Carpet and Home from 5pm to 8pm. There will be samples from At Home in the Whole Food Kitchen, cocktails and lots of other offerings from artisanal food makers. The event link says it's sold out but they won't be turning anyone away, please stop by and say hello—
Also, if you're in the Hudson area after Thanksgiving I will be signing book at Hammertown in Pine Plains on Saturday November 28th from 2pm to 4pm. There will also be drinks and nibbles. Hope to see you!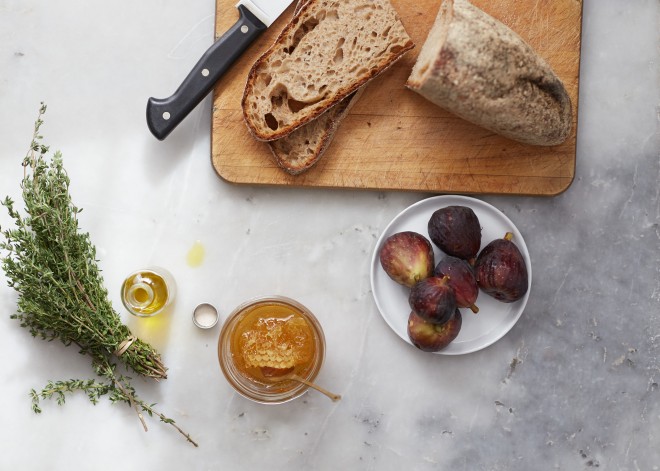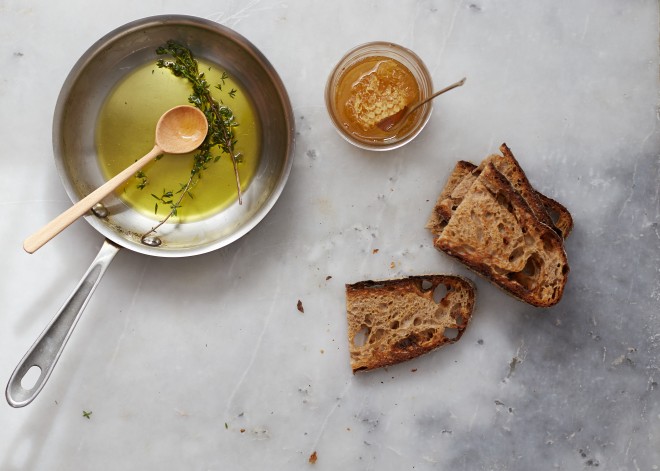 Fig Toasts
Tara's recipe title is fig toasts with buttered honey but since I used olive oil instead I left it out so it wasn't misleading…you can of course use butter instead of olive oil, which I'm sure is delicious.
Recipe barely adapted from Seven Spoons: My Favorite Recipes for Any and Every Day by Tara O'Brady (Ten Speed Press 2015)
Serves 4
3 tablespoons extra virgin olive oil
2 sprigs thyme, plus more for garnish
3 tablespoons honey
Flaky sea salt and freshly cracked black pepper
6 to 8 slices of sturdy, sourdough bread
6 fresh figs
In a small saucepan over low heat, warm the olive oil with the thyme. Allow mixture to sit while preparing other ingredients. Grill or toast the bread and then brush with the thyme infused olive oil. Add honey to the olive oil and thyme and warm until liquefied. Slice the figs thickly and arrange in mosaics on the toast. Use an offset spatula or the side of a blunt knife to squish the figs into the toast, so that the flesh spreads and softens.
Pluck the herbs from the honey and olive oil and discard. Drip the syrup onto the figs from a height, twirling and circling the spoon so that the honey falls in sweeping arabesques. Season the toasts with salt and pepper and a few fresh herb leaves. Serve right away, alone or met with a wedge of Stilton.