Spiced red fruit tartlets
POSTED ON December 22, 2015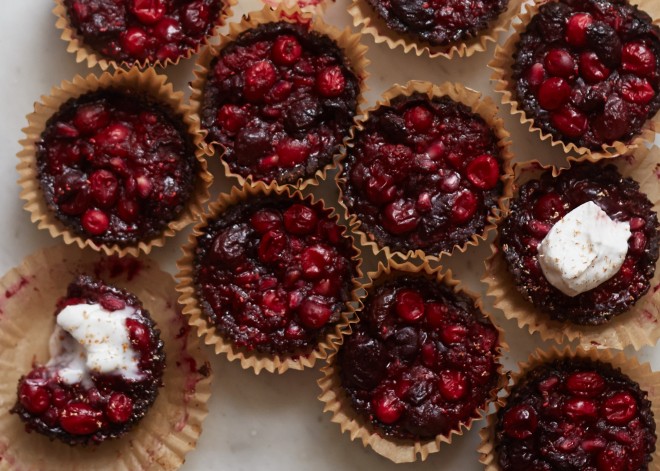 The scent of these tartlets is not only delicious, but also surprisingly intriguing; perhaps it's the tanginess of the pomegranate and berries combined with a hint of cardamom, orange and nutmeg or the dark cocoa crust enriched with ground almonds, maple and coconut? Even after they cooled I couldn't stop trying to put my finger on what exactly was so appealing—either way, you'll find they fill your kitchen with a warm and exotic aroma and look lovely and festive with their deep red jewel-like filling.
When making vegan tarts you usually need to pre-bake the crust and then cook the filling separately before completing the tart; however, I was pleased to discover that these came together quickly and easily without those extra steps. The only fiddly part is pressing the crusts; once that's done all you need to do is mix the fruits and spices, fill and bake. As will all vegan tarts they are best the day they're made but if you want to plan ahead you could press the crusts and refrigerate until you're ready to mix the filling ingredients (I wouldn't mix this ahead as the cherries and raspberries would defrost and the mix could become to wet).
I added a dab of coconut yogurt but you could also serve them with the cashew cinnamon cream from my book, if you have it.
I'll keep this short as I know many of you that got a sneak peek on instagram are eagerly awaiting the recipe to make for Christmas.
Thank you all so much for the great support with my book this year. Looking forward to creating more nourishing and delicious recipes in 2016!
Happy holidays!
Love,
Amy x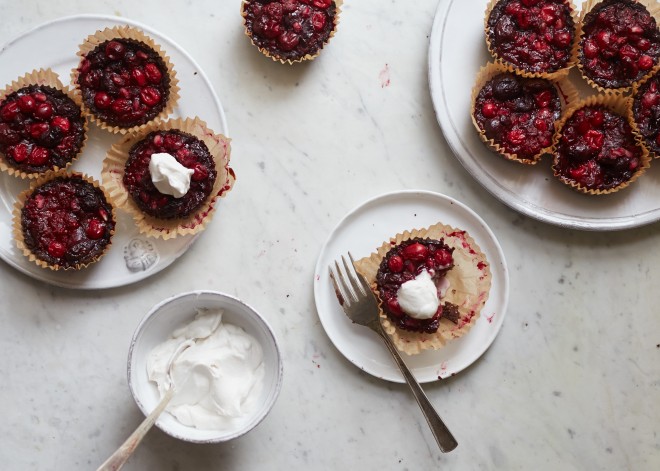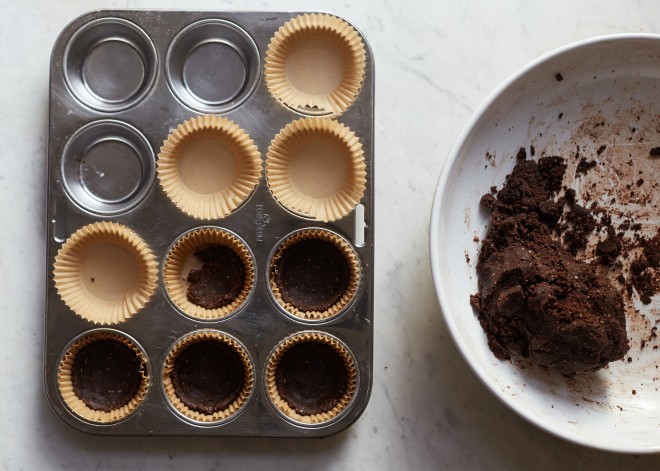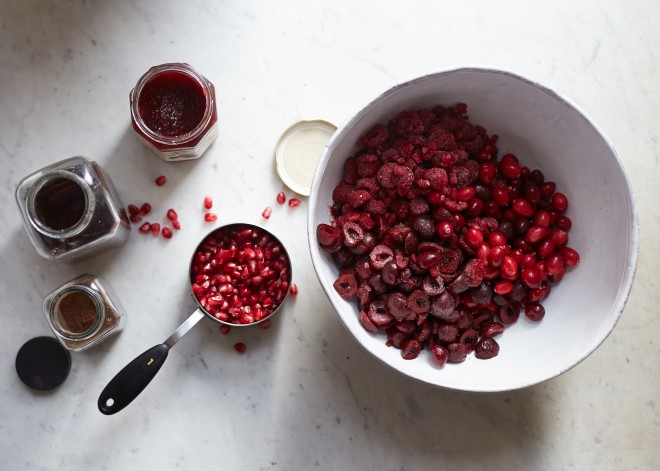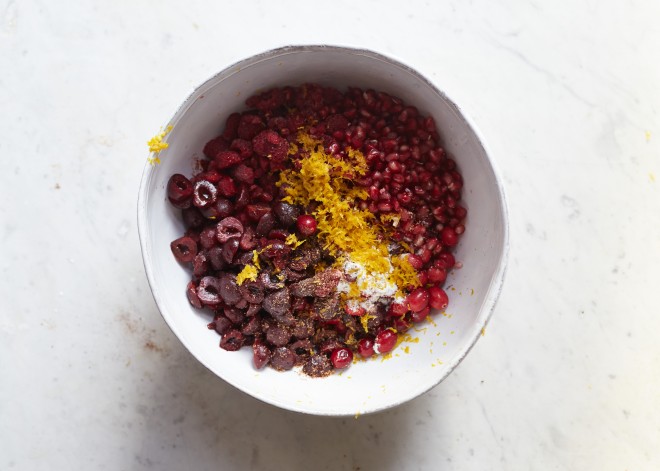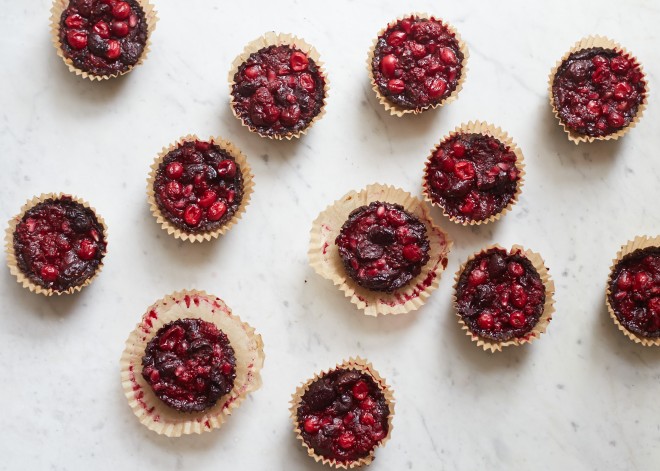 Spiced red fruit tartlets with chocolate crust
(vegan, whole grain and gluten free)
Makes 24 tartlets
Crust:
½ cup rolled oats (use gluten free if you are gluten intolerant)
½ cup unsweetened dried shredded coconut
½ cup unsweetened cocoa powder
6 tablespoons brown rice flour
1 cup buckwheat flour
1 cup almond flour
½ teaspoon sea salt
6 tablespoons melted extra virgin coconut oil
½ cup maple syrup
2 teaspoons vanilla extract
Filling:
2 cups cranberries
1 ¾ cups frozen raspberries
1 ¾ cup frozen cherries, halved
¾ cup pomegranate seeds
2 ½ teaspoons arrowroot powder
½ teaspoon ground cardamom
½ teaspoon cinnamon
Pinch ground clove
Pinch freshly grated nutmeg
Zest of one orange
6 tablespoons unsweetened raspberry or cherry preserves
6 tablespoons maple syrup
½ cup orange juice
Make the crust:
Add oats and coconut to a food processor and grind until fine. Transfer to a medium bowl and add cocoa, brown rice flour, buckwheat flour, almond meal and salt. Stir well then drizzle in coconut oil and mix until the flour is moistened. Add maple syrup and vanilla and stir until mixture comes together, it will be a little sticky. Set aside for 10 to 15 minutes.
Preheat oven to 350 degrees Fahrenheit and line 2 standard muffin pans with paper liners. Thinly press about one rounded tablespoon into each muffin cup a little under halfway up each side. Set aside.
Make the filling:
Add cranberries, raspberries, cherries, pomegranate seeds, arrowroot, spices and orange zest to a medium bowl and stir well to combine. In another small bowl combine preserves, maple and orange juice and stir until smooth. Add to cranberry mixture, stir to combine and distribute between tartlet shells. Bake for 25 minutes, remove from oven and gently press any firm cranberries down into the filling so they cook in the juices. Return to oven and bake for 10 minutes more. Remove and set aside to cool for 10 minutes then carefully lift out of pan with the edges of the paper liners.