Green vegetable tart with buckwheat sunflower crust
POSTED ON January 30, 2016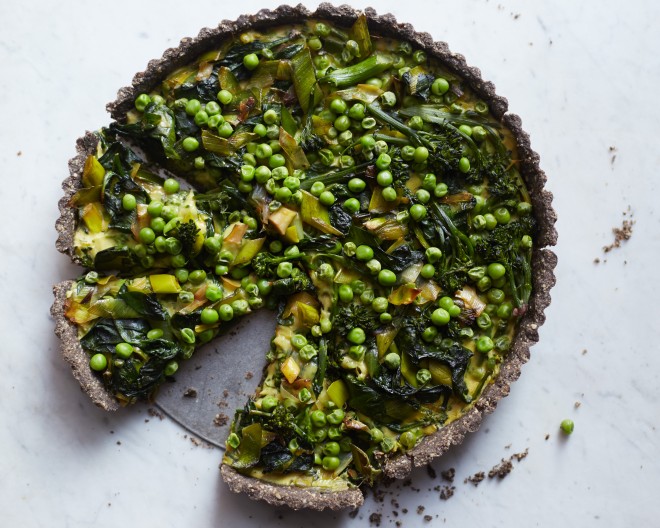 This tart has been on my mind and in the making for a while. I've been experimenting with different fillings, trying to achieve a creamy and light texture without eggs.  Though I'm sure my experiments won't stop here,  I had to pause and get something to you since it's been awhile and the year no longer feels new! I do have a good excuse for my absence here. Just as January began I became an Aunt and any spare time is spent dashing across the East River to Greenpoint to hold the sweet little boy and cooking as much as I can for my sister (you may have seen some baking on instagram). I took some of this tart over earlier this week and we ate it with a simple kale salad, which made a great light and refreshing lunch. It's one of those dishes that tastes better if its allowed to cool, giving the filling a chance to set. I wanted to cram in as many green vegetables as possible and I actually think you could fit in even more. Use whatever vegetables you like, as long as they are cooked before stirring into the filling. Oh, and the crust holds up really well — I found it stays crisp for at least a couple of days. The depth of the color will depend on the buckwheat flour you use, mine was particularly dark.
I hope this year has been great for you so far and the rest of it brings many delicious food adventures!
Amy x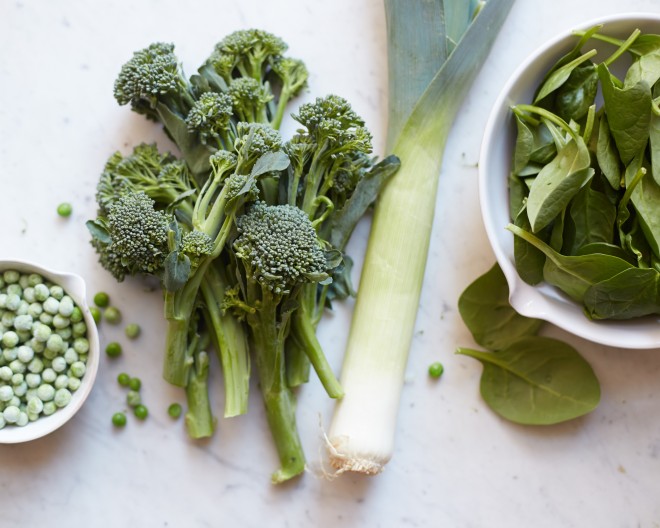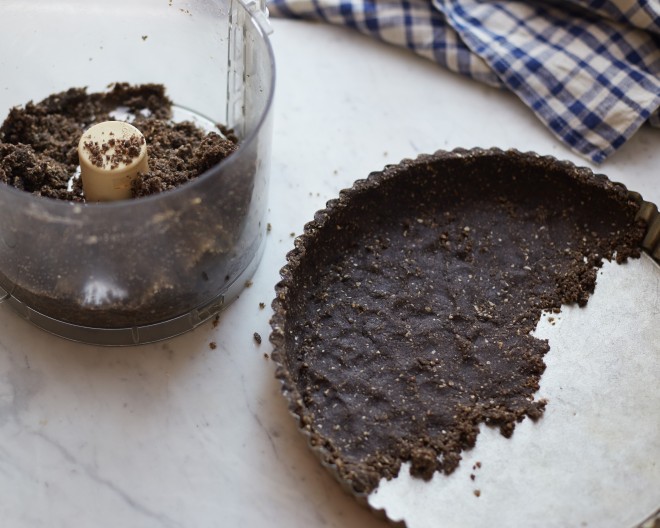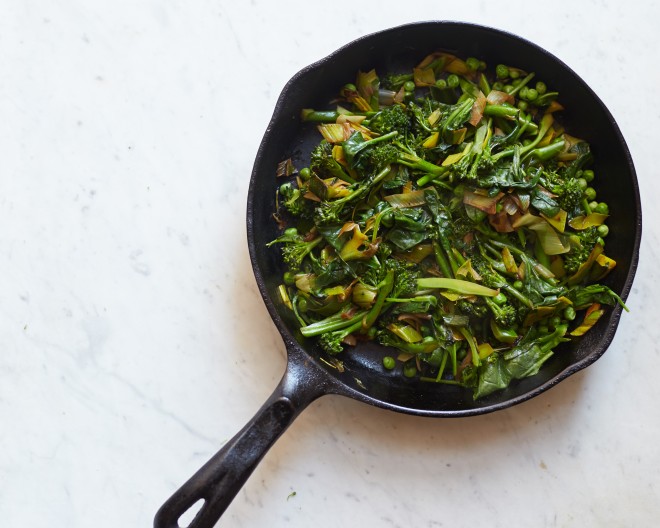 Green vegetable tart with buckwheat sunflower crust
In the filling the turmeric gives a golden hew and the nutritional yeast lends an umami flavor. If you don't have nutritional yeast add a little more tamari and taste for seasoning—the raw flavor of the flax is removed by baking.
(Gluten free and vegan)
Makes one 10-inch tart
Tart crust:
½ cup toasted sunflower seeds
½ cup rolled oats, gluten free if necessary
¼ cup brown rice flour
½ cup oat flour, gluten free if necessary
½ cup buckwheat flour
1 tablespoon arrowroot powder
½ teaspoon aluminum free baking powder
¾ teaspoon sea salt
4 tablespoons extra virgin olive oil, plus more to oil pan
4 to 5 tablespoons plain almond or soymilk
Filling:
3 tablespoons extra virgin olive oil, divided
1 yellow onion, chopped
¾ teaspoon sea salt
4 teaspoons white balsamic vinegar
¾ cup plain almond or soymilk
1 14oz can white beans (butter beans, cannellini or navy beans, drained and rinsed well
1 tablespoon nutritional yeast
1 tablespoon ground golden flax seeds
1/8th teaspoon turmeric
½ teaspoon tamari
Pinch black pepper
Vegetables:
1 tablespoon extra virgin olive oil
1 leek, cut into ½-inch slices
3 cups broccolini florets
3 cups baby spinach
½ cup frozen peas
Black pepper
Make the crust:
Preheat oven to 350 degrees Fahrenheit. Oil a 10-inch tart pan and set aside. Add sunflower seeds and oats to a food processor and blend until fine. Add, rice flour, oat flour, buckwheat flour, arrowroot, baking powder and sea salt and blend again. A drizzle in oil while the motor is running. Scrape sides and blend again. Drizzle in soymilk and blend until mixture comes together when squeezed. Press into prepared pan, you will probably have a little left over.
Prink bottom of crust with a fork and bake for 15 minutes. Remove from oven and set aside. Leave the oven on.
Make the filling:
Warm a skillet over medium heat, add 1 tablespoon olive oil and onion and sauté for 15 to 20 minutes or until soft and caramelized. Add sea salt and white balsamic vinegar, stir and remove from heat. Transfer onion mixture to an upright blender (don't wash the pan) and add remaining olive oil, almond milk, beans, nutritional yeast, flax, turmeric, tamari and pepper. Blend until completely smooth, scraping sides as necessary. Transfer to a bowl and set aside.
Make the vegetables:
In the same skillet warm olive oil over medium heat, add leek and sauté for 3 to 4 minutes. Stir in broccolini along with 2 tablespoons water, cover and cook for two minutes or until bright green and tender. Spread spinach over the top of the broccoli and then add peas, cover again for another minute and then stir to combine. Remove from heat as soon as the spinach is wilted. Roughly chop half of the vegetable mixture and stir it into filling. Transfer to prebaked crust, spread out evenly and bake for 25 minutes. Top with remaining vegetables and bake another 20 minutes. Remove from oven and allow to cool completely before removing from pan and serving.