Sprouted buckwheat breakfast bowl
POSTED ON September 29, 2014
Throughout the summer I was intrigued by the preponderance of buckwheat breakfast puddings and porridges appearing in my instagram feed and on my favorite blogs. Most of the breakfasts were made with raw, soaked buckwheat and blended with everything from coconut, bananas and berries to raw cacao.
Since I'm not much of a smoothie-for-breakfast-person, these ideas were the perfect warm weather option; and now, they're leading me into fall as well.  I've taken to keeping soaked or sprouted (see below) buckwheat in the fridge to have on hand for quick breakfasts like this recipe. Blended with berries, almond milk and a few soaked mulberries it tastes nutty and only slightly sweet, which is ideal for a satisfying breakfast. Adding soaked or sprouted buckwheat to smoothies is also a great way to thicken them without banana, ice or coconut.
A few weeks ago I drained some soaked buckwheat and I left it out — half by accident but also because I was interested to see how long it would take to grow a sprout.  And to my surprise, it seemed to happen under my very eyes. Since a sprout is the most nutritious phase of a plant's life I encourage you to give it a go.
On the left is raw buckwheat groats, on the right is how they looked sprouted.
For those of you who aren't familiar with buckwheat, it isn't actually a grain but a member of the rhubarb family. Contrary to what its name suggests, buckwheat is gluten free. The light colored, 3-sided groat contains all eight essential amino acids, is both extremely high in calcium and a great blood builder. It makes an excellent breakfast food for its warming and filling properties and for the fact that it helps stabilize blood sugar. When purchasing buckwheat be sure to buy raw groats, which are mostly white with a slight green tint. Kasha is toasted buckwheat, and since it's been heated it won't sprout. Buckwheat is an extremely versatile food, you can find it ground into flour, made into noodles, and polenta and added to granola, like in this recipe.
Speaking of buckwheat noodles I created this delicious soba noodle salad for the Food Network. Made with avocado, pickled cucumber and shiso leaves, it is the perfect delicious, light meal to enjoy while the whether is still mild. Check out the recipe here.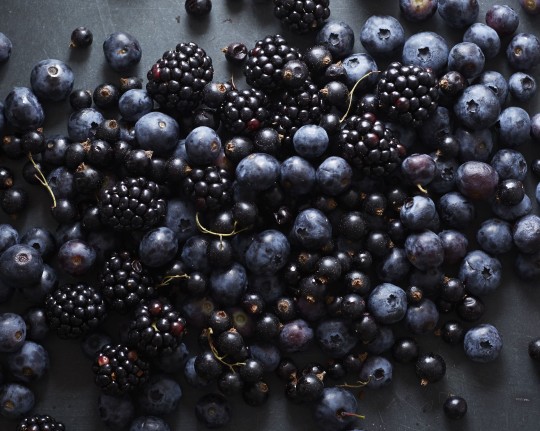 Gorgeous photos by Stephen Johnson.
Sprouted buckwheat breakfast bowl
Inspired by My New Roots.
Since I like to get in lots of super foods at breakfast time, in addition to what's listed below, I usually top this with a sprinkle of maca and flax seeds. If you're craving something a little sweeter, add in some dried goji berries.
Serves 2 generous portions
2/3 cup raw buckwheat, soaked overnight in a cup of water
or sprouted, see below
2 tablespoons dried mulberries, soaked overnight in 2 tablespoons filtered water
2 cups fresh blueberries or defrosted frozen berries
1/3 to ½ cup almond milk
1 heaping tablespoon coconut butter
2 teaspoons vanilla extract
Pinch freshly grated nutmeg
To serve:
Cooked blueberries below
Fresh berries, Bee pollen and hemps seeds
If you are using soaked buckwheat drain, rinse it well before placing it in an upright blender. If you're using sprouted buckwheat simply add it to the blender as is. Add mulberries and their soaking liquid, and remaining ingredients. Blend until smooth. Spoon a little blueberry topping into bowls, divide pudding between bowls and top with remaining blueberry topping. Garnish with bee pollen, hemp seeds and fresh berries, if available.
Blueberry topping
1 cup fresh or frozen blueberries
Pinch cinnamon
Place berries in a small pot with a splash of water and cinnamon. Bring up to a simmer over high heat, cover pot and simmer for a few minutes or until blueberries have burst. Remove from heat and layer with pudding.
Sprouted buckwheat
Soak 2/3 cup buckwheat overnight in filtered water. Pour into a strainer to drain, rinse well until the slimy residue coating the buckwheat is gone. Place strainer over a bowl and set aside for 24 hours, rinsing every 5 to 6 hours. It is probably better to cover the buckwheat, but I often forget and still see sprouts after a day. You should see small little white shoots; if not. rinse again and set aside for another 8 hours. When they are sprouted place them in a jar in the fridge until ready to use. They will last for 2 to 3 days.