Roast squash and heirloom bean tart with pumpkin seed crust and shaved Brussels sprout salad with toasted pine nut dressing
POSTED ON November 25, 2014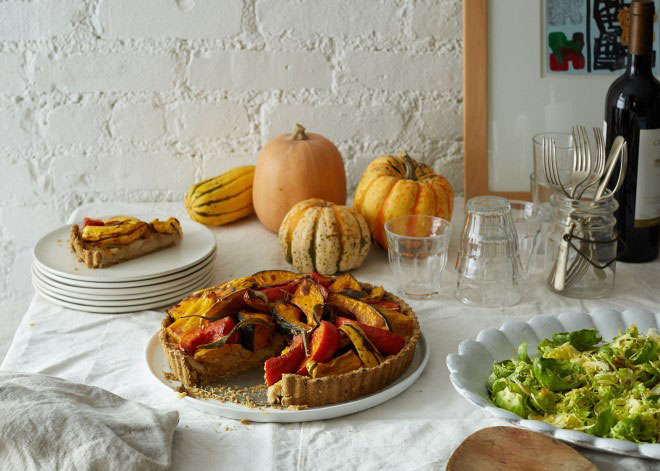 For this year's Thanksgiving-inspired post, I wanted to make something a bit different as a centerpiece; definitely not the usual vegetarian main. Creating a tart topped with wedges of roasted squash has been on my mind for years. This recipe is inspired by a photo in one of my oldest and favorite cookbooks called Nourish by Holly Davis. The book is not vegan or vegetarian but has a macrobiotic approach—for those of you who have my book, in the head notes of the Earl grey tea fruitcake I write about Holly's former restaurant in Sydney.
This tart has a crisp, savory crust made with chickpea flour and a combination of other gluten free flours. It's filled with a flavorful mixture of heirloom beans and caramelized onions. If you don't have heirloom beans on hand you could use navy or cannellini in their place. You'll need about 3 ½ cups cooked.
Another recipe I have wanted to create a vegan version for is a tasty shaved Brussels sprout salad.  Often you'll find these kinds of salads made with the addition of grated Pecorino or Parmesan cheese to tame the assertive Brassica flavor. Here I used a combination of crushed pine nuts, sweet white miso and nutritional yeast, which gives the salad the desired umami taste.
For those of you celebrating Thanksgiving I wish you a wonderful day filled with gratitude and delicious food.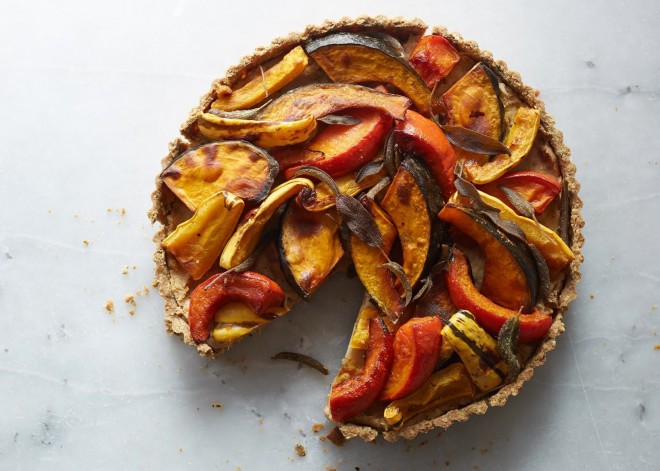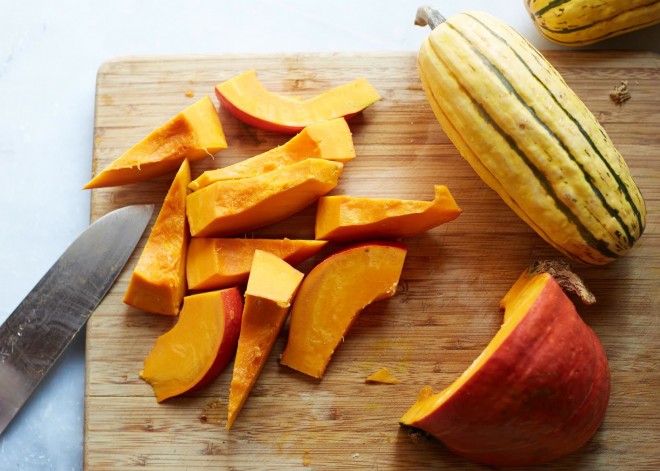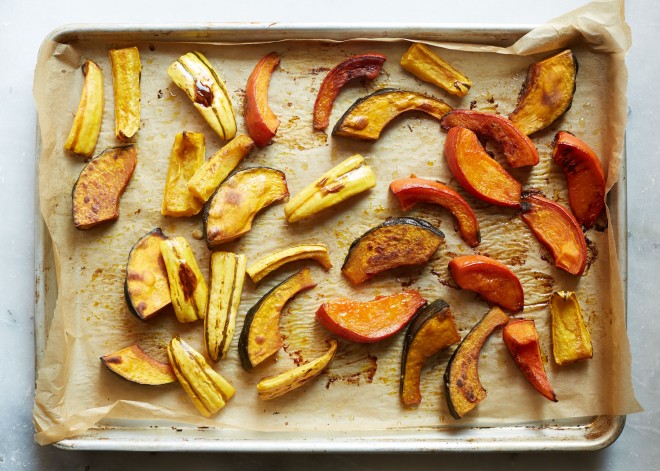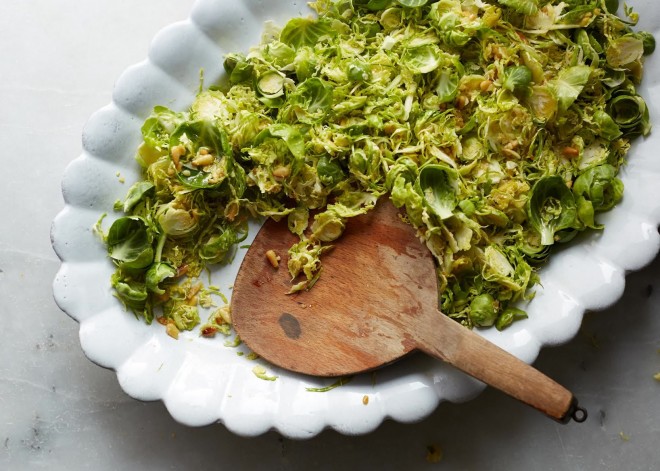 Roasted squash and heirloom bean tart with pumpkin seed crust
Although I like the look of the green-skinned kabocha squash in this tart, I found that the large wedges roasted up a little too dry.  To create a moister texture, you could roast them separately and cover for the first half of the cooking time; or replace them with more of the red kuri or delicata squash if you prefer.
If you don't have a pressure cooker, allow plenty of time to cook the beans, as they are extra large.
Makes 1 10-inch tart/serves 8
Crust
¾ cup regular rolled oats (gluten free if needed)
¾ cup toasted pumpkin seeds, divided
¼ cup chickpea flour
¼ cup brown rice flour, I used sprouted
½ teaspoon baking powder
½ cup oat flour (gluten free if needed)
½ teaspoon sea salt
5 tablespoons extra virgin olive oil
5 tablespoons nut milk or soymilk
Filling
1 ½ cup white Corona beans, soaked over night in plenty of water
4 tablespoons extra virgin olive oil, divided
2 inch strip kombu
1 large yellow onion, quartered and sliced
Sea salt
1 tablespoon balsamic vinegar
2 tablespoons white balsamic vinegar
Topping
½ a medium-large red kuri squash, halved and seeded
½ a medium large kabocha squash, halved and seeded
1 large delicata squash, halved and seeded
2 tablespoons plus 2 teaspoons extra virgin olive oil, divided
Sea salt
½ cup sage leaves
Make the crust:
Oil a 10-inch tart pan with a removable bottom and set aside. Add oats, ½ cup of the pumpkin seeds and chickpea flour to a food processor and grind until fine. Transfer to a medium bowl. Place remaining pumpkin seeds in the food processor and pulse until crushed. Add them to the bowl along with rice flour, baking powder, oat flour and sea salt. Use a fork to stir mixture well, breaking up any lumps. Drizzle in olive oil and mix until evenly distributed. Add nut or soymilk and stir until mixture comes together. Dough should be moist and hold together easily but not stick to your hands. If it seems dry, add a little more milk; and if it seems wet, set it aside for 10 to 20 minutes. Press crust thinly and evenly into prepared tart pan and prick bottom with a fork several times. Bake 20 minutes or until almost cooked through, remove from oven and set aside.
Make the filling:
Drain and rinse beans. Place in a pressure cooker, cover with an inch of water and add kombu. Bring up to high pressure, reduce heat to low and cook for 30 minutes. Remove from heat, allow pressure to come down, remove lid, compost kombu, drain beans and set aside.
Warm 1 tablespoon olive oil in a wide skillet over medium heat. Add onions and cook 8 minutes or until beginning to brown. Stir in ½ a teaspoon sea salt, lower heat a little and continue cooking 10 to 15 minutes or until soft and caramelized. Stir in the regular balsamic vinegar and half of the cooked and drained beans. Use a potato masher to crush the beans and set aside. Place remaining beans in a food processor and add remaining 3 tablespoons of olive oil, white balsamic and ½ a teaspoon salt and puree until smooth. Add to the caramelized onion mixture and stir well. Season to taste.
Make the topping:
Preheat oven to 400 degrees Fahrenheit. Line a rimed baking sheet with parchment paper and set aide. Cut squash into 1 ¼ inch wedges and place on prepared tray, add 2 tablespoons olive oil and a pinch of salt and pepper; toss to combine. Spread out in a single layer and roast 25 minutes or until browning on the bottom, turn wedges over and continue roasting for about 20 minutes more or until squash is browning and soft all the way through. Remove from oven and set aside. Lift off parchment paper and line tray with a fresh sheet. Add sage leaves and remaining olive oil and toss to combine. Roast for 7 minutes or until crisp, remove from oven and set aside.
Assembling tart:
Preheat oven to 350 degrees. Fill pre-baked tart shell with white bean mixture. Arrange roasted squash wedges on top and bake for 20 minutes or until heated through. Remove from oven and allow to cool 10 to 15 minutes before removing sides of pan. Top with crispy sage leaves and serve.
Shaved Brussels sprout salad with crushed pine nut dressing
Serves 6 to 8 as a side
¾ pound Brussels sprouts
¾ teaspoon unpasteurized sweet white miso
2 tablespoons fresh lemon juice
4 teaspoons white balsamic vinegar
2 teaspoons nutritional yeast
¼ cup extra virgin olive oil
¼ cup lightly toasted pine nuts, divided
Sea salt to taste
Combine miso, lemon juice and vinegar in a small bowl. Add nutritional yeast and olive oil and whisk until emulsified. Crush half the pine nuts using a muddler or back of a spoon; add them to the dressing, season to taste with salt and set aside.
Remove the outer leaves from the Brussels sprouts and place in a wide bowl or platter. Shave the Brussels sprouts and add them to the bowl. Drizzle with dressing, sprinkle with remaining toasted pine nuts and serve.
All these lovely photos are by Stephen Johnson