The best cauliflower bake you'll ever eat.
POSTED ON January 27, 2015
I know the title is a little presumptuous but this bake really is kind of amazing. I've made it three times recently and the response to each was nothing short of ecstatic.  Now I'll tell you why: Something magical happens when cauliflower is whipped into a smooth puree with cashew milk and nutritional yeast before being baked. The consistency and flavor is surprisingly good for such a simple method and so few ingredients; the result is the kind of comforting creaminess that I think most of us crave, especially in winter.
But, it isn't just the delicious creamy top that makes this bake so unbelievably flavorful, the vegetable layer is also satisfying and scrumptious in its own right. Made with a mix of savory root vegetables, including Jerusalem artichokes, parsnip and fennel that are roasted and combined with leeks and greens and seasoned with grainy mustard. The combination of these two layers cooked in the oven until golden and bubbling make for a perfect winter meal, and with the snow swirling around outside it is exactly what I want to eat right now. When you read through the recipe you'll also notice that it contains no grains or beans. It's the root vegetables that give it plenty of body and although it is deeply satisfying, it really doesn't weigh you down. Of course you could stir in some white beans or French lentils to give it more protein, but first I suggest trying it as it is, an all vegetable feast!
If you make it, please do let me know how you like it!
Amy x
Ps.
For anyone in the New York area I'll be signing books at a cookbook tasting event this Saturday January 31st from 4 to 5pm at Powerhouse on 8th in Park Slope Brooklyn. I would love to see you if you can make it. More details here. And there's a link to a easy dessert recipe at the bottom of this post!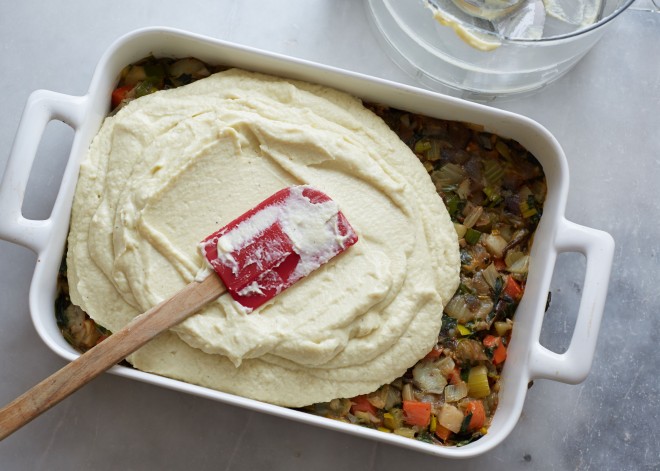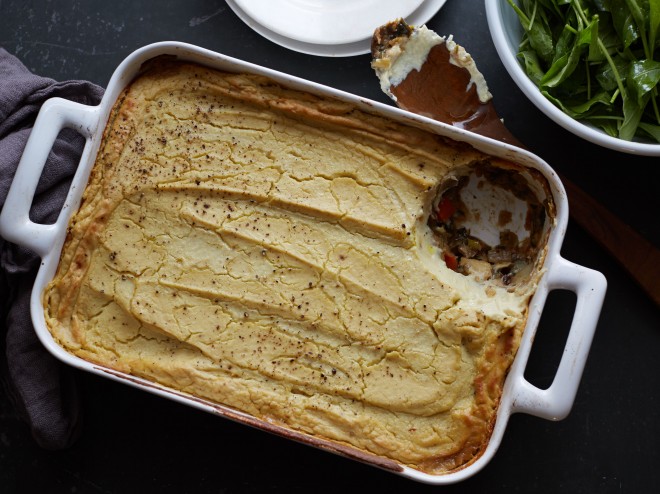 Photos by Stephen Johnson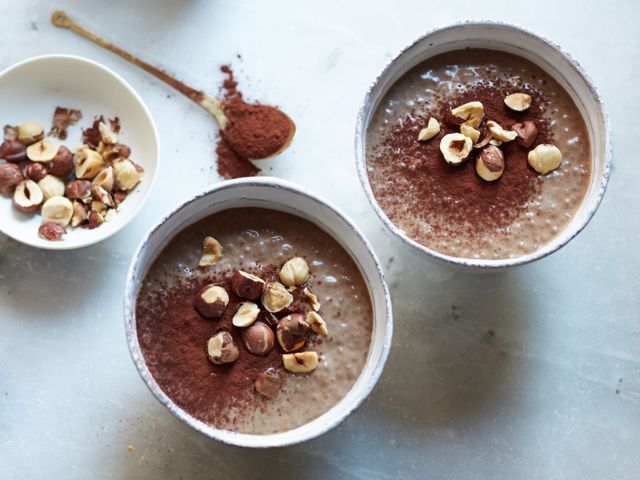 If you have room for dessert, head over to Healthy Eats for the recipe for this mocha hazelnut chia pudding 
The best cauliflower bake you'll ever eat.
You don't have to be exact about what vegetables you use and of course its fine to use more of one than the other. I found that I need about 8 to 9 cups total chopped vegetables.
Serves 6 to 8 (makes one 12 by 8-inch bake)
Filling:
1 large bulb fennel, cored and cut into ¾ inch dice
1 stalk celery, cut into ¾ inch dice
2 large parsnips, cut into ¾ inch dice
2 medium carrots, cut into ¾ inch dice
6 med to large Jerusalem artichokes, cut into ¾ inch dice
½ teaspoon salt, plus more to taste
3 tablespoons extra virgin olive oil, divided
1 large onion, diced
6 cloves garlic, minced
1 whole leek, diced
1 tablespoon minced fresh thyme
¾ cup filtered water
4 cups chopped Swiss chard, stems removed or kale
1 tablespoon arrowroot dissolved in 1 tablespoon water
1 tablespoon whole grain Dijon mustard
1 teaspoon tamari
½ teaspoon umeboshi vinegar
Black pepper
Topping
¾ cup raw cashews, soaked in 2 cups water for 2 to 4 hours
¾ cup filtered water
1 large head cauliflower, cut into 1 ½ inch pieces
3 tablespoons extra virgin olive oil, divided
5 tablespoons nutritional yeast
¼ teaspoon garlic powder
Black pepper
Sea salt
Make the filling:
Preheat oven to 400 degrees Fahrenheit.
Combine fennel, celery, parsnips, carrots and artichokes in a large bowl. Add salt and 2 tablespoons of the olive oil, and toss to combine. Divide mixture between 2 large (ceramic or glass) baking dishes, ideally 8 by 12 inches but use what you have. Cover with parchment paper and foil and bake for 20 to 25 minutes or until vegetables are beginning to soften. Remove cover, stir and roast for another 20 minutes or until browning and just cooked through. Remove from oven and set aside. Leave oven on.
Meanwhile warm remaining tablespoon of olive oil in a wide skillet over medium heat, add onion and sauté until browning, reduce heat to low and cook another 8 to 10 minutes until caramelized. Add garlic, leek and thyme; increase heat to medium and cook for 3 to 4 minutes more. Stir in water and chard, and cook until beginning to wilt. Once mixture simmers, drizzle in arrowroot mixture and stir well until mixture becomes glossy. Remove from heat. Add all the vegetables to one baking dish, stir in chard mixture, mustard, tamari and ume vinegar. Add black pepper to taste and more salt if needed. Mix should taste delicious. Smooth out vegetables, gently pressing them down to create a flat surface.
Make the topping:
Drain and rinse cashews, place in an upright blender along with 3/4 cup water and blend until smooth; set aside.
Steam cauliflower until cooked through, about 15 minutes. Place in a food processor along with 2 tablespoons of the olive oil, nutritional yeast, garlic powder, a pinch of salt and black pepper and blended cashew milk. Blend until completely smooth and fluffy, taste for seasoning then pour over vegetables. Smooth out top and drizzle with remaining tablespoon olive oil and scatter with cracked pepper. Place in the oven and bake for 30 to 35 minutes or until top is golden. Remove from oven and allow to cool slightly before serving.