Fennel dill dressing with lime and mint + a rainbow bowl
POSTED ON February 15, 2015
This year, winter seems to me to be more bleak and grey than in seasons past.  And I'm not sure if it's striking me so because I've had a bit more time to observe the weather, or if it is in fact, greyer than usual.  The last couple of winters I was wrapped up either writing or editing my book and I didn't have the time or mental space to think about what was happening outside; the colder and greyer it was, the easier I found it to stay focused on the seemingly endless tasks at hand.  As I've become more aware of the greyness in the sky, I've simultaneously been finding myself drawn to vibrant colors much more than usual. Brilliant purple cabbages, orange sweet potatoes and deep golden kabocha squash sitting next to each other at the store have been inspiring me to create meals based solely on color. Although my everyday eats generally involve these winter staples, my meals are usually just a few colors combined and often heavy on the green. Lately, I've felt the urge to truly eat the rainbow and eat it all in one bowl, which is how this meal came about. Although it looks incredibly pretty, it probably contains components many of you are already eating on a daily basis: steamed squash, greens and any other vegetables that look good, roasted sweet potatoes, red cabbage kraut and a grain or bean.  Also you may already know that what transforms simple vegetable bowls like this into a taste sensation is a good dressing. And if you're like me, most nights you don't want or have time to get the blender out, but if you do this dressing takes about 2 minutes to prepare and you'll be rewarded with flavorful meals for days.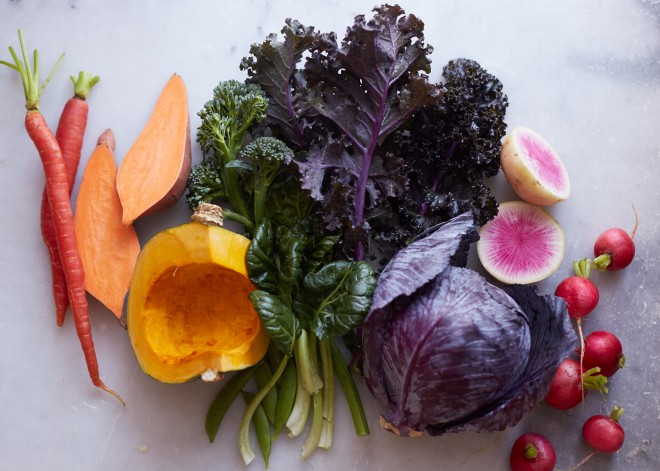 Recently one of my clients was looking for something tasty and light to compliment daily salads and vegetables, a dressing that wasn't heavy on the oil or nuts. Being a lover of fennel, she suggested blending it into dressings and I have made hundred of variations based on this idea. This dressing is bright and fresh thanks to plenty of dill, mint and lime. The fennel, cashews and flax oil give it body and texture.
Let me know what you drizzle it over in the comments below!
Enjoy,
Amy x
Ps. Elenore over on Earthsprout is hosting a worldwide giveaway of my cookbook and is also sharing the recipe for my coconut custard tart. She decorated it with the prettiest raw chocolate and made a gluten free version of the crust using buckwheat flour in place of whole spelt, which is a brilliant idea!
To enter check out her lovely post here and enjoy browsing her site for inspired and healthy whole food recipes, her 30 raw breakfast app and Nordic superfood mix, and a breath of fresh air from the Swedish countryside. Thank you for the kindest words and warmest support, Elenore! xx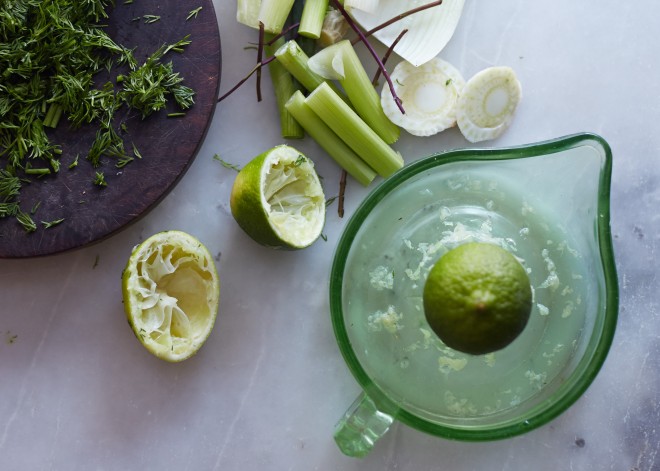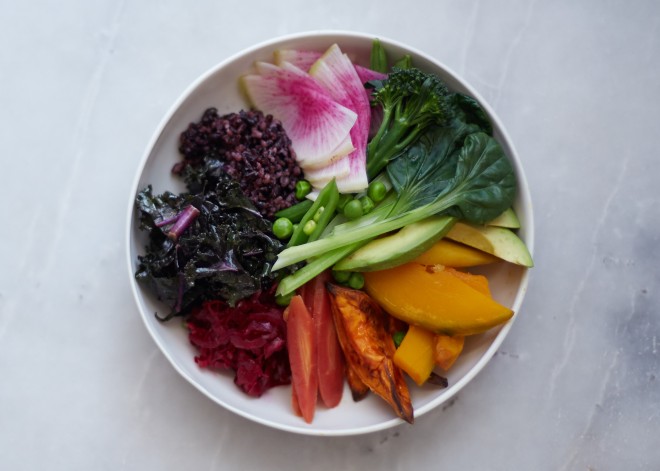 Fennel dill dressing with mint and lime

Use this as a base for your favorite herbs and nuts. It's delicious with cilantro and pumpkin seeds in place of the dill and cashews or all three herbs can be combined.
Makes about 2 cups
1 medium bulb fennel (2 cups diced)
2 cups roughly chopped dill, leaves and tender stems
½  cup mint leaves
1 small clove garlic
1 scallion, white part only 3 inches
¼ cup raw cashews or macadamia nuts, soaked 2 to 4  hours in cold water
5 tablespoons fresh lime juice
1/3 cup flax oil or extra virgin olive oil
1  teaspoon tamari, plus more to taste
Sea salt to taste
Place everything in an upright blender and blend until smooth. Add a little water to get desired consistancy.
Store in a jar in the fridge for 3 to 4 days,
Rainbow bowl
You can top your rainbow bowl with a a poached egg if you like or include some beans, chickpeas, or just eat it with avocado as I have here.
Forbidden black rice 
Find recipe here or in my book.
Roasted sweet potatoes
The exact roasting time will depend on how large you cut the sweet potatoes.
Serves 4 to 6
2 medium sweet potatoes, scrubbed and cut into 3 inch wedges, about an inch thick
4 teaspoons extra virgin olive oil or melted extra virgin coconut oil
Pinch sea salt
Preheat oven to 400 degrees fahrenheit. Line a baking sheet with parchment and add sweet potatoes, oil and a pinch of salt.
Toss to combine and roast 2o minutes, surn each piece over and roast another 10 to 15 minutes or until browning and soft inside.
Marinated kale
This recipe can be made in about 2 minutes flat. The amounts of lemon and oil will depend on the amount of kale in your bunch. Anything lefit over can be kept in the fridge for up to 2 days.
Serves 4 to 6
1 bunch purple kale, trimmed and cut in ½ inch slices
1 to 2 tablespoons fresh lemon juice
1 to 2 tablespoons extra virgin olive oil
Sea salt to taste
Add kale to a medium bowl drizzle with 1 tablespoon lemon juice, 1 tablespoon olive oil and a pinch of salt. Massage kale until wilted, adding more lemon, olive oil and salt to taste.
Ruby kraut
You can follow the same directions as making kimchi here (using only red cabbage) or find the recipe for pink kraut in my book.
I love this brand. You can find it along with other naturally fermented vegetables in the refrigerator section of your healthfood store.
Steamed vegetables
In my rainbow bowl I steamed kabocha squash, red and yellow carrots, watermelon radishes, broccoli, snow peas, frozen peas and tatsoi.
I also made a version shown below with thinly sliced watermelon radishes that I left raw.
I recommend steaming all the vegetables separately so that they can be cooked perfectly. Squash will take longer, broccoli greens and snow peas less time. Carrots and radishes I usually steam for 2 minutes or until cooked through.  If you steam extra vegetables  you can reheat them in a steamer for a couple of minutes before eating.