Jicama slaw with cilantro + avocado and a lime dressing
POSTED ON April 11, 2015
I've never posted a recipe using jicama here mostly because the unusual root vegetable isn't available organically or locally grown where I live. And, I don't generally like promoting the use of vegetables that are neither of these things. But, it was a long drawn out winter here on the East Coast and there has been so little available that is grown remotely close to home that I've almost forgotten about the magic that a local vegetable possesses. With everything shipped from far away places, reaching for jicama hasn't felt odd or "wrong" as it will once our growing season starts. I am sure that some of you can get either organic or local jicama; so I hope this recipe will inspire you to bring it into your kitchen.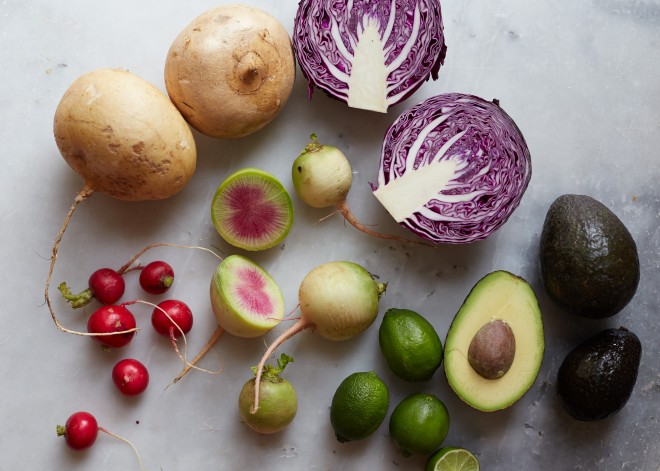 Jicama (hee-ka-ma) is a deliciously crunchy and juicy root vegetable that is a member of the bean family. It looks a little like a turnip with fibrous brown skin. The interior is bright white and is like eating a cross between an Asian pear and a water chestnut, which isn't surprising since it is actually over 85% water. Jicama is native to Mexico but you'll find it enjoyed raw with lime, chili and salt all over Latin America. Its light and sweet flavor comes from oligofructose inulin, which is a prebiotic. High in fiber, vitamin C, iron and potassium, jicama is an unusual root vegetable as it is very low in fat and calories. The root also contains vitamin B6, which supports healthy brain and nerve function and helps form red blood cells.
Choose jicamas that are hard and heavy for their size with dry, smooth skin that isn't blemished. The flesh should be bright white and very crunchy. When they are old they will taste overly sweet and begin to yellow slightly.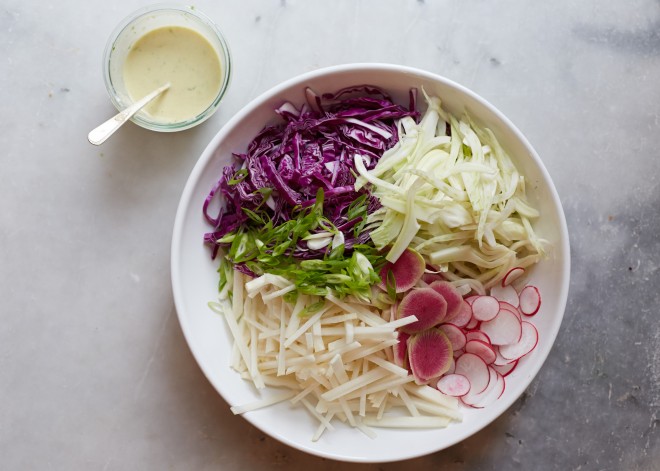 This is a great salad to serve a crowd as it sits well for an hour or so and it seems that everyone who tries it falls for it—both times I've made it I got lots of requests for the recipe, so here it is.
I hope you enjoy it!
Amy x
Ps. In case you don't follow along on instagram or Facebook,  At Home in the Whole Food Kitchen won an IACP award in the Health & Special Diet category. It was exciting to receive the award and meet so many inspiring chefs and writers. I am honored to have my book recognized.
Pps. My publisher, Roost Books, has confirmed that there was a problem with the glue on one of the early print runs of my book 'At Home in the Whole Food Kitchen.' If your copy is losing pages please be in touch with customerservice@roostbooks.com for a replacement copy. So sorry for the inconvenience!
Jicama Slaw
If you are not in the mood for a creamy dressing, you can simply dress this salad with fresh lime and orange or tangerine juice and season to taste.
Serves 6
Dressing
Zest of one lime
3 tablespoons raw cashew butter
6 tablespoons fresh lime juice, divided
1 tablespoon raw apple cider vinegar
1 small clove garlic, crushed
3 tablespoons extra virgin olive oil or cold pressed flax oil
Large pinch sea salt, plus more to taste
Slaw
1 medium –large jicama, peeled and cut in matchsticks (5 cups)
¼ medium red cabbage, thinly sliced (2 cups)
1 medium fennel bulb, cored and thinly sliced
2 watermelon radishes, shaved
3 radishes, shaved
2 scallions thinly sliced
3 tablespoons toasted pumpkin seeds
1 ripe avocado, sliced
2 cups cilantro leaves
Make the dressing:
Add the lime zest, cashew butter and half the lime juice to a small bowl and stir to combine. Once smooth stir in remaining lime juice, vinegar and garlic then stir in olive oil and salt. If the mixture is too thick to coat the salad, stir in a little water until you get desired consistency. Set aside.
Make the salad:
In a large bowl add the jicama, cabbage, fennel, radishes and scallions; toss to combine. Drizzle dressing over salad and toss again. Taste for salt and add more if needed—you will probably need it. Sprinkle with pumpkin seeds and top with avocado and cilantro, and serve.