Pumpkin turmeric granola
POSTED ON December 5, 2016
Just like the rest of my friends, family and wider community, I've had a rough month trying to come to terms with the current political situation in America and the general future of our planet. I've struggled with how to write about food in this new (and not so new) landscape without feeling like there are much more important things that need to be addressed. I thought by now the overwhelm would have passed and I'd be clear about what action to take to protect at least one of the many important issues that are now seriously under threat. Instead I've frozen and not been able to continue on with sharing food and recipes as usual. I could say it's because I've been busy and it's true but not knowing where and how to start is the real reason this granola recipe didn't make it into your inboxes last month.
There are a lot of post-election to-do lists out there that have contributed to my lack of focus and also resulted in a lack of action. Although they are supposed to help I have been left stunned and unproductive. On the upside it doesn't really matter where you start or what you do as long as it's a solid daily step toward the world you want to live in. The positive outlook for this disastrous turn of events is that we are all now required to refocus on what's important and get active.  The Dakota Access Pipeline is a great example of what can be achieved when people come together—although it is not over it is inspiring to see progress. Protecting nature is an ongoing battle that will be harder in the coming years and the DAPL is a great reminder to research the companies and banks we support with our dollars.
On to the recipe!
In the bubble that is my own kitchen I seem to be going through a granola faze. Besides good wholegrain bread—which is not always easy to get—granola is a great thing to have on hand for impromptu breakfast get-togethers. Everyone seems to be delighted when presented with a jar of homemade, new flavored granola. Plus, it keeps fresh for weeks and works well as a sprinkle over warm breakfast porridges and fruit compotes.
Although this granola has some brown rice syrup in it, to most people it tastes unsweetened. If you keep your sugar intake to a minimum, you'll appreciate the very subtle sweetness it emanates.
If not, or you're serving it to friends then I suggest offering maple syrup or honey for drizzling—it's also delicious served with apple sauce. The fact that it contains no dried fruit also adds to the subtleness of its flavor; I can easily imagine some chopped dried dates, golden raisins or figs stirred through.
Steaming squash is something I do almost daily at this time of year. It provides the perfect base or side to a meal and it always makes sense to prep extra. I like to have at least a cup or two in a jar in the fridge to use in breads, nut milks, waffles, scones, humus (scroll down for post with recipe) or for adding to porridge. If I'm craving something savory, it can be mashed on toast with a splash of apple cider vinegar like they do at ABC Kitchen or combined with kimchi and steamed greens for a salad. There is no end to the delicious combinations you can come up with when you start with a sweet and dense fleshed squash.
Also, I wanted to let you know about the Nut Milk 101 post I wrote for Vogue.com. If you're not making your own but want to try it this might just be the inspiration you need. You'll also find a step by step guide to making your own Perfect Healthy Granola , as I said I'm going through a granola faze! Photos and links below.
Stay positive!
Love,
Amy
Pumpkin turmeric granola

Makes about 10 cups

5 cups rolled oats (gluten free if necessary)

1 cup raw pumpkin seeds

1 cup raw unhulled sesame seeds

1 cup raw walnut pieces

2 teaspoons cinnamon

2 teaspoons ground ginger

1 teaspoon freshly grated nutmeg

1 teaspoon ground cardamom

½ teaspoon ground allspice

1 cup steamed red kuri or kabocha squash

½ cup extra virgin coconut oil

½ cup brown rice syrup

2-inch piece fresh turmeric or ¾ -1 teaspoon dry turmeric

1 tablespoon vanilla extract

½ teaspoon sea salt

Preheat oven to 325 degrees Fahrenheit.

Line 2 rimmed baking sheets with parchment paper and set aside.

In a large bowl combine; oats, seeds, walnuts, cinnamon, ginger, cardamom and all spice; set aside.

In an upright blender combine the steamed squash, oil, rice syrup, turmeric, vanilla and salt and blend until completely smooth. Add to the dry ingredients and stir to combine. Divided between the two baking sheets and spread out evenly. Bake for 20 minutes, rotate trays and cook for another 15 minutes. Remove from oven and allow to cool before storing in jars. Granola will store well for 3 to 4 weeks.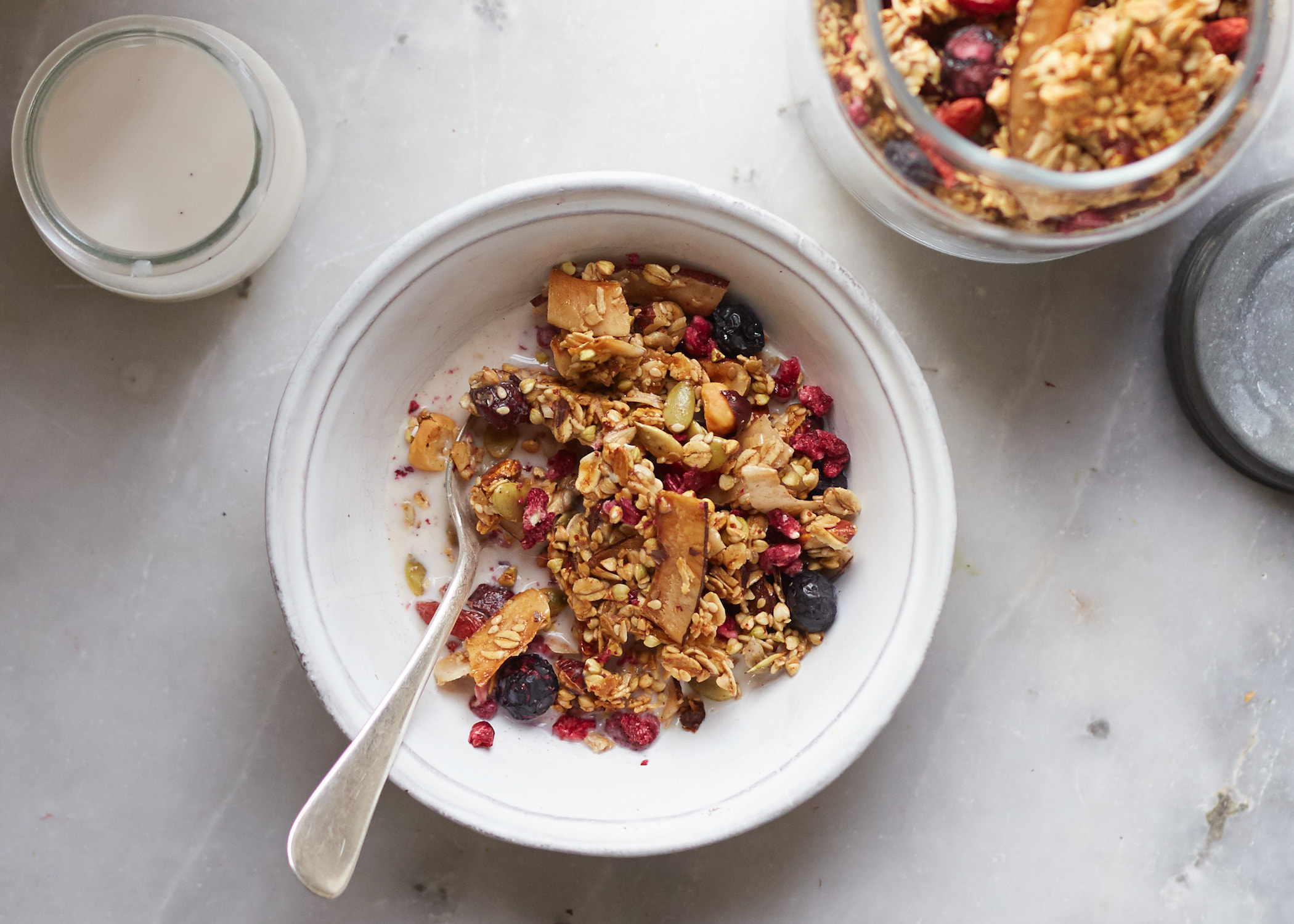 THE PERFECT HEALTHY GRANOLA RECIPE