PROTEIN PACKED GREEN SOUP
POSTED ON October 27, 2017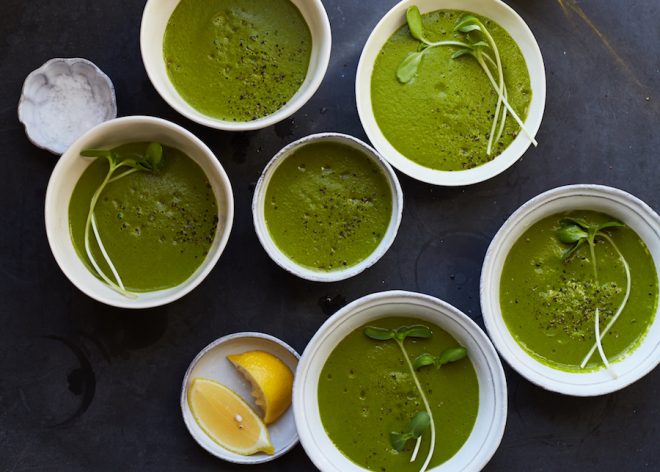 Over the past six months or so I've been focusing on increasing protein in my diet. Being a vegetarian my whole life I never felt like my meals were lacking protein or that it was difficult to get enough into my daily diet—I've always loved beans and tempeh and the occasional eggs. However, when I took an honest look at how much I was eating a daily, I realized my protein intake could do with some improvement.  I discovered when I started keeping track that the challenge in getting enough protein wasn't happening when I had time to prepare balanced meals.  The shortage arose when meal prep needed to be quick. For people who like replacing their meals with smoothies, this isn't so hard.  But, if you're like me and want something savory, grounding and warming then this soup is for you. It's as easy and filling as a high protein smoothie, yet it really is a soup. The secret for making it not taste like a savory green smoothie is to lightly steam the greens and leeks before blending them with cooked chickpeas and soaked almonds. The almonds and chickpeas give the soup a good amount of body and creaminess, as well as make it extremely satisfying.
One trick I've been using to increase protein has been to keep a jar of cooked and drained chickpeas in the fridge. When freshly cooked (preferably in a pressure cooker) they have a rich, creamy texture and tasty sweet flavor, even when plain. I grab handfuls to snack on and toss them into salads, bowls of steamed vegetables and simple vegetable soups. Of course they taste amazing marinated or mashed, but sometimes that even seems like too much trouble.
Many of you know how much I love pressure cookers as they really are the secret to a creamy bean interior with an intact shape. Because the pot is closed, all the naturally sweet flavors are trapped inside, which results in a very tasty bean, with an almost sweet flavor. I've been using a Kuhn Rikon pressure cooker for over 20 years and I'm yet to find a more reliable or better quality pressure cooker.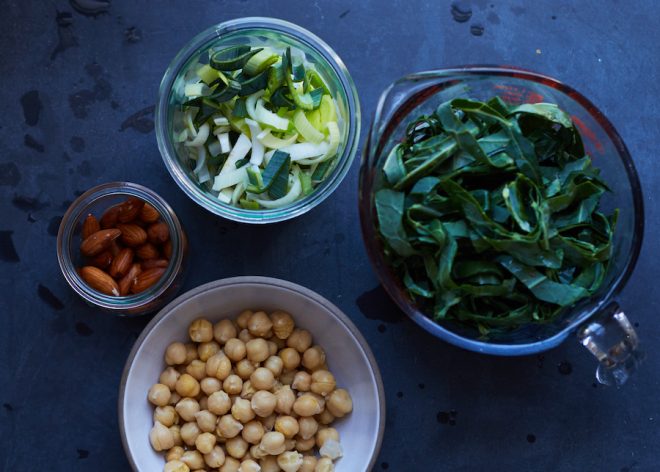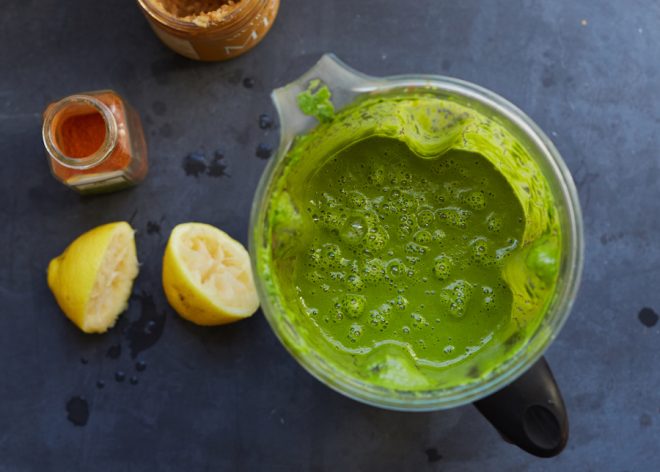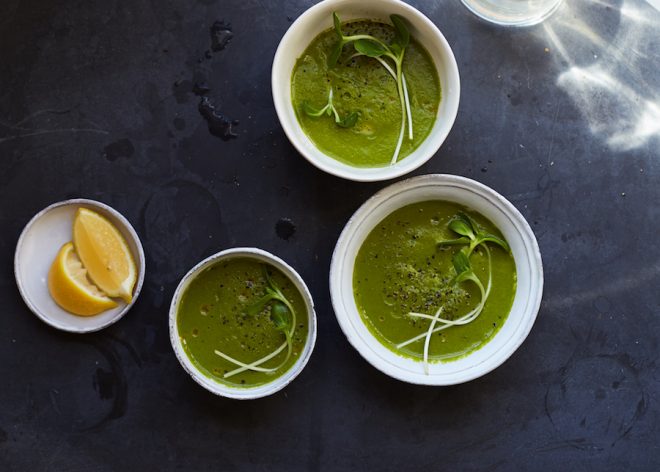 PROTEIN PACKED GREEN SOUP
Makes 5 cups| Serves 3 to 4
½ cup whole raw almonds, soaked overnight in 2 cups filtered water
1 cup sliced leeks
6 cups chopped greens, I used a mixture of kale and collard greens
3 cups boiling water
½ cup cooked chickpeas, drained
2 teaspoons fresh lemon juice
2 tablespoons extra virgin olive oil
1 teaspoon chickpea miso, optional
½ teaspoon sea salt, plus more to taste
¼ large garlic clove
¼ teaspoon cayenne pepper, if desired
Freshly ground pepper to taste
Drain and rinse almonds, and place them in an upright blender. Add leeks to a steamer basket and spread out over bottom. Top with greens and steam for 2 to 3 minutes or until tender. Check that leeks have softened and don't taste raw. Add to blender with almonds and pour in boiling water, chickpeas, lemon juice, olive oil, miso (if using), salt and garlic. Blend until smooth, taste for salt, add black pepper and blend again. You can add more water if mixture is too thick.  Pour into bowls or cups and serve immediately. Soup will keep for up to 3 days in the fridge, warm leftovers gently as you don't want to cook the miso. It also tastes pretty good at room temperature if you're eating it on the go.