Squash miso bowl with greens and ginger
POSTED ON December 16, 2014
This bowl of goodness has saved me on numerous occasions since the weather went from crisp to frigid here in New York. Here's how it came about. One day a few weeks ago I dashed into the kitchen chilled to the bone, feeling a little frazzled, rushed and in need of something nourishing and warm that I could make and eat immediately, know the feeling? With only a few minutes to spare, I opened the fridge and found some kabocha squash that I had peeled and cut up a few days earlier (lucky!). I threw the squash into a pot with water and simmered it until tender, then wilted some greens on top, added scallions and seasoned the mix with miso and ginger. My meal was ready in 10 minutes and it was heavenly. As I sipped the sweet broth I felt soothed, like I was returning to the moment and simultaneously shielding myself from those rampant seasonal sniffles. It's really good to have a dish like this up your sleeve; especially around the holidays when we are often over extended, cold, short on time or perhaps suffering from over indulging in the rich, sugary foods of the season. Either way, I hope this inspires you to keep these ingredients on hand for times when you need fast food that truly heals.
If you're in New York, I will be doing a book signing this Thursday December 18th from 6 to 8pm at Marc Blackwell 174 North 11th Street Williamsburg. I'll be making some tasty nibbles from the book and wine will be served. If you'd like to get a book signed for the holidays this is your chance! I would be delighted to see you!
Below  are some more place you can find recipes, reviews, mentions and gift guides including At Home in the Whole Food Kitchen this past week.
Thanks to everyone for the support!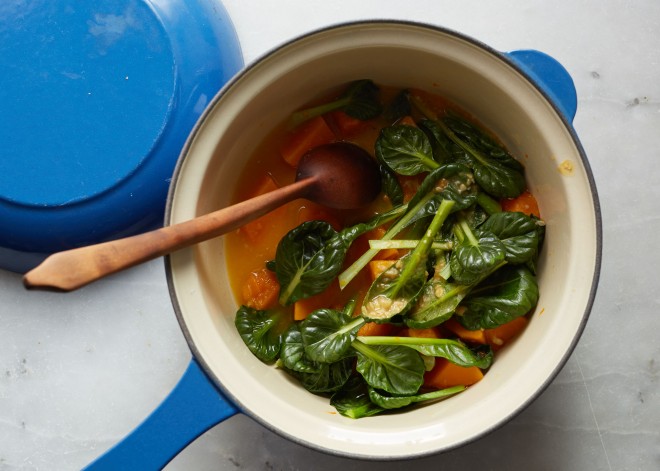 Photos by Stephen Johnson
Not Without Salt  Roasted squash and bitter green salad
Seven Spoons  Spicy carrot soup
Golubka Kitchen  Chocolate hazelnut layer cake
A House in the Hills  Roasted fall vegetable stew
Pure Green Magazine  Podcast and book review
Refinery29  Holiday Gift Ideas
Beauty and Well Being  Book review
Clean Plates'  Local gift list
Metroland Cookbook gift guide
Here's a film of me making the Creamy cauliflower celery root soup with roasted shitakes from my book.
Squash miso bowl with greens and ginger
I used South River chickpea miso here, which is quite mild as far as miso's go. If you use another brand start with less and increase to taste. Be careful not to boil the miso as it will destroy the enzymes.
Serves 1
1 cup peeled and cubed winter squash
¾ cup water
2 teaspoons fresh ginger juice
2 teaspoons unpasteurized miso, I used chickpea miso
1 handful washed greens, tatsoi, chard or spinach
1 scallion, thinly sliced
Add squash and water to a small pot. Bring to a boil over high heat, cover pot, reduce heat to low and simmer 8 to 10 minutes or until cooked through. Remove a couple of tablespoons of the broth and place it in a cup or small bowl, add miso and stir until dissolved. Pour into pot and stir in ginger juice. Add greens and stir until they are just wilted, remove from heat and place in a bowl. Top with scallions and enjoy.