Chickpea pizza with asparagus and pea shoot tangle
POSTED ON April 13, 2016
I'm jumping the gun a little by using asparagus in this recipe — here in New York we won't be seeing any locally grown tender stems for another few weeks. Truth be told, the only significant sign of spring (it's been freezing) at the farmers market this week were ramps and their irresistible, wild onion-garlic scent. I grabbed a few bunches early one morning and sautéed them to garnish a pea soup I served to family visiting from Australia that evening. Before the soup we snacked on pieces of this pizza from Lindsay S. Love's new book Chickpea Flour Does it All: Gluten –free, Dairy-Free, Vegetarian Recipes for Every Taste and Season, which came out last week. For those of you who follow Linday's blog Dolly and Oatmeal you'll know her style of food is seasonally focused, plant based and vegetarian with a lot of vegan recipes. Her book, as you can probably guess from the title, is all of those things but each recipe uses chickpea flour.
I've always known that chickpea flour was a versatile ingredient and have experimented with making things like vegan frittatas, panise, socca and the odd cookie; however, this book reveals a whole world of new recipes to which I would never think to add chickpea flour. Things like dressings, crisps and clafouti! One of the things I like best about the baking recipes in her book is that although gluten-free, they don't contain refined starches, complicated gluten-free flour mixes or long ingredient lists.
Now on to the recipe. It may look long and involved but actually it's easy to put together and will get you thinking of other ways to use this pizza dough. I have to underline the importance of pressing this crust out as thin as possible as it will rise when the dough rests for the second time.
For those of you who like to weigh ingredients you'll be happily surprised to see all the weight measurements here. I actually got out my scale for this recipe and I think it's worth ditching the cup measures here (I know, can you believe I'm saying that!). After weighing the flours I found the dough was perfect without having to add any extra flour.
Let me know if you give it a try!
Amy x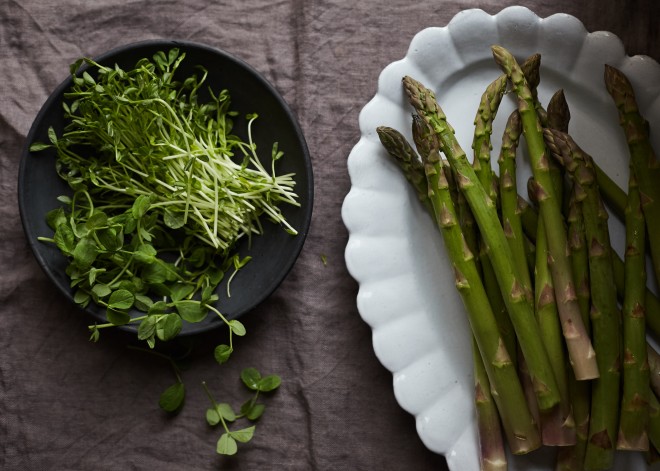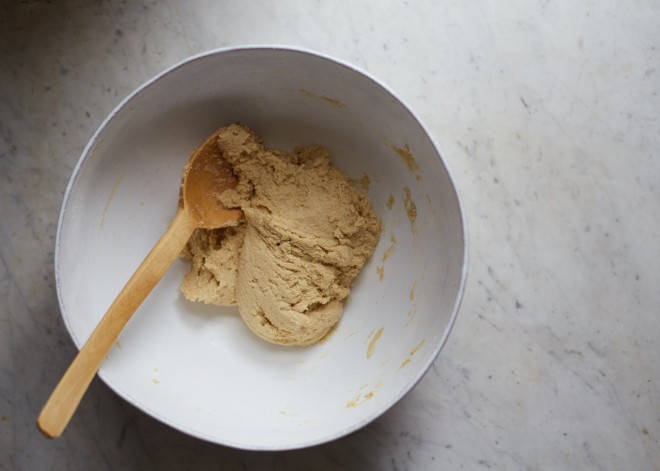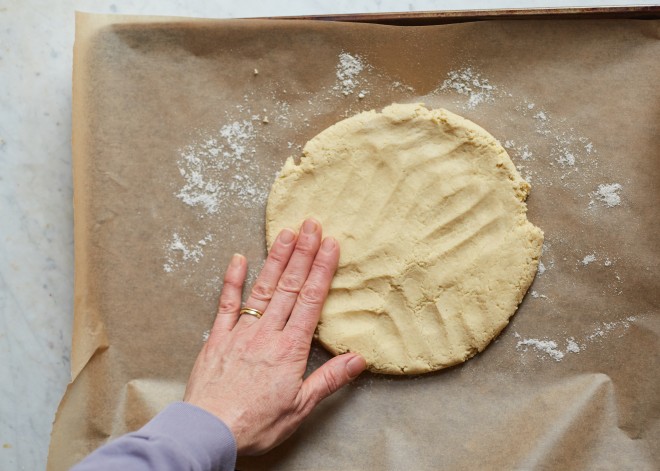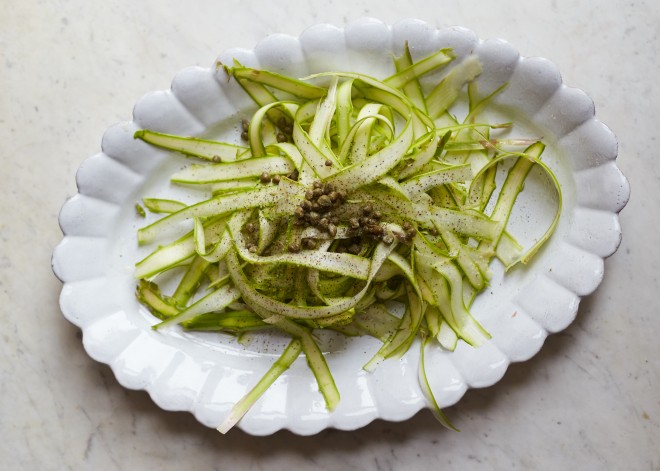 Chickpea Pizza with Asparagus and Pea Shoot Tangle
A few notes: I didn't have psyllium husk powder so I blended psyllium husks in a spice grinder and used 2 generous teaspoons as it wasn't as fine as commercially ground psyllium. Lindsay suggests spreading the pizza with humus and my plan was to make a white bean dip to spread over it; however, since I had freshly cooked chickpeas on hand I blended them instead. I've added what I did below in case you don't have humus on hand. Also, I only had ½ a cup of brown rice flour and replaced the other ½ cup with millet flour–it turned out great.
Recipe from: Chickpea Flour Does It All: Gluten-Free, Dairy-Free, Vegetarian Recipes for Every Taste and Season © Lindsey S. Love, 2016. Reprinted by permission of the publisher, The Experiment.
Makes two 11-inch pizzas
Dough:
1½ cups warm water (105-115 degrees)
1 teaspoon raw honey (or sugar)
1 packet instant yeast (approximately 2 ¼ teaspoons)
1 cup (140g) brown rice flour
1 cup (120g) chickpea flour
½ cup (55g) sorghum flour, plus more for dusting
½ cup (60g) arrowroot flour
2 teaspoons psyllium husk powder
1 ½ teaspoons sea salt
2 tablespoons extra virgin olive oil
Topping:
1 (456g) bunch asparagus, peeled into ribbons (10 large stems)
2 tablespoons capers
1 tablespoon extra virgin olive oil, divided
1 ½ teaspoons lemon juice, divided
Sea salt and freshly ground pepper
2 cups (112g) pea shoots and/or sprouts
8 ounces humus, see below for the chickpea puree I used
In a mixing bowl, whisk together water and honey until dissolved; sprinkle in yeast and let poof for about 10 minutes, until the surface is foamy and bubbly; if yeast does not poof, start over with more yeast.
In a large bowl, whisk together the flours, arrowroot, psyllium and salt. Make a well in the center of the bowl and add yeast mixture along with the oil. Stir with a wooden spoon (or dough hook on an electric mixer) and mix dough until dough is smooth. Dough should be able to hold its form but be sticky to the touch. If it's not able to hold its form, add more chickpea flour one tablespoon at a time until dough is firmer. Cover the dough in the bowl with plastic wrap and allow to rise in a warm place for 30 to 45 minutes, until doubled in size.
Place oven rack at lowest position in your oven; place a baking stone or sheet on it and pre-heat oven to 500 degrees Fahrenheit. (260 degrees C).
Line two baking sheets with parchment paper and lightly dust with sorghum flour. Remove plastic wrap and reserve for later. Divide dough into two even pieces and form each piece into a ball. Place a piece of dough on each piece of parchment; dust lightly with flour and press into an 11-inch round, working with your fingers from the inside out until dough is ¼ inch thick, dusting with more flour as needed.
Cover dough with plastic wrap and all to rise once more for about 15 to 20 minutes; dough should puff up slightly and be springy to the touch.
While dough is rising, prepare the topping. In a large bowl combine asparagus, capers and 2 teaspoons of oil and 1 teaspoon lemon juice; season with salt and pepper. In a separate bowl combine pea shoots with remaining 1 teaspoon oil and ½ teaspoon lemon juice; season with salt and pepper; set aside.
Use an upside down cookie sheet (or pizza peel) to gently slide one piece of parchment with dough onto the baking stone and bake for 5 minutes, until the dough is slightly golden and a bit stiff. Slide parchment and dough onto cookie sheet (or pizza peel) and remove from oven. Spread half of the humus over the top of pizza; then distribute half of the asparagus mixture over humus. Return to oven and bake until edges are lightly browned and crisp and asparagus is lightly charred in places, about 10 minutes.
Remove pizza from oven and top with pea shoots. Let pizza rest for 5 minutes to allow the pea shoots to wilt a bit. Serve warm or at room temperature.
Repeat with remaining dough and toppings.
Note: Pizza dough can be stored in the freezer for up to 1 month. To thaw, remove from freezer the morning of, or at least 5 hours before cooking, and allow the dough to come to room temperature. If not using right away, store in the fridge until ready and prepare as directed.
Chickpea puree
Makes just over a cup
1 ½ cups cooked chickpeas, drained and rinsed well if using a can
2 tablespoons water
1 tablespoon extra virgin olive oil
1 tablespoon fresh lemon juice
1 small clove garlic, peeled
Sea salt to taste
Place everything in a food processor and blend until smooth. Season to taste and keep in fridge until pizza dough is ready.