Saffron eggplant stew for a crowd
POSTED ON October 5, 2016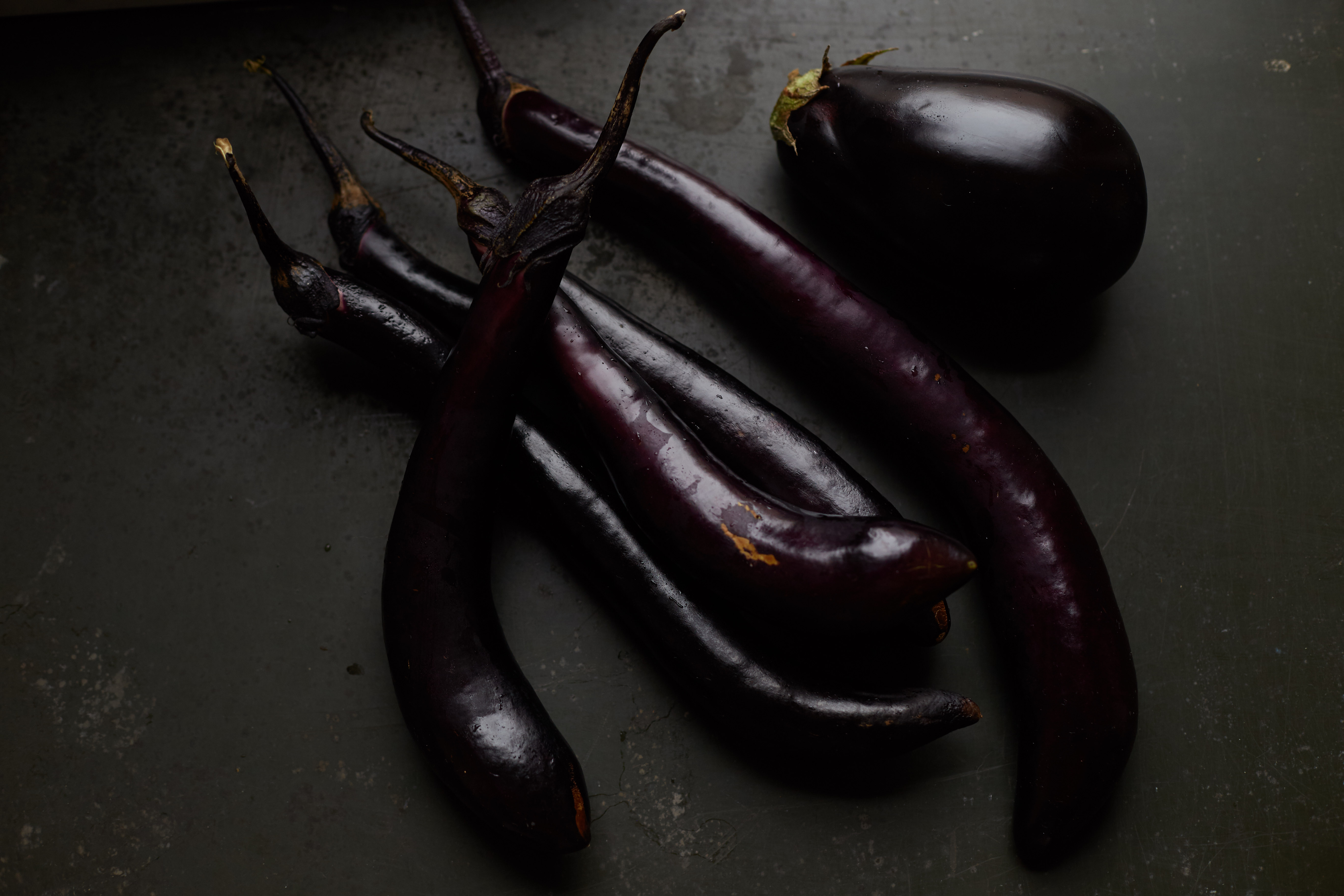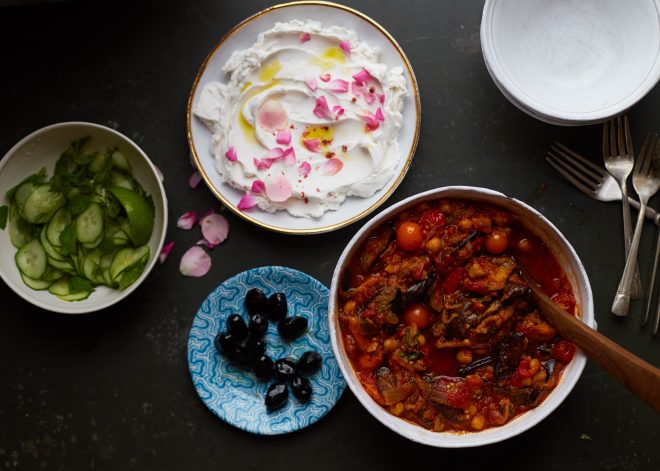 Heading quickly into the fall with cooler days upon us, I was feeling the need to cook with the late summer vegetables that are slowly disappearing, making room for winter squash at the market. Right now, there's an abundance of over ripe tomatoes, eggplants and peppers all begging to be roasted or cooked in some way. Since I was looking for ideas for a main course to serve a crowd—guests had volunteered to bring things like tzatziki, humus and marinated artichoke hearts—I knew something tasty with tomato and eggplant was probably going to be it. Instead of my usual eggplant curry (recipe in my book and a version here), I wanted to use saffron, which also goes really well with the last of the summer produce, as well as with the dips and marinated things that were to be arriving.  A Persian stew recipe I found online caught my attention — it had rose water stirred in before serving. The idea inspired this coconut yogurt and rose petal accompaniment; served along with black rice and a quick herbed cucumber salad, it turned out to be an exotic flavor explosion.
When cooking for a crowd these kinds of thick stews are perfect,  they're not too juicy to serve on a plate and go really well with platters of olives, humus, flat breads, etc. They also go incredibly far when paired with rice and all the other dishes–plus they can be made ahead and simmered for hours.
There are only a few weeks left here in New York to enjoy these vegetables that hold the warm summer sun in their flesh. Enjoy them while you can!
Amy x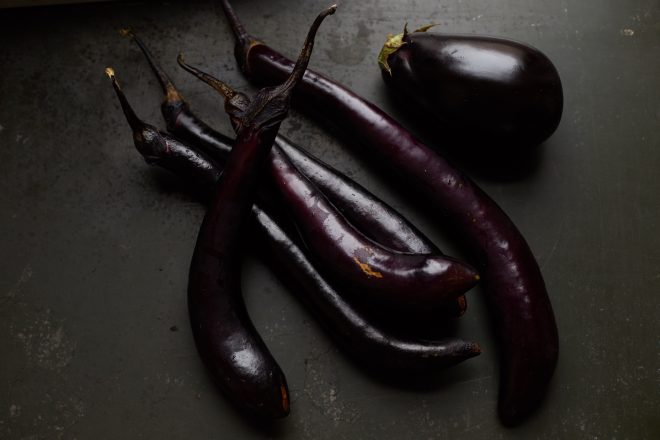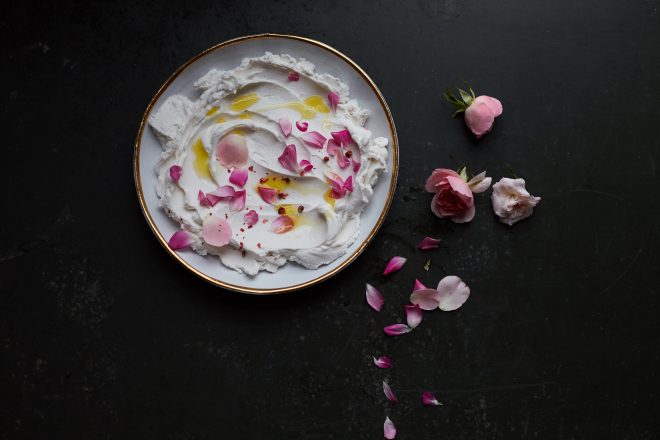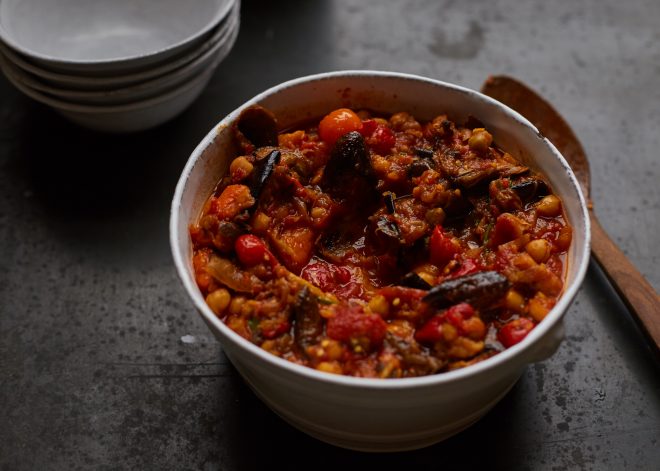 Eggplant saffron stew for a crowd
This stew makes 4 ½ to 5 quarts which is 18 to 20 cups. It's a big pot but since it's thick it doesn't go as far as a soup. I served 14 people with lots of accompaniments and had leftovers for another 6 people as a full meal. So my educated guess is it serves 15 people comfortably.
Here I used 5 large Asian eggplant and 2 medium Italian ones.
6 large peppers, about 3 ¼ pounds (1.5 kilograms)
Extra virgin olive oil or coconut oil
4 pounds (1.8 kilograms) eggplant, roll cut
4 onions, cut into ½ inch wedges
6 large cloves garlic, finely chopped
Sea salt
9 large (6 ¼ lb: 2.8 kilograms) tomatoes, I used Beefsteak
2 teaspoons saffron threads
4 cups cooked chickpeas
2 teaspoons ground cumin
2 cups cilantro leaves, optional
Pre-heat oven to 400 degrees Fahrenheit.
Line a baking tray with parchment paper, add peppers and drizzle with a little oil; toss to coat and roast for 30 minutes. Turn peppers over and roast for another 30 minutes or until browning in places. Remove from oven, place in a bowl, cover with a plate and set aside.
Line 2 baking trays with parchment paper and divide eggplant between them. Drizzle each tray with about 1 ½ tablespoons oil and a large pinch of salt. Toss to combine and roast for 25 minutes or until browning, turn each piece over and roast another 20 minutes until soft inside and evenly browned.
Meanwhile, bring a large pot of water to a boil. Cut an "X" at the end of each tomato (either end works) and place half of them in the boiling water. Wait about one minute, or until skin starts lifting off then remove with a slotted spoon. Repeat with remaining tomatoes and set aside to cool.
Warm a tablespoon of oil in a large pot over medium-high heat and add onions. Sauté for 5 minutes, reduce heat to low, cover and cook for 15 minutes until softened and golden. Add garlic and a large pinch of salt and continue cooking for 10 minutes more.
Peel and chop tomatoes and add to onion garlic mixture and bring up to a simmer. Combine saffron threads in 3 tablespoons of water (I used the liquid from cooking the chickpeas) and add to tomatoes. Simmer mixture uncovered for 30 minutes or until reduced by about a fifth. (My tomatoes were quite watery and so I simmered them for over an hour to get my desired thickness). Add chickpeas, cumin and salt to taste.
Peel and seed peppers then cut in into 2 inch squares and stir into stew along with roasted eggplant. Simmer for 5 to 10 minutes to allow flavors to marry. Stir in cilantro leaves, if using and serve warm with rice and a dollop of coconut yogurt (or whole milk yogurt).
Forbidden black rice with kaffir lime leaves
If you know me at all, you'll know that I always soak rice overnight but I forgot! I didn't mind as black rice has a tendency to be very soft, which I love but I know not everyone does. I might reduce water by about ½  cup if I had soaked it overnight.
3 cups forbidden black rice
8 kaffir lime leaves, I used dried but fresh would be ideal
5 cups filtered water
Sea salt
Wash and drain rice. Place in a pot and add lime leaves, water and salt and bring to a boil. Cover pot, reduce heat to low and simmer for 50 minutes or until all water has been absorbed. Remove from heat and leave covered until ready to serve.
Coconut yogurt with rose water and petals
If you can't find an unsweetened coconut yogurt with no additives—which is pretty much impossible unless you have access to Anita's Coconut Yogurt or make your own. Otherwise use a Greek style full fat yogurt.
2 cups full fat unsweetened coconut yogurt
1 to 2 tablespoons rose water
Extra virgin olive oil to garnish
Flakey sea salt or rose salt if you have it
Fresh or dried rose petals
Pink peppercorns, optional
Spread yogurt into a shallow bowl or plate. Drizzle with rose water and olive oil then sprinkle with salt and rose petals. If using pink peppercorns crush them between your fingers before scattering them over the top.
Quick cucumber salad
I used regular pickling cucumbers here and left their skin on and seeds in; however, Persian cucumbers would of course be ideal. The great thing about this is it tastes good for hours and lasts a couple of days (just leave out herbs if you make it ahead).
4 medium-large cucumbers, thinly shaved with a mandolin
Sea salt
Raw apple cider vinegar to taste
½ cup fresh mint leaves
⅓ cup chopped dill
Lime juice to finish
Add cucumbers, large pinch of salt and a couple of tablespoons of vinegar to a medium bowl and toss to combine. Taste for salt and vinegar then stir in dill and mint. Drizzle with a squeeze of lime and serve.