FESTIVE GREEN CABBAGE ROLLS
POSTED ON December 20, 2016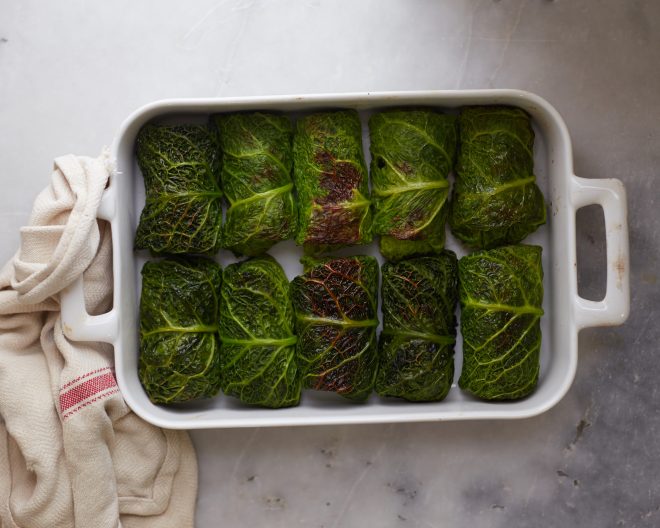 If you're cooking this holiday season then I'm sure you've got ideas and menus swirling around in your head, mingling with all the other tasks on your list that need doing.  I'm doing my usual –"keeping things simple," which, you may recall if you've been reading for a while, is my preferred modus operandi around the holidays. Then suddenly, at the last minute, as the week before Christmas approaches, I go into overdrive.  However, this year feels different. The world is a different place and I can't justify spending money on gifts however responsible they are when there are so many in need of real help. It's difficult because giving gifts is one of my greatest joys; I absolutely love surprising people.  Though it's possible to do both, and I know many people do, with the world in such a crisis even the smallest donations can make a direct impact. The solution I came to this season is to make donations in the names of anyone I would be gifting, however large or small. After finding out about the incredible work the White Helmets do in Syria (here and here) it wasn't hard to decide where my donations should go.
After my last post I received some lovely emails about the importance of gathering around the table and sharing nourishing food. It inspired and encouraged me to think that my recipes are a part of your gatherings and ultimately a part of your memories. Thank you so much for sending your thoughts and encouragement in these changing times.
I am hoping the little cabbage bundles spark some ideas if you are still looking for inspiration for what to cook this holiday season. Although they are individual they're surprisingly simple to make: you roast some veggies and herbs, make the béchamel, steam cabbage leaves then trim and roll them. They can be made up to 2 days ahead, then baked 20 minutes before serving. Since the béchamel is right inside you don't need a sauce. I based this one on this cashew béchamel from Henrietta Inman's book. These bundles taste delicious with a heavily dressed crunchy, bitter red (or green) salad like the one below.
Wishing you all peace and a great end to the year.
Thank you as always for your support!
Love,
Amy x
Ps. If you're looking for something sweet to make don't forget about these vegan and gluten free Spiced Red Fruit Tartlets.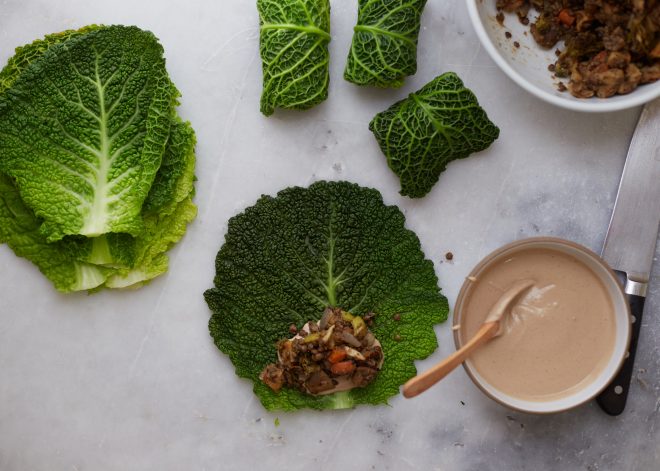 FESTIVE GREEN CABBAGE ROLLS
Makes 16 rolls / Serves 8
Lentils
½ cup French lentils, soaked overnight in 2 cups filtered water
2" piece of Kombu seaweed
3 bay leaves
1 tablespoon balsamic vinegar
Roasted vegetables
2 medium (½lb: 228g) carrots, cut in ½ inch dice
1 medium (½lb: 228g) fennel, cored and cut in ½ inch dice
2 medium (½lb: 228g) parsnips, cut in ½ inch dice
6-8 medium (1lb: 454g) Jerusalem artichokes, cut in ⅓ inch dice
2 medium (¾lb: 454g) turnips, cut in ½ inch dice
4 medium (¾lb: 340g) shallots, cut in ½ inch dice
1 large head (1lb: 454g) broccoli, cut into small-medium florets
2 heaped tablespoons finely chopped fresh rosemary
2 heaped tablespoons chopped fresh sage
1 heaped tablespoon chopped fresh thyme
3 tablespoons extra virgin olive oil, plus more for pan and rolls
1 teaspoon sea salt, plus more to taste
Freshly ground black pepper
1 tablespoon salt, plus more to taste
16 large savoy cabbage leaves
Walnut béchamel sauce
You could replace the pine nuts with all walnuts if you like. This recipe makes about ¾ cup more than you'll need for rolls
2 cups filtered water
½ cup raw walnuts, soaked overnight in a cup of filtered water
¼ cup raw pine nuts
2 tablespoons unpasteurized mellow white miso
1 tablespoon whole-grain mustard or Dijon mustard
Sea salt
2 tablespoons extra virgin olive oil
5 tablespoons chickpea flour
1 teaspoon tamari
1 tablespoon naturally fermented mirin
1 tablespoon brown rice vinegar
1 nutritional yeast, optional
Cook the lentils:
Drain and rinse lentils. Place in a medium pot and cover with 1 inch of filtered water. Add kombu and bay leaves and bring to a boil, cover pot, lower heat and simmer 30 minutes or until soft. Remove from heat and set aside.
Roast the vegetables:
Pre-heat oven to 400 degrees Fahrenheit.
Line two trays with parchment paper and set aside.
Add vegetables to a large mixing bowl, add herbs, oil and salt and toss to combine. Spread over prepared trays and roast for 30 minutes or until browning around the edges and cooked all the way through. Remove from oven, and set aside.
Make the béchamel:
Add water, walnuts, pine nuts, miso, mustard and a small pinch of salt to an upright blender, blend until smooth and set aside.
Warm olive oil in a medium pot, over medium heat and add chickpea flour stirring constantly. Cook until chickpea flour smells nutty and is golden brown. Pour in walnut milk mixture and whisk constantly until mixture is thick and smooth. Continue cooking for 4 to 5 minutes. Add tamari, mirin, brown rice vinegar and any extra sea salt to taste and add nutritional yeast if using. Remove from heat and set aside to cool. Mixture will thicken further once cool.
Steam cabbage leaves for 2 minutes or until tender. Remove from steamer and lay out on kitchen towels to cool. Place a leaf face down onto a cutting board and trim thick part of the stem so leaf can lie flat. Repeat with remaining cabbage leaves.
Drain lentils, remove kombu and bay leaves. Add to a large mixing bowl along with roasted vegetables and stir well.
Assemble rolls:
Lightly brush a 9 by 12-inch (or equivalent size) baking dish with olive oil and set aside.
Lay 1 cabbage leaf face up on a flat surface. Add 2 tablespoons of béchamel sauce to the bottom ⅓ of leaf. Top with ⅓ cup vegetable lentil mixture. Lift bottom of leaf up and over filling, fold in both sides and roll up. Place cabbage roll seam side down in dish and repeat with remaining cabbage leaves. Lightly brush all the rolls with olive oil.
When ready to eat preheat oven 375 degrees Fahrenheit.
Bake rolls for 15 minutes. Turn on broil to medium high and broil for 4 to 5 minutes or until golden brown. Remove from oven and serve warm.
FESTIVE TRAVISO POMEGRANATE SALAD
Dressing
3 tablespoons extra virgin olive oil
2 tablespoons unpasteurized apple cider vinegar
1 tablespoon balsamic vinegar
1 teaspoon white balsamic vinegar
2 teaspoons minced shallot
Large pinch sea salt, I used Maldon
Salad
1 head Treviso or radicchio
1 small Chioggia beet, thinly shaved
1 medium watermelon radish, thinly shaved
3 red radishes, thinly shaved
Seeds from 1 medium pomegranate
Chopped parsley, to garnish
Make the dressing: In a small jar add all the ingredients and shake well. Set aside until you're ready to serve the salad.
Make the salad: Arrange the Treviso on a platter and top with beets, radishes, pomegranate and parsley.
Drizzle with dressing, toss and serve.