Creamy Winter Vegetable Stew with Mustard + Lemon
POSTED ON March 20, 2017
Although spring officially starts tomorrow and you're probably dreaming about lighter meals of asparagus, nettles and spinach, I'm here enjoying a bowl of this flavorful winter stew. Since last week's blizzard it's been cold here on the East Coast and the only signs of spring are the daffodils bravely poking through the ice and snow covered ground. With any luck, local greens will appear at the farmer's market soon; however, until then there are lots of nubby roots to be eaten. If you're tired of your stew routine this recipe is a great way to both lighten and change things up a bit. Although this is a winter stew, the addition of mustard and lemon makes it surprisingly refreshing and the last step of prep taking place in your blender, creates an extremely creamy and soothing dish.  I love the way mustard brightens up the older root vegetables we're left with at the end of winter and I find myself reaching for the jar to add to everything from beets to sunchokes, either during or post cooking. The addition of lemon really takes this stew out of the heavy-winter-stew category and creates the perfect flavor profile while we wait for the spring vegetables to arrive.
The recipe comes from Laura Wright's newly released book called The First Mess Cookbook: Vibrant Plant Based Recipes to Eat Well Though the Seasons. If you've been reading food blogs for a while, you'll have definitely come across her blog The First Mess. Laura makes the kind of food I feel like eating and this stew is the perfect example. Although it's one of the first recipes that caught my eye in her book, there are many others like a white bean risotto, a vibrant green broth-y tofu noodle soup and some baked beans that I'd also like to make—oh, and the Earl grey tiramisu sounds pretty great too!
Let me know if you make it and happy spring from me and a delicious bowl of winter stew!
Amy x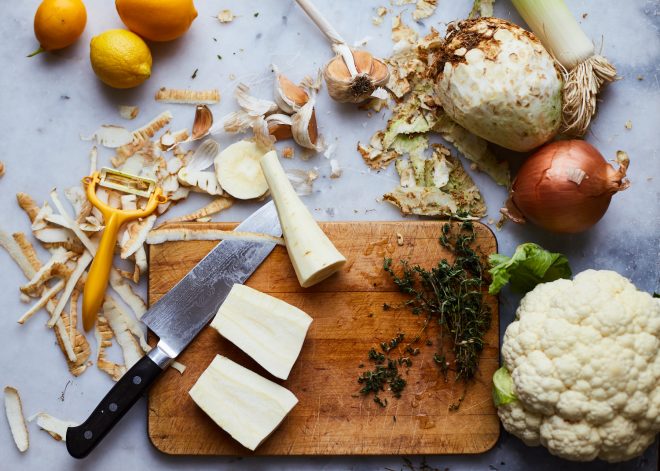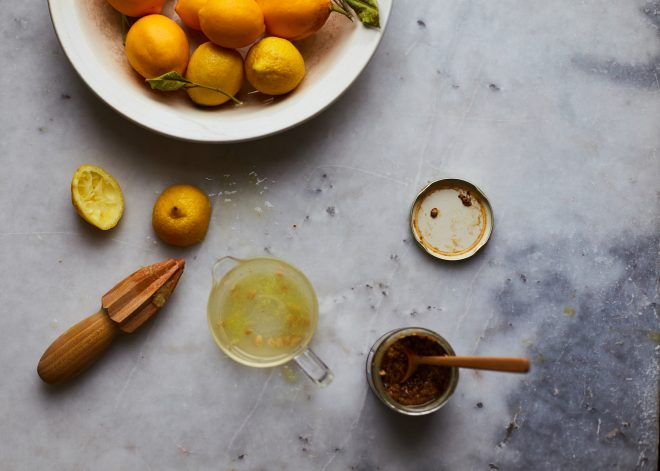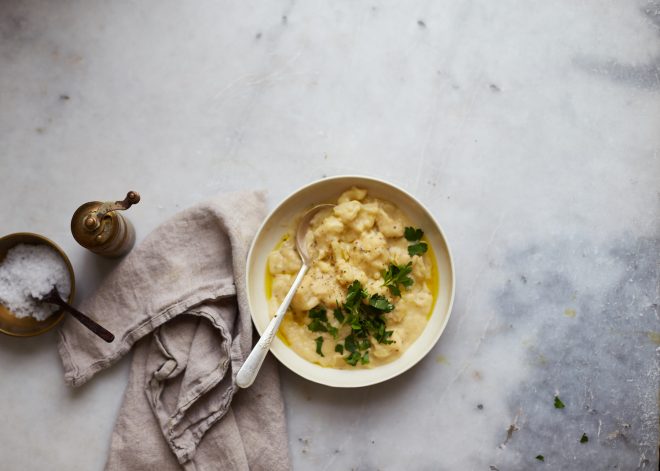 A few notes…
I served this stew with some steamed tatsoi, any green is a nice accompaniment and you could simply stir them into the stew instead. When I warmed the left overs I also stirred in some large creamy corona beans along with the left over greens—you can see a photo at the very end of this post.
This recipe calls for Old Bay seasoning which I've never used and although I had a tin of it kicking around my spice cupboard I decided to leave it out–I'm not sure exactly how "old" it is!
I normally use water instead of stock in my soups and stews as I'm not fond of packaged stock. Since this recipe called for stock I whipped up a quick one: 10 cups of water, 3 large chopped carrots, a strip of kombu, a few dried shitakes, a few chopped stalks celery plus all the leaves from a bunch, lots of bay leaves (because I was leaving out the Old Bay :)) and simmered it for 2 to 3 hours before straining. It made lots of extra which I froze.
My stew came out very lemony and I'm not sure if it's because I measured it sloppily or if it's like that. Next time I would start with less and increase to taste.
Creamy Winter Vegetable Stew with Mustard and Lemon
From The First Mess Cookbook: Vibrant Plant Based Recipes to Eat Well Though the Seasons by Laura Wright. Published by Avery
Serves 4
1 tablespoon extra-virgin olive oil
1 large yellow onion, diced (about 1 ¾ cups)
1 leek diced (white and light green part only)
4 cloves garlic, minced
2 teaspoons (10mL) minced fresh thyme leaves (about 4 sprigs)
1 medium parsnip peeled and chopped
½ large or 1 small celery root, peeled and chopped into 1-inch (2.5 cm) pieces (1 ½ cups/375mL)
2 cups (500mL) 1-inch (2.5cm) cauliflower florets
1 ½ tablespoons (22mL) grainy mustard
Salt and pepper to taste
2 teaspoons (10mL) nutritional yeast
1 teaspoon (5mL) Old Bay seasoning—my tin was too old so I left it out
¼ cup (50mL) fresh lemon juice
3 ½ cups (875mL) vegetable stock, plus extra if needed
Heat oil in a large, heavy-bottomed pot over medium heat. Add the diced onions and sauté until soft and translucent, about 4 minutes. Add the leeks and continue to sauté until soft, about 4 minutes more. Add the minced garlic and thyme, and cook until fragrant, about 30 seconds, stirring constantly.
Add the chopped parsnips, celery root, and cauliflower florets and stir to coat in the oil. Add the grainy mustard, salt and pepper, nutritional yeast, and Old Bay seasoning. Stir to coat the vegetables in the spices. Add lemon juice and stir.
Add the vegetable stock, stir again, cover, and bring to a boil. Once boiling, remove the lid and reduce heat to a simmer. Let the stew cook and bubble until the parsnips and celery root pieces are tender, about 15 to 18 minutes.
Ladle half the stew into a blender, and carefully puree until smooth. Pour the pureed portion of stew back into the pot. If the stew is too thick, add enough vegetable stock to loosen it up to your liking. Bring the stew back to a simmer and serve hot.
I topped mine with chopped parsley and a drizzle of olive oil.